Most porn queens are straight but they sure seem to enjoy themselves in girl/girl DVD's. While they sometimes seem zombied out going through the bang-bang ritual in straight porn, they sparkle in a radiant haze when the time comes to lap up some sushi taco. This is evident in GIRL CRAZY, the first offering from a new line of g/g DVD's from New Sensations. A number of the usual suspects have been rounded up for this trip down Sappho Lane, including Ashley Blue, Kylie Wilde, Ramona Luv, Belladonna and Julie Night. A steady stampede of voracious red lips dipping into sugar walls along with glistening dildos piercing suntanned thighs will please all you g/g jerk-off junkies.
I'm not a huge g/g fan, but a friend of mine just told me a girl on girl rumor that could be the basis for a fantastic docu-porn DVD. Have you heard that Condoleezza Rice is a lesbian? Nobody knows for sure if it's true, but if President Bush dumps Dick Cheney and taps his national
security adviser for the VP spot in the November, chances are--if the rumor is true--that's gonna come out.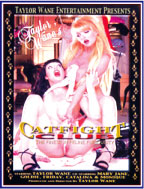 The first inkling of this came two years ago in The Sunday Times of London in a profile on Rice by Andrew Sullivan. "There's a catch. Rice is single," says Sullivan, suggesting this could be a problem for her potential candidacy. "In the hideously invasive world of today's press, Rice's private life might be scrutinized in ways she would rightly find intolerable."
It doesn't take too much reading between the lines to pick up the hint here. If that isn't enough, the sly gay conservative Brit journalist plows deeper. "Everyone forgets how controversial a choice Dick Cheney was. In 2004, the shock could be exponentially larger."
Okay, Sullivan didn't even use the not-as-in-liberal L-word, but it seems to me he's saying Condi prefers sushi taco over one-eyed snake.
Last October the rumor gained greater momentum in, of all places, a comic strip. The Washington Post killed six days of The Boondocks, an irreverent strip about the lives of several black kids. One of the characters in the deleted sequence offers this suggestion to bring peace to the world: "Maybe if there was a man in the world who Condoleezza really loved, she wouldn't be so hell-bent on destroying it."
Some readers complained of censorship, then it got worse when a Post spokesperson said the action was justified because the newspaper had no way of knowing if the strip's assertion that Condoleezza Rice had no personal relationship was true or not.
As author Richard Blow noted on the TomPaine.common sense web site, there's already scuttlebutt in Washington that Rice is a lesbian and the Post spokesperson's crafty wording only amplified the rumor. "The tip-off is the flack's curiously neutral phrasing, saying 'personal relationship' as opposed to, say, 'boyfriend.'"
Then, too, the Post's executive editor, Leonard Downie Jr., nicely evaded the gender question with this announcement: "The Boondocks strip in question commented on the private life of the national security advisor and its relationship to her official duties in ways that violated our standards for taste, fairness and invasion of privacy."
Is that enough from the Post screaming Condi is a dyke? No.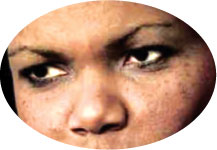 Enter the crusading newspaper's ombudsman, Michael Getler. Making his judgment call, Getler ruled the strips should not have been cut. "I may need a refresher course in sensitivity training, but I also found the sequence of strips within the bounds of allowable satire." The ombudsman also tapped daintily around the, uh, subtext, noting the "strip ventures deeper into some touchy territory."
The rumor I heard tosses more fuel on the fire: Condi's girlfriend is on the coaching staff at Stanford. Yikes! Condi with a butch babe. What a visual!
If Condi is a rug muncher, as national security adviser she can keep this to herself. But as Sullivan indirectly points out, the closet is not an option if she's on the ticket a heartbeat away from the presidency.
It seems that having a black woman on the ticket who announces she's a lesbian would be a triple play for the Republicans. Of course it could pose a small problem for the tub-thumping Christian Rightists, or Bush's push for a Constitutional amendment banning gay marriage....
I don't know, but these questions should be kicked around in a docu-porn. Somebody out there in EXOTIC-land, get on it.