Last night when the loneliness swept over me I rummaged through a few cartons of DVD's, pulled out a batch of my personal favorites and settled in for a long night fast-forwarding through the malignant demons defaming Augustine with every thrust.
Jim Powers got top honors with
PERVERTED STORIES: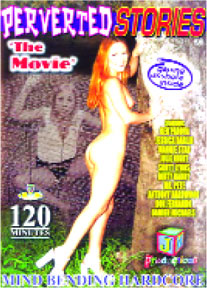 THE MOVIE
, from JM Productions (www.jerkoffzone.com). Three chicks looking to score drugs--Julie Night, Maggie Star and Jessica Darling--pick up a hitchhiker on the way to a rave who supplies them powder in exchange for sucks and fucks. Porn films tend to shy away from drug themes so credit goes to Powers for his willingness to embrace the trade out. What follows is even better. A series of hallucinations in the air-headed babes' minds--giant vaginas wafting through the trees, snaky penises floating in the sky and dicks blossoming out of flowers. The happy hallucinations flip over into a nightmare scene with blood spurting around a meat locker. Stud boy Mr. Pete is treated to two of the girls taking turns shoving their faces into his ass while the third sucks up his surging gobs of goo.
The best title I found in my closet filled was
GRAND THEFT ANAL
from Zero Tolerance (www.zerotoleranceentertain-ment.com). Come to think of it, Zero Tolerance is also a cool name for a porn company. Hanna Harper, Alicia Rhodes, Mandi Bright,
Rio and Anna Nova get enough gorings up the brown eye to satisfy the most voracious anal fan.
FETISH: THE DREAMSCAPE from Ninn Worx (www.ninnworx.com) lays the shiny tight plastic clothing on thick, including a steamy solo in which Nicole Sheridon fires up a pink dildo while decked out in a rubber corset. The most intriguing scene features Michelle Michaels getting plowed in every orifice by Erik Everhard who, when he is finished with his ministrations, rips off his condom and dumps the pool of cum on her face.
How fitting to view this scene at the moment another HIV scare has gripped the adult film industry. The trio of porn titans--Vivid, VCA and Hustler Video--announced they would halt production until mid-June when the word went out that veteran porn actor, Darren James, and his girlfriend, Laura Roxx, who has only been making vids for a few months, both tested positive for HIV in early April. Although the big stars will get May off, many of the smaller porn companies will defy the moratorium and continue shooting dirty movies without condoms. The big guys will make their usual moral pronouncements on safe sex--always trippy when producers of ass-banging extravaganzas stake the high moral ground. Given the millions of fuckings in over ten thousand plus adult vids cranked out each year what strikes me as most important is that HIV has not been a major problem in the industry. Shay Sights, who has been in more than 200 films, was on target when she said "I think the industry is far safer than going out bar-hopping."
The fact is condom-free DVD's sell better. So they will continue to be made despite the current uproar. Enough for the rant. Back to my closet for a few more.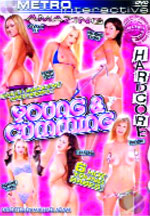 YOUNG AND CUMMING
from Amazing Hardcore (www.amazingsex.com) features squirt queen Bobbi Eden, among others, doling out boner footage blow jobs by the blue pool under the sunny Southern California sky. Hard blonde bods and perfect teeth in their chipper smiles. Cliché porn but a nicely done cliché.
WOMEN UNDER GLASS from Vivid (www.vivid.com) explores the therapeutic benefits of a man splashing his pud on the glass booth occupied by Savanna Samson. Alas, Savanna is gone when he returns the next day and all he can do is go home and fuck her in his dreams. Then on a third trip she's back in the booth fucking a man while this poor nerd can only watch. Oh, the betrayal of women!
SWALLOW MY PRIDE #2 from Red Light District (www.redlightdistrictvideo.com) is not my type of jerk-off material but I mention it for you guys who like porn with a dozen or so dudes swinging their turkey necks and gizzard balls over the nose of one girl. That girl is Angel Long, who seems to be the siren of the moment. Great stuff for bang fans.
Like St. Augustine says, "Flesh lusteth against the spirit, and the spirit against the flesh."