Twenty-year old Kimberly Kane was introduced to adult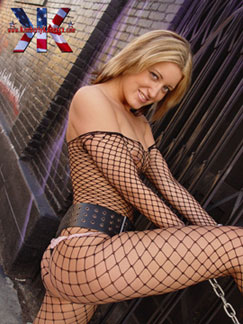 films at an early age. Her mother, cable access star and adult film producer Lacey Lynn, often brought her daughter on the set. Despite the fact that Kane was brought up around men and women who were comfortable with their sexuality, she says she was the most insecure person on the face of the earth. That is, until she started dancing. "I didn't plan to be a dancer, but my rent was due, and I was not going to lose my apartment," Kane said. "Dancing gave me self-confidence I'd never had before. It was rad."

A blond, fresh-faced beauty, Kane is on a hot streak. She'll be on the cover of Hustler this December. When we first spoke, she'd just auditioned for Larry Flynt's wife for the magazine's upcoming 30th Anniversary bash. "I nailed it," she said. Kane's mother, unfortunately, doesn't approve of her daughter's choices, and they aren't on speaking terms. "She has insane double standards," Kane the younger says.

Solara Star is twenty-six. The message on her answering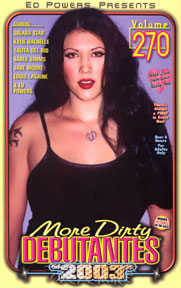 machine ends with "....blessed be!" so her wise, otherworldly presence and gothic beauty isn't a complete surprise. She's been in nine films, and her tough style of dress belies her incense-scented, Tori Amos-soundtracked apartment and her penchant for talking freely and intelligently about energy, astrology, the full spectrum of beauty, and the cycle of abusive relationships so prevalent in women in the sex industry.
"Most of the women in the business have been sexually abused at some point in their lives," Star said, adding that a lot of girls form relationships with controlling men, and some get addicted to being on stage because it's a huge self-esteem boost, and a big rush.

Star began dancing to make money when it seemed there was no other way to pay her bills. She tried having "normal" jobs and worked as an office assistant for a while, but hated being treated like a sex object. "A lot of people in power discriminate," she says, and though they did it subtly, she says, "I'm very sensitive to energy, so it was very real to me even though it was between the lines for everyone else." She decided that if she was going to be treated as a sex object every time she tried to make money, she wanted to be in control of it. "That's what dancing has given me the power to do," she says. "I can be in a controlled environment and I choose to be a sex object, so it doesn't offend me to be treated as one."

Porn is a business that evokes extreme opinions and emotional reactions, especially now during the adult film industry's voluntary moratorium due to the HIV outbreak. Neither of the Portland-based rising stars fit the stereotypes of porn actresses. Both were candid about possible positive changes in the business as a result of the recent tragic outbreak of HIV, about their first time on the set, about the open secrets and little known facts of the trade, and their plans as crusaders.

Kimberly Kane's first experience on an L.A. set was a good one.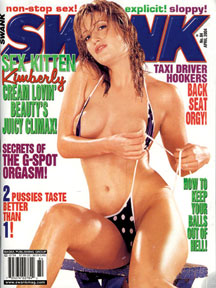 She'd gone to watch a friend do a scene, but was surprised by what she found. "It was so comfortable and so cool. The people were so nice," Kane says.
The lead actress told Kane, "The only way you can watch is if you take off your clothes." Though slightly embarrassed, Kane stripped to her underwear. The director, Pat Myme, came over to ask if she'd ever be interested in doing a film. "I said yeah," Kane says, laughing, "And 'yeah' is the key word that gets you into the porn business."
Kane got tested, then did her first scene with the gorgeous and well known actor Julian, who is Joe Kelly's ex-boyfriend. "When he walked onto the set I thought, 'I can't believe I'm getting paid to do this!'" said Kane.
Girl/girl scenes pay $600, though the shooting can take a couple hours or all day. Boy/girl scenes are $800 to $900, and scenes require three positions and a "pop." "It's very mechanical," Kane says, "Almost like aerobics. You know what you're supposed to do, and it's not about enjoyment. You're usually having sex on a rock, or on a table, and you're thinking about where the camera is, and if your back's arched." Kane loves her work, and says most of the people who are really well-known are really cool. "If you're an asshole, you're not going anywhere. No one's going to have you on the set a second time if you're a jerk because they don't have to. There are so many other people you can use."
When asked about embarrassing experiences, she laughed. "One time I was working with performer of the year Michael Stefano, and I had eaten McDonald's right before. I was giving the b.j. to start the scene, and I barfed on Stefano!" Kane said everyone is used to these things happening and was totally cool about it. "It was just French fries, but I was so embarrassed," she said, adding that she no longer eats before a scene.
Solara Star had a different experience on her first scene, not because it wasn't comfortable and easy-going, but because she got pregnant. Before coming to L.A. she had spent two months dancing in Las Vegas, and had found a completely uninhibited part of herself, which made doing a sex scene seem like "the ultimate freedom." Star had recently broken up with her boyfriend of six years, and through the pain, found that her "light was shining brighter than it ever had." Strangers repeatedly came up to her to tell her how gorgeous she was, how powerful she seemed, and that they just felt drawn to her, to her energy.
Once in L.A., she learned that a lot of girls in the industry didn't really enjoy having sex. "But I knew that I did," she said, "And that made it even more enjoyable because I knew that the guys weren't used to girls having their own natural lubrication." Star gets pleasure from giving pleasure, and is happiest making other people happy.

Her first shoot was by a pool at a mansion high in the Hollywood hills, and she felt literally high on the beauty of her surroundings, and she could convey that energy on film, transmuting the somewhat rough, aggro energy of her co-star, who was also her agent. She got pregnant, and because she'd been reading about women's energy and sexuality, she knew "the importance of studying energy before bringing a child into the world," she said. "My mother was seriously crippled by emotional problems, and I couldn't bear the thought of bringing to a child something that would take its own life away."

An unwanted pregnancy is perhaps a good way to speak about the elephant in the room—the adult film industry's acceptance of unprotected sex and the recent HIV tragedy. So far five actors have been infected with the HIV virus, and though many production companies agreed to a voluntary moratorium until June 8th, a few claim that the industry is perfectly safe.
In March, porn star Darren James filmed in Brazil and came back to L.A. HIV positive. He'd slept with twelve girls before realizing he was infected. Four of those girls have since tested positive. Those girls are "first generation." The guys who worked with those girls are "second generation," one of whom has tested positive. The girls who've worked with those guys are "third generation." There was a list, albeit incomplete, of these people that the talent would examine before doing a scene, to make sure they hadn't been with anyone on it. Kane was misinformed that she was third generation. "I fucking lost it on the set," she said, and though there was nothing to worry about, it scared her badly.

Kane went condom-only, and goes to all the talent meetings and promotes condom use. "Everyone in the world is educated to use condoms now. You don't meet someone and decide to have sex without using a condom—that's not what happens anymore. But we, who are more sexually active than everybody in this world, don't use condoms. I mean, we're tested regularly, but even whores use condoms! You can't go to a whorehouse and get a blowjob without a condom." She says that if the leading men in the business went condom only, it wouldn't matter how many girls came and went. The average life of a "porn chick" is 3-6 months, though that could change if Kane gets what she wants: a union for the adult industry. She wants health insurance, overtime pay, and protection for herself and those who are risking their health for other people's enjoyment and financial gain.

Star also has plans to better the work environment for porn actors, and is collaborating with G-Spot's Sheena to start an internet-based production company in Portland. They want to start with girl/girl scenes done in the classic style. Most of the production companies are run by men, accounting for the rough, hard-core component of their films. She also plans to give her actors royalties. "The girls aren't getting the money they're worth," she said. "And a lot of dancers in Portland don't realize that they deserve to be respected for the women they are, not maligned for what they're doing with their bodies," she said. "They should actually be respected for what they are doing with their bodies."
Kane says she's never had a problem with disrespect. "If someone knows me, they know I'm safe and comfortable with what I do, and that I'm a good person. I'm a mellow chick, dude," she says, laughing. "I stay home, cook dinner, watch TV and go to work." And porn, she said, is just like any other job. "If you were around it for one day, not only would you feel comfortable seeing people naked, and seeing them in the act, but you wouldn't even care. You'd be like, 'Yawn, I'm going to go see what's in catering.'"

No matter your stance on porn, what it comes down to for both these girls is something few people can claim: They love their jobs. "I love dancing. I love getting on stage and I love being naked," Kane said.

Star, who is writing a book of poetry, making a CD with her band Furious Angels, working on a 20-act circus-erotique show, and writing a book, Passageways, about emotions and relationships, agrees with Kane's assessment. "There's nothing more free than dancing naked, working as my own boss, and making my own schedule."