Party Time!
July is the month to fall off the wagon. Hot parties and cool air-conditioning make strip clubs the place to be.
Like for instance the Pallas, where the Wheel of Pleasure continues with "crazy" specials every week and thousands of prizes to give away. Every Friday there's a different theme, including the first annual Jagermeister competition on July 2nd. July 23rd the Pallas hosts Vegas Vixens, when the whole bar turns into a high roller casino and burlesque acts are featured. And what better way to party on the 4th of July than at a Bikini Car Wash at—where else?—the Pallas? And what better way to party on July 22nd than at a Bikini Car Wash at Dream On Saloon, Portland's only country-rock club? Featuring "the hottest wettest girls in the city."
On July 10th, Stars Salem is hosting a biker rally in their Olympic-sized parking lot, Outlaws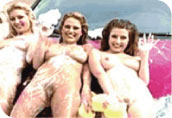 on the River. Live music all day, contests (including "Best Chapped Ass") and prizes galore. BBQ, bikes, beer, babes, booze, boobs, butts and....VINCE NEIL. While you're down there, ask 'em why ASS POUNDER didn't win last month's Battle of the Bands. They were clearly the winner! Or maybe Diamond Tuck & the Privates was the winner..... But nooooo, the blond stripper's boyfriend's indie rock band took it. Can you say fixed?!?! I mean ASS POUNDER were so fucking awesome!! This George W. Bush farce has obviously trickled down to our formerly upstanding smut clubs if they can expect to fix a contest like the Battle of the Bands so that ASS POUNDER does not win and get away with it. ASS POUNDER just so totally ruled. Please come up to Portland and play for us, ASS POUNDER. Still, Outlaws on the River featuring a concert by Vince Neil of Mötley Crüe at Stars Salem is definitely NOT TO BE MISSED!!! Gwt your tickets NOW @ ticketmaster or at any Stars location.
Stars Beaverton has its share of parties, too. Adult film stars Brittany Andrews and Racquel Darrian will be shaking it for you, and it's Darrian's Last Stand! July 7th -10th and July 22nd-24th, respectively. Plenty UpTopp hosts the V.I.P. Anniversary Party on July 12th, and H2O returns on July 17th. Finally, on July 24th, don't miss the Pimpin' Polynesian Luau Party featuring roast pig BBQ, Hawaiian hula dancers and an outdoor pool.
July 29th is Predator Night at Safari, featuring the hottest little predators in Portland. Lord knows we'll be there.... for the "wild tribal shows," to see girls frolic in their natural habitat in the heated swimming hole and hot tub and to hone our killer instincts at the fire bar. Also—Thursdays in July are Free Tabledance Nights. Win free table dances every half hour!

ROCK, ETC.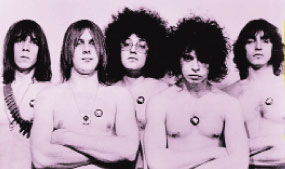 The motherfucking MC5 are playing the Roseland on July 2nd—the granddaddies of punk 'n' soul. It's 1969 okay all across the USA..... By the way did you know that Iggy & the Stooges are artists?! They were featured in Juxtaposed in June. The MC5 probably host gourmet cooking shows for all I know.
Rad new-wave fashion band Stone Juicer plays Dante's on July 9th for James Angell's Private Player DVD release party. Check 'em out! They are dancerific.
Portland's own Lucy Fur is on the cover of Tease! Magazine in an incredibly juicy photo that she shot. Lucy's working on a book of pin-up self-portraits now and will be world-famous soon. Be sure to get your copy of Tease! and don't miss her burlesque shows at Dante's Sinferno.
The Suicide Girls Live Burlesque Tour returns to Dante's on Saturday, July 17th.
An Exploding Hearts tribute night is scheduled for Dante's on July 20th, the anniversary of the accident, featuring 100% POP bands and lots of pink.... jesus-christ-life-ain't-fair.
Red Bull's Flügtag is coming to Portland on July 31st. Watch from the comfort of Tom McCall Waterfront Park as friends and colleagues make asses of themselves trying to fly in "aircrafts" they've designed and built themselves. Ha ha! (Check out the Exotic boys' entry on the opposite page.) Winners take home $7500 or flying lessons for pilot certification. Rock'n'Roll!
Finally, the very last party of the month, it's VIVA'S BIRTHDAY at Sabala's Mt. Tabor on July 31st, featuring the Nightmares, Coco Cobra & the Killers, Goodtime Gil & the Champagne Cowboys and Diamond Tuck & the Privates.