Before I let ya'll in on whatz crackin' this month, I just want to say thanks to everyone that reads my column. It surprises me how many different people read my articles. I really appreciate the feedback that so many of you have given me, so this summer I promise to keep it hot and informative!!! Big ups to all my readers, and have a good Fourth of July.
First Up — The Lingerie Honeys

In previous articles, I've written about my experiences inside various strip clubs around town. I took the time a while back to check out what goes on inside one of Portland's lingerie shops. It was quite an experience. The mood and the setting were much different than a strip club. These shops are very cozy and usually only have two to three honeys working at a time. After I selected the girl of my choice, I was directed to go into a small dim lit room with a couch, a stereo, black lights, some spray bottles, lotions, and several white towels. I was told by the lingerie model that I could get as comfortable as I wanted to. I wasn't planning on beatin' my meat or nothin', I just wanted to see what goes on in a lingerie shop. It was different than getting a lap dance at a strip club because there weren't a bunch of other people around making noise and shit. It was just me and her alone in private. The shop as well as this sexy chick smelled so damn good!!! Her routine was so intimate and seductive. I was trippin' ya'll!!! The whole atmosphere made me horny as hell, plus the model was fine, and she had some junk in her triznunk (ass). She was sort of surprised that I didn't choke my chicken, but I still enjoyed the show. Much love goes out to all the Honeys working in these shops!!! Ya'll got it goin' on 4 REAL!!!
Next Up — The KID CAPRI SHOW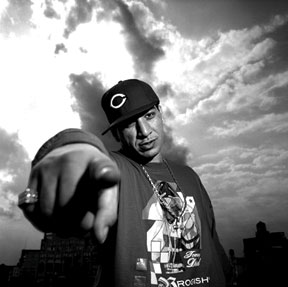 The scene was Berbati's Pan in downtown Portland, and the show consisted of some of Portland's best talent. There was also a hot group from the ATL. DJ Mello Cee and myself hosted it. I couldn't believe some of the turntable tricks KID CAPRI did that night. The crowd of people in attendance didn't know whether to dance or watch the things this cat was doing. All in all KID showed why he is considered one of the best DJ's in the world!!! Talks are already underway about him returning to the Rose City for another show. This time the Promoter "X" is planning to do it at one of Portland's hottest nightclubs. I'll keep you posted. One!!!
Big Ups — Rasheed Wallace World Champion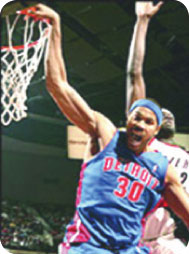 First of all, congratulations to the Detroit Pistons on their victory over the Los Angeles Lakers. I can't begin to tell you how happy I am for my partna' Rasheed Wallace. It just goes to show that you can't keep a good man down, or in this case, a Bad Boy from doing his damn thang. Even the commentators who had predicted LA to win in six games had to eat their own words. Detroit played with hella heart and absolutely NO FEAR!!! Even though Rasheed is no longer a Portland Trail Blazer, I'm sure that he has made the fans that he has here very proud. Big ups man, you deserve it!!! I'm Out….
Next Month Cuties wit' Bootys!


That's right, I'll be featuring some of the most voluptuous honeys in town. Every guy I know—and some women—love a pretty woman with a nice ass. What I will be doing is going to various clubs around town to seek out "Cuties Wit' Bootys." They will be available for your viewing pleasure in my next article. Don't miss it!!! If you know of a honey with a nice onion that you would like to see featured, holla at ya boyeee!!! whatzcrackin_J@hotmail.com
Until next month ya'll keep it crackin'!!!
One Love,
J.Mack