I'm sure I've said this before about ten other bands but who cares. The MC5 were, are and forever will be the GREATEST ROCK BAND EVER. They've got it all: the sludge, the sex, the political what-the-fuck, the devil-may-care, the junk, the hair, the history. I love them so much and never in my wildest dreams did I think I'd get to see them, much less SPEAK to them. I'm the luckiest girl around.
But, running around all excited for my big interview, I
realized that most of y'all have never heard of them. Wha?!? I know I have kinda old fashioned tastes--strictly sixties, seventies and punk--but the motherfucking MC5? They practically invented the word MOTHERFUCKER.
So here's your little history lesson, according to Viva. The MC5 were from Motor City--Detroit-- and there were five of them. Detroit was the birthplace of more sexy sweetness, more bump and grind, than any other city in they USA. The MC5 got together as kids, played five or six nights a week, became as tight and primal as a first lay, and had long hair and afros and lycra suits and dance moves and were like what Led Zeppelin wished they could be.
Two of 'em died. Lead singer Rob Tyner and Fred "Sonic" ("Patti") Smith died of like cancer or something. Guitarist Wayne Kramer kept criss-crossing the country, rocking and rolling. Bassist Michael Davis is a fine artist. Drummer Dennis Thompson also managed to stay alive. They're touring now as the DTK-MC5, and filling out their sound with fellow Detroiter Marshall "Someday, Someway" Crenshaw, Mark "Mudhoney" Arm and Evan "Lemonheads" Dando. It's like a greatest hits of my masturbatory yearnings... if only John Taylor played bass.
Anyway, don't listen to me. Just go buy The Big Bang! Best of MC5 released in 2000 by Rhino Records. Any time you need your palate cleansed after ingesting all the greasy pop crap on the radio, anytime you wanna remember that your fucking genitals exist, throw it on.
I used to think the sexiest song of all time was the Kinks' "You Really Got Me." But that was kiddie porn compared to Tyner's raw primal made-in-Detroit screaming, "Kick out the jams, motherfucker!"
VIVA: I read in Juxtaposed that Iggy and the Stooges are painters, so I was wondering about you guys, what you do on the side. Gourmet cooking shows? Car racing? Dog breeding?
WAYNE KRAMER: Absolutely nothing.
MARSHALL CRENSHAW: The only thing I do outside of professional stuff is hang out with my kids and my wife. I do as much of that as I possibly can. My little boy--he's five--he takes piano lessons. My little girl's got a ballet class. That's my whole thing.
VIVA: What about you, Wayne? You rock the soccer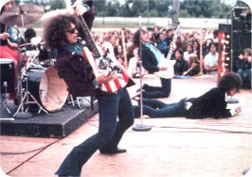 games?
KRAMER: No soccer games. Boxing and bullfighting.
VIVA: Bullfighting? In Detroit?
VIVA: You frequent Spain?
KRAMER: Every chance I get.
VIVA: So how is Detroit? Musically it's kind of going through a watershed. You ever get out and see Bantam Rooster or the Detroit Cobras?
CRENSHAW: I haven't lived there in thirty years. I moved to New York in 1978.
VIVA: So, Detroit music. Are you familiar with all the great bands coming out of there now? The White Stripes, the Go, the Detroit Cobras, the Demolition Doll Rods, Mick Collins?
CRENSHAW: Oh, God, yeah. Now there's tons of interesting stuff coming out of there, but for a long time it was pretty dry. Now there's stuff on a lot of different fronts that you can't help but know about.
VIVA: But you wouldn't move back there?
CRENSHAW: I'd kill myself first.
KRAMER: When Marshall and I grew up there, there were four and a half million people living in Detroit. Now it's below one million. It's kind of like the American Pompeii. The have a train downtown that goes around in a circle; it doesn't go anywhere and nobody rides it.
CRENSHAW: We say that with broken hearts, too, because it's a really horrible sad thing to witness a community like that kind of rot from the inside. The place has a sense of self-loathing. And a lot of people there suffer from self-loathing, too.
VIVA: What is the sexiest city you've ever been to?
CRENSHAW: I would say the same. Paris. New York. Paris is my new favorite city. I'd like to move there.
VIVA: Do you have a favorite MC5 song?
KRAMER: Today? There's a lot of good ones, it's hard to pick. It's like saying which of your kids is your favorite.
VIVA: Well, what would be the best MC5 song to strip to?
KRAMER: "I Want You" is a likely candidate, at least from a literary point of view. And musically. It's kind of bump and grind.
CRENSHAW: What kind of tempos do you like to strip to yourself?
VIVA: Well, I dance to "I Can Only Give You Everything." I love that. "Teenage Lust." "High School," with a little schoolgirl skirt.
KRAMER: I hadn't thought of that...
VIVA: "Shakin' Street" I've even done, which always reminds me of a Grateful Dead song.
CRENSHAW: Yeah, I can kinda sorta hear that. Boy that must make you cringe, right?
VIVA: And "Kick Out the Jams," of course, which is on the jukebox across the street at Mary's Club.
KRAMER: I went to pick up a friend of mine who was working security at a go-go bar in Detroit, and he said, "Yeah all the girls love to dance to 'Kick Out the Jams.'" And I said, "No way!" How could you go-go dance--topless--to "Kick Out the Jams?" But we went in the bar and they put it on and everybody jumped up and all the girls were dancing away.
CRENSHAW: Could it ever get better than that?
KRAMER: No, it really doesn't get any better than that.
CRENSHAW: Imagine that--a whole club of girls stripping to your song.
VIVA: Are you getting mega groupies on this tour? Or did you bring your old ladies along?
KRAMER: We're happily married men. There are no "old ladies" along, but my wife and partner is along.
VIVA: Hey, I'm somebody's old lady...
KRAMER: That's an archaic expression.
VIVA: Yeah, I guess so. What's the sexiest thing you've seen on this tour?
CRENSHAW: Myself in the mirror. [Laughs.]
KRAMER: You know I'm afraid I can't reveal that kind of stuff in an interview. I pride myself on having no secrets and that I would talk about anything, but I don't think I want to talk about that.
CRENSHAW: Greta Garbo said if you tell your secrets, then you cheapen the inside of yourself.
VIVA: Wow. I'm dirt cheap, then. I have the opposite philosophy. Sexiest bands out there today that strippers should know about? Are there any that turn you on?
CRENSHAW: You'd know better then we.
VIVA: Ha, ha. I just listen to you guys. You're making the rounds, country-wise.
CRENSHAW: Tijuana Brass. They're pretty good.
KRAMER: I was gonna say Latin music is sexy.
CRENSHAW: What about James Brown, you ever strip to him? "Cold Sweat" or anything?
VIVA: Oh, hell yes! "Please, Please, Please." "Cold Sweat" is six minutes.
CRENSHAW: I'd like to see someone dance to "Love is All Around" by the Troggs.
VIVA: I do dance to a lot of Troggs. Not that one though. Everyone cites you as influences. Whom are you most happy to have influenced?
KRAMER: I'm happy to have influenced the Presidents of the United States because
I made a pile of money when they covered "Kick Out the Jams." And I was happy to influence the Blue Öyster Cult and Rage Against the Machine. I was happy to make that connection.
CRENSHAW: I saw a documentary where George Clinton named the MC5 as an influence on Funkadelic.
KRAMER: Proud of that one, too.
VIVA: That's awesome. Best Stones record?
CRENSHAW: Geez. I'm kinda partial to Brian Jones' stuff. Aftermath.
KRAMER: Uhhhh.... I'm gonna say.... Uhhhh... "Have You Seen Your Mother Baby Standing in the Shadow?" But they had some great live B-Sides. There was a live "Route 66" that just rocked.
CRENSHAW: With screaming girls on it.
VIVA: Screaming girls? Wow. No one does that anymore. Favorite Pretenders song?
CRENSHAW: "My City Was Gone." Even though it's the Rush Limbaugh theme, it's like a perfect description of the viewpoint of a disenfranchised Midwesterner. It's really well written.
KRAMER: I drive an '86 Buick Regal that I'm pimping. I've got wheels and hubs on it.
VIVA: What's the best Bob Dylan record?
KRAMER: I'll go with "Subterranean Homesick Blues."
VIVA: Sexiest song of all time?
KRAMER: Well, for the last few years my favorite sexiest song has been "Pony" by Genuwine. It's a wicked lyric. It's raw sex but it's done humorously and it has a gentleness to it but it's still filthy... I love it.
VIVA: Sexiest singer of all time?
VIVA: Sexiest guitar sound of all time?
VIVA: Sexiest text message in your phone right now?
KRAMER: "Please talk slowly."
VIVA: Would you rather go bowhunting with the Nuge or drink til ya puke with Lemmy?
KRAMER: I'm afraid you're not leaving me any options that appeal to me.
VIVA: Have you already done both?
KRAMER: Uhhh... I've never gone bowhunting with the Nuge.
VIVA: What color panties are you wearing and how long have you been wearing them?
KRAMER: They're lime green boxers and they're brand new. I put them on fresh this morning.