A new series directed by Tony Torno, CREAMPIES #1 and #2, celebrates all scenes ending with internal cumshots. Along the way the action tends toward a lock-step one-on-one formula: she fingers herself, he fingers her, jump to a slow blow and move into fast doggie style. There's very little dialog or music in the background so for those of you who like the sounds of slurping these DVD's from Ghost Pro will rev your joystick.
CREAMPIES #1 features Trixie Swallows and a half-dozen other girls. Among them the Asian dewdrop, Jade, seems the most enthusiastic. The brief Q and A at the beginning of each scene is pretty lame, with all the girls saying things like "I like it best when a guy comes inside me because it's more intimate." How enlightening. In CREAMPIES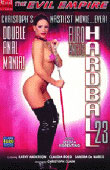 #2 Rayna stands out. She's 22, looks like she just turned 16 and plays the schoolgirl routine to the hilt, complete with a bald kitty and a tank top embossed with a big ol' heart.
HARDBALL 23 from Evil Angel continues to thrash away with its basic series' theme, double penetrations with a tinge of humiliation. Claudia Rossi demonstrates tremendous stamina taking on four Italians, then in the grand finale she licks their cum off the marble floor. A different level of intimacy than the internal cumshot, I suppose.
Among a half-dozen supposed first-timers in AMATEUR ANGELS 4 from Adam & Eve, Becca Brat stands out when she drops down on her knees,

throws her arms up behind her and grabs a rail, thus positioning herself with a wide-open throat that greedily receives an eight-inch knocker. Becca also has undies of her own with the word "Brat" printed on the crotch.
The true brat honor for this month goes not to a porn queen--at least not yet--but to Jessica Cutler who signed a book deal for a reported $300,000 to write a novel based on her sex diary. Quite a score, considering the brief entries on her anonymous on-line blog, Washingtonienne, ran for little more than two weeks in May. The very attractive 26-year-old she-tiger's final post on May 18 at 2:10 PM in her office on Capitol Hill foreshadows the story arc we can expect in the novel: "I just took a long lunch with F and made a quick $400. When I returned to the office, I heard that my boss was asking about my whereabouts. Loser." The loser in her eyes would be Ohio Republican Senator Mike DeWine who subsequently fired Cutler, his staff assistant in charge of routing mail, for "unacceptable use of Senate computers to post unsuitable or offensive material."
Cutler lists six men she's bedding, including her first lover who still wings in unexpectedly from Illinois, an off-again on-again long-term boyfriend, an office boyfriend (her "current favorite") and two older men, F and W, who pay her for sexual favors. She says F is a high-level Bush appointee at a government agency. W is generous with his money but demanding: "A sugar daddy who wants nothing but anal," she writes. "A man who tries to fuck you in the ass when you are sober does not love you." Claudia Rossi at the Evil Angel studio probably doesn't see it that way.
Cutler's daring work in progress, befitting a sly writer who wishes to reveal what should not be revealed, barely disguises the identities of her lusty half-dozen. No names, but their real initials. Thus Capitol Hill sources, notably the investigative blogger, Calico Cat (calicocat.com), have claimed the initials RS belong to a lawyer who is an aide to Senator DeWine.
RS falls in the boyfriend category--a player, not a payer. He's into spanking. She likes that. He's a max good guy, remembers her birthday, hands her a pink and green package. "I just know it's a new Lilly dress," she coos on her blog. "And it was. Then we fucked missionary. And he came." Such cadence! Almost Hemingway-esque. If RS is in fact the lawyer in DeWine's office where Cutler worked, could be dicey. Loser, as in he might get fired for fooling around with a subordinate.
MD's troubles could be far worse than RS's. Cutler had a brief fling with MD but now calls him "a chump." These initials have been ID'd as belonging to a Senate staffer in charge of recruiting interns for Senator Joseph Lieberman, a liberal democrat who is by no means liberal on matters of sex. MD tapped Cutler for an unpaid intern's job with Lieberman which in turn opened the door to a paid position in DeWine's office. 25K a year. Cutler's first Washingtonienne post is the perfect opener for her novel: "I have a 'glamour job' on the Hill. That is, I could not care less about gov or politics, but working for a Senator looks good on my resume. And these marble hallways are such great places for meeting boys and showing off my outfits."
Monica was a giver who stood by her man. Jessica is a taker who relishes playing the field, although she needs to spike her novel with a dash of date rape and the required transformation of her main character toward the end. Tossing in gov for fashion design might work. She already has the setting. "New stuff from Martha Stewart! Stop hating on Martha! I'm getting the faux bois pattern throw pillows and the seaweed and the coral candles!"
[Note to Cutler's editor at HyperionDisney: For irony, have her--or her ghost--toss in a back story on Walt.]
Cutler's anticipated novel has what publishers want above all else: The Buzz. She's all over the news and she's media savvy. When a Washington Post reporter questioned her about juggling around six sex partners she coolly replied: "You know, there are seven days a week."
Taking money for sex was not prostitution, she said. "None of these people were geriatric or unattractive. And the money was just a gift." I don't know if I could call myself a certified authority on prostitution given the felony for pimping on my record, but I do know something about the game. A few years ago I operated the Zen escort service which I wrote about at length in EXOTIC. The vice cops put an end to it. One Zen doll worked for me for all of 72 hours to get even with her boyfriend who flew into a rage and called her a "whore" every time she went out on him, a frequent misdemeanor on her part. She saw two clients at $500 a pop. Was her payback prostitution? Are Cutler's "gifts" money for prostitution? High-stepping on down the slippery slope, is the 22-year-old model who marries a 93-year-old Ft. Worth oil tycoon a prostitute?
Not in my book. But I'd say 300 grand for Jessica's book deal is prostitution. More power to her.