ANYA GORSON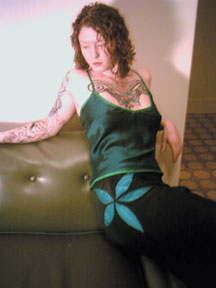 It was love at first sight. My friend Erin threw herself a birthday party a couple of months ago and, to commemorate the event, commissioned a dress of long green silk (lined with pink silk) from her designer friend, Anya. Everyone is in love with Erin. But that night, as she flitted around filling everyone's cups with hot mulled wine from a silver tea kettle, I fell in love with her DRESS.
A couple of weeks later Erin paid me a visit at work. Everyone is in love with Erin. But that night people were ooohing and aaahing over her skirt. It was a classy light brown tweed a-line number, but with wonderfully elegant detailing--a swath of coffee-colored satin shimmied over her hips and a thin ribbon of pink lured your eyes to her waist. Where did she get it? From her designer friend, Anya Gorson.
Fashion designers are a dime a dozen in Portland nowadays, but the truly talented are few and far between. Anya is the best I've seen. She's been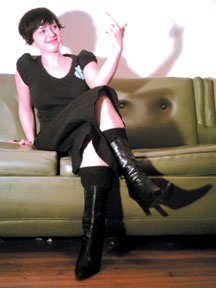 designing clothes since she was eight years old, and has honed her talent interning for Portland's rare couture birds, working for a designer of underwear for gay men, and at the Art Institute of Portland. Picking through her closet you'll find elegant evening dresses, beaded and boned corsets, space-age vests constructed of film (yes, film) and the loveliest little sundresses you've ever seen. There's also a Missing Persons bubble wrap dress tucked away in the back.
All of Anya's one-of-a-kind pieces are made from recycled fabrics she finds at thrift stores and Goodwills. A passionate environmental awareness infuses all her designs, and she prefers to work only in natural materials.
While a small handful of her pieces are available at the Red Light on Hawthorne, they will be more prominently featured at
PIN ME
, a new store opening on North Mississippi in early 2005. You can contact her for more info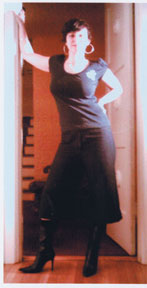 on her ready-to-wear line, which ranges in price from $35 to $150, or to commission the dress of your dreams.
"What is most important to me in designing a garment is the fit, the way it falls on the body. A beautiful garment is useless when it doesn't look good on a person," says Anya.
Try wearing an Anya Gorson garment and see if the whole world doesn't fall in love with you, too.