What it is my people in the P.Tizzle? It's ya man Mack wit' the scoop on Whatz Crackin' around the town and abroad. In this month's article, I'll be givin' ya'll the 411 on my catz at 2Real Records, because they're about to hit the world wit' some "Real" summer time HEAT!!! I will also put you up on some of the hottest club jointz poppin' this spring. You will also be able to peep the schedule for Whatz Crackin' TV, because it is now on the air baby!!!
First Up — 2REAL RECORDS Back with a Vengeance!!!
I was at the offices of 2Real Records a little while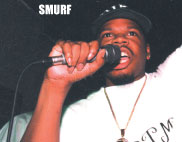 back and had a chance to chat with my homeboy Mike T. This cat is definitely holdin' it down over there. He put me up on some "Real" game and gave me the latest scoop on the label. For those of you out there who may or may not have heard of 2Real Records, you're about to feel them in a major way!!! Just to give you some history on them, the founder and CEO, Smurf Luchiano, is based in Portland, Oregon. In 1998 2Real Records released the debut album Coming for the Goods by GOTM. Everybody, including myself, was really feelin' this record!!! After a two-year setback fighting and defeating our injustice system, Smurf Luchiano hit 'em "Real" hard with Guilty 'Till Proven Innocent in 2001 and Double Jeopardy in 2002. This year 2Real Records is as serious as ever, and on June 21st, 2005, their hot new artist Meezilini will make his presence known to the music industry!!!
Not only can this brother bring it in the vocal booth, but his stage show is also On and Crackin'!!! He has heated up many concerts with some of the best in the business, such as Method Man, Too $hort, Lloyd Banks, E-40, Roy Jones Jr. and Portland's own Cool Nutz. That's just to name a few!!! To see him blaze the stage this month, check him out on tour with Messy Marve on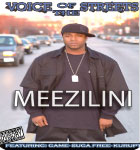 Wednesday, May 4th, in Portland at the VUE, and on Thursday, May 5th, at The Lone Star Bar & Grill in Eugene, OR. You will be pleasantly surprised to hear the likes of The Game, 50 Cent, Suga Free, and some musical Tabasco from the homie Bosko featured on Meezilini's new album!!! The first two singles are "We want Meezie" and "Pleased to Meet U." Big ups to Smurf Luchiano, Mike T., and the entire 2Real Records "Oregonization"!!! Make sure you swoop that Meezilini record when it drops this summer!!! You won't be mad baby!!!
Next Up — Whatz Crackin' TV is on the air!!!
Some of you might have seen it already, and some of you might not have peeped it. Here's the schedule: Monday nights on Channel 11 at 11:30pm, Wednesday nights on Channel 22 at 10:30pm, and Saturday nights on Channel 23 at midnight. Good lookin' out to my partner Gary Hasan!!! Let's do the damn thang!!!
Honey of the Month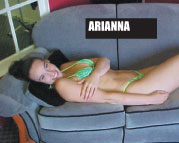 This month's winner really had the crowd stuck, trippin', and wondering how in the hell is this white chic working her ass like that!!! Congratulations girl, and keep poppin' that thang!!! Ooooh Weee!!! (Don't miss next month's contest at Exotica on Saturday, May 28th, sponsored by Heaven's Closet, London Influence, Paper Chase Records and Alladat Clothing!!!)
Main Events — Work That Pole!!!
That's right baby!!! On Thursday, May 19th, at Stars in Beaverton, I'll be hosting my first "Work That Pole!!" competition. We will be looking for the girl with the best pole tricks. The winner will be featured in next month's magazine, and will receive cash & prizes.
And don't forget: Wonderful Wednesdays @ H2O located downtown on SW 2nd & Yamhill. Featuring "The Party Starters", DJ Mello Cee, and hosted by ya boy J.Mack. Come kick it wit us!!!!
For questions, and comments hit me at
whatzcrackin_J@hotmail.com
Until Next Month, ya'll keep it Crackin'!!!
One Love,
J.Mack