It's that time again baby to get the latest scoop on "Whatz Crackin'" in the town and abroad. In this month's article, I've got a couple of surprises, and a major opportunity for those seeking to star in adult movies. Plus you can now log on to www.whatzcrackin.com to get the latest news and events happening around town. My partner Brian @ 503girls.com hooked it up. Make sure you also check out his site. Good looking out man!!!
First Up — Are You The Next Porn Star?
If you think you are, then Melodee Bliss is looking for you! I had the chance to meet her a few weeks ago at Young Lyfe's music video shoot. This sexy chick definitely has it goin' on! She is not only a porn star herself, but is now producing and directing her own adult movies. This could be a golden opportunity for some of you out there who are looking to make some good money and have a career in the adult film industry. So if you want to earn $500 to $2500 DAILY(!), Melodee Bliss would like you to contact her immediately!!! Flame Productions is currently casting for several different adult films. They need all different races, shapes, and sizes. If you're interested and sexy, they will fly you to Los Angeles, California, where the filming takes place and provide accommodations. Melodee needs you to send in lingerie shots and/or nude photos of yourself, as well as your general information (including phone numbers and email address) to: flm692003@yahoo.com or call 877-818-4825. Good Luck!!! Maybe I'll see you in the movies…I'm out!
Next Up — J.Mack meets THE MACK?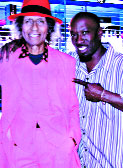 As I mentioned in the previous column, I was recently at the video shoot for "Bounce Wit' Me", the hot new single by my dogg Young Lyfe. I had the pleasure of picking up Max Julien from the Portland airport and choppin' some game up wit' him about life, the entertainment industry, and his new projects. For those of you who don't know Max Julien by his real name, you might know him as "Goldie", the name of his character in the movie The Mack. He was the star in this 1973 original pimp movie, which co-starred Richard Pryor. He has made appearances on various artists' albums from R. Kelly to Snoop Dogg, and he has also written a book. Max was in Portland to make a guest appearance in the video. His smooth style can also be heard on Young Lyfe's new debut album Real Lyfe. To see the music video and hear the music, go to www.younglyfe.com. Julien is currently working on many projects in the film and music industries. Not only that, this cat has so much wisdom, and continues to give back to his people…Big ups Mr. Julien!!!
U Go Girl!!!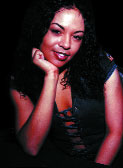 Iesha — Entertainer/ Manager of Cabaret
If you've been downtown to Cabaret recently, I'm sure you've noticed something enjoyably different! They recently hired Iesha to manage and schedule the entertainers. She even hooked me up to DJ Sunday nights. The club couldn't have selected a better person for the job than Iesha. She is well-liked by the ladies, adored by the customers, and the owners have shown a great deal of confidence in her. Iesha is one of the sweetest women I've ever met, and she is just as intelligent as she is beautiful. Keep up the good work. I'm proud of you!!!
Honey of the Month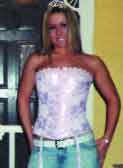 This month's winner can be seen doing her thing at Exotica International and also at Acropolis. Congratulations baby!!!
Until Next Month, ya'll keep it "Crackin!!!"
One Love,
J.Mack