What up y'all? It's that time again to let you in on whatz crackin' around the town and abroad. In this month's article, I'll let you know how the Ms. Latina contest went. Plus, I'll tell you about the Old School function each Saturday night in Vancouver, Washington. I'll also express my opinion on the statements made by Kanye West on NBC. I got to send love out to all my fellow Libras celebrating their birthdays this month. All right let's get it started!
First Up — Kanye West Puts Bush on Blast!!!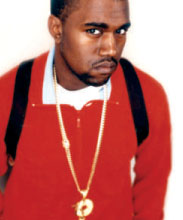 During a live broadcast on NBC to benefit survivors of hurricane Katrina, Kanye West said fsticking to the script! He was supposed to have read a prepared statement for people to be encouraged to help

the victims. Instead he told America and the world on national TV that "President Bush doesn't care about black people." He also said that America is set up "to help the poor, the black people, the less well-off as slowly as possible." Even though NBC had a 7 second tape delay, the person in charge was only instructed to listen for curse words. He didn't know that Kanye had changed the script. In my opinion, this was a bold move on Kanye's part, but a lot of people, white and black, felt him. Why did it take Bush so damn long to send help? As terrible as the situation is in the Gulf Coast, I do believe that Kanye's words made a difference. To all the victims of hurricane Katrina, my prayers go out to you…

Next Up — Ms. Latina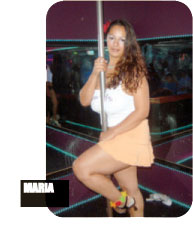 Congrats go out to Maria of Club Gata Salvaje. She was the winner of the Ms. Latina contest last month. Since I have been going to the club, she has always been well-liked by everyone. We had a lot of fun that night, and all the contestants received a free camera phone, courtesy of my partner Noah at Hot Wireless. Big ups go out to the club's manager Christina for all her hard work. I also got to give a shout out to the sexy waitresses, the DJ, and the cool security catz. Much love y'all!!!
Where the Party At? Chicago Blues!
That's right baby, every Saturday night Kevin Berry and yours truly will be hosting "Back to the Old School" at Chicago Blues. The club is conveniently located in the heart of downtown Vancouver, Washington, on the corner of 7th & Broadway. The address is 115 E. 7th St. We feature music from the 70's and 80's mixed in with some new school cutz. So come get ya boogie on!! On Saturday, October 29th, we will be having a 70's Costume Party, and prizes will be given away for the best outfit, male and female. Make sure you check us out!!!

Log On — www.whatzcrackin.com
You can now check out my website for information on whatz crackin in the P-Town. You can also check out party flicks, chicks, and read past and present articles. Be on the look out for J.Mack's Peep Shows…. Coming Soon……

Whatz Crackin'? Sponsors
Hot Wireless!!! Your #1 company for all your wireless needs. Pocket Computers, Camera Phones, Laptop Air Cards, Headsets, and much, much more. Holla for the hook up at (503) 459-6860.
503girls.com The only website of its kind representing the 503. You can find clubs, hot honeys, and event information. If you're interested in being a featured 503 Girl, hit up the website for more information. Tell my partner Brian you heard it from Whatz Crackin'.
For questions or comments hit me up at: jmack@whatzcrackin.com
Until next month, y'all keep it "Crackin'!!!"
One Love,
J.Mack