Exotic Receives Fan Mail from Salem!

Enter Her Gate
by Rev. Eli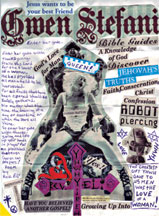 Enter her gate with thanksgiving.
Praise the Lord
for the flower
of a woman.
He has provided
all men a feild [sic] to be
harvested.
For all fruits that have
been ripened should be
safely gathered.
No matter what the
time the dawning of a
day or noontime or
when the stars all
shine.
So enter her gate
with thanks-
giving and lift up your hands
in prayer for
all provisions
that even
Gwen can
prepare!