It's on again, baby, and in this month's column I have some serious matters to address as well as giving you the scoop on "whatz crackin'" in the Portland music arena. I also checked out a very creative rap artist that has a new CD for you.
First Up..."Where's the love?"
To all of you that check out my column and appreciate me keeping it real each month, this does not apply to you. To those of you out there that know me and see how much love I give to people, please feel me on this! Keepin' it crackin' is not just a term, it's also a frame of mind. I strongly believe in the respect factor, and I have never been the one to bite my tongue when it comes to speaking out about what I believe in. In one of my past columns I expressed my views on some gentleman that I worked with that had disrespected me. We are now cool again. Recently there was a major foul committed by another local club owner. To tell the truth I at one point highly respected this cat, but I have no respect for cowards who can't look a man in his eyes and tell him how he truly feels. Instead, he hides behind security and managers, making them deliver messages. That's weak!
I was informed by them that I was not to come to the club for unjustifiable reasons. This is the same club that I have done big promotions at and made a lot of money for. I have brought in lots of high-roller customers, broke up numerous fights, passed out their VIP passes, and respected the entire staff. I have even given them props in past articles just on G.P.! Some people are so fuckin' blinded by their power and money that they lose all understanding of the word respect! These are the ones that in the end will have no friends, no true happiness, and definitely no honor! Karma will eventually have them looking in the mirror at their
pitifully shallow reflection, and asking it, "Where's the love?" Food for thought, homeboy!
Next Up ..."Who's Hot?"
That is the question that we will soon be finding an answer to at the new 720 Club (formerly known as The Viper Room). We are now looking for the hottest R&B singers and rap artists to perform at our weekly showcases. If you or someone you know has skills, this is a golden opportunity to get exposure. There's a great deal of talented people in and around the town that do not have outlets where they can perform. A lot of them also have CDs out that they are trying to sell. Here's your chance! Each Thursday night at the 720 Club is Ladies' Night Out beginning at 10pm. The music showcase will begin at 8pm and will feature five different artists each week. For more information about performing at one of the shows, please call the club at: (503) 236-1190.
Up & Coming ..."MAJR D"
This hip-hop artist has a style all his own and on his new CD titled An Oregon Documentary he demonstrates just that! He has several guest appearances on his new disc such as The Late Great Mac Dre, Duna, E-40, B-Legit, Tek, Young Deezo, Rob R Leeze, Dubee aka Suga Wolf Pimp, and G-Sharp. On Track #5, B-Legit gives it up to Portland and smashes the track with that verbal nitroglycerine. MAJR D overcame many obstacles to get his music thang crackin' and refuses to turn back. The CD has been in stores since January, and you can always find him at the clubs with some to sell. You can also hit him up at his website, www.majrd.com. Big ups, man, and congratulations on your hard work paying off!
Party Spots
Everybody likes to get their party on in the town. Some people do it more than others, and some don't know where to go. All this month I'll be checkin' out some of Portland's Party Spots and let you know what the deal is. Last month The City in downtown Portland was by far one of the hottest spots that I checked out. It was a Saturday night and my homegirl Bri' had a big going-away party. DJ Mello Cee had the whole club jumpin'! The place was packed and people were there from every ethnic background. So this month, The City Nightclub receives the "Keepin' it Crackin' Award!" One of the other spots that had it goin' on was The Voodoo Lounge. My crew along with myself were there on a Friday night to film another segment to the documentary we're working on. Our good friends from Grey Goose Vodka were there with ice sculptures and the whole nine. The way they had the décor of the Voodoo Lounge that night reminded me of club that you might see in L.A. or New York. They had it hooked up real tight! We were there to interview DJ Reckless, who was also spinnin' the cutz that night. The atmosphere, the music, and the honeys were all on point. Both of these clubs also had some damn good bartenders, if you know what I mean! Big ups, y'all…
If you know of any other spots or you promote events around the town that you think are worth checking out, hit me up at whatzcrackintv@yahoo.com.
Honey of the Month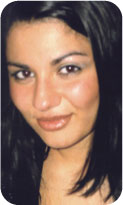 This sexy young lady is one of the flyest Middle Eastern honeys in the town. She receives a lot of love wherever she goes and is a real down-to-earth type of people person. Much love, sweetheart, and congratulations for being the May 2006 Honey of the Month!
Whatz Crackin' Sponsors
503girls.com is just a few clicks on your computer to be connected to Portland's #1 adult website. My dogg Brian has listings posted of all the lingerie shops and strip clubs. Plus he features some very sexy "503 GIRLS." Oooh-weee!
Hot Wireless has the hookup on all your wireless needs such as all the newest cell phones, air cards for your laptops, and Pocket PCs with broadband speed to the Internet. To get plugged in, please call 503.459.6860.
Serendipity (Treatment Spa & Salon). Ladies and fellas, this spot has it all, from hair styling to full body massages. (Thanks, Stephanie.) They also do acrylics, pedicures, manicures, facials, Aromatherapy, and full-body waxing. For more info, call 360.892.SPAS (7727), and make sure to check them out in next month's Exotic magazine.
Also check out whatzcrackin.com.
Until next month, y'all keep it "crackin'!"
One Love,
J.Mack