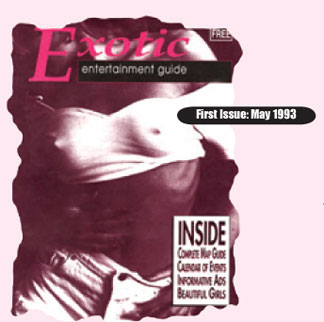 1. It started in May, 1993, when a man named Frank Faillace's dream became reality. The first issue of Exotic magazine was released. It was a nifty little mag that featured everything you needed to know about Portland's adult-entertainment scene. At that time, there was only one other "competitor," a sleazy little tabloid style rag called the T&A Times (which would later fold after its publisher was arrested for…ummm…let's just say Sexual Misconduct.) The first issue of Exotic boasted a full-color cover and 16 pages of adult entertainment at its finest. (Upon review, out of all the advertisers in these first months, only the following are still kicking: Xotic Tan, the 92nd St. Club, Frolics, Jody's Bar & Grill, The Dolphin, and Sweet Sensations. Congrats to those who have stood the test of time.)

2. The Oregon Constitution has always provided more free-speech protection to its citizens than even the US Constitution. But for the first time (with many to follow in coming years) in September of 1994, a proposition was presented to the voters to overrule these freedoms. Exotic steps up to the plate along with the ACLU and rallies a big fuck-you to the city government, highlighted with a special issue in November 1994 which featured an all-black cover—no naked chicks, just a grim warning that we were about to be blacked-out if this proposition passed. This issue also included black "censored" bars across any nudity which would have been deemed unacceptable should the
ballots swing the wrong way. Fortunately, there was a happy
ending, though the battle would reignite for years to come.

3. A year later, after narrowly escaping the threat of banishment, the Portland exotic-entertainment industry is booming. New clubs, lingerie modeling shops, and adult-video stores are popping up everywhere. As erections grow, so does Exotic magazine. It now boasts full-color gloss pages that have grown from a modest 16 to a beefy 40 pages! The magazine starts to come into its own. A former Kirby vaccum-cleaner salesman by the name of Christopher Lloyd-Baron is now a member of Team Exotic in the ad-sales version, and that gal who supposedly MADE Portland, Darklady (AKA Theresa Reed) is its editor.

4. Somewhere around the end of 1995 and beginning of 1996,
a series of events began that to this day are still known as The Portland Porn Wars. Christopher Lloyd-Baron is relieved of his duties at Exotic. The bloke does not take it very well, and he swears eternal revenge on Exotic, threatening to devote his
existence to bringing the magazine down. The magazine has grown another 12 pages by now, and the prelude to the new Exotic regime builds, including staff contributors Gary Aker (who would later step up as editor) and Viva Las Vegas (ditto that).

5. In November of 1997 through February of 1998, Exotic magazine mysteriously becomes Exotica magazine. To this day, old-timers still call us Exotica due to this strange and short-lived name change, brought about over a battle to protect the copyright of the 'Exotica' name. (A proposed strip club wanted to call itself Exotica. Many years later, it would eventually open after everyone decided to play nice and stop acting like playground bullies fighting over who gets to be Batman and who gets to be Robin.)

6. The first Exotic magazine/club connection takes place when its publisher becomes partial owner of hotspot the Cobalt Lounge by creating the sexxxiest Sunday night in town with Exotic-a-Go-Go, featuring Xmag hotties onstage and off-the-hook debauchery at its finest. This would be the stepping stone that would eventually lead to Frank Faillace's next adventure, The Boom Boom Room, followed shortly thereafter by the flagship of his blossoming club empire, Dante's. By now, the disgruntled and vengeful Lloyd-Baron has been licking his wounds long enough, and he hustled enough backers to launch SFX (in some circles, rumored to stand for So Fuck Exotic). As he launches his new clone, he attacks Frank's involvement in clubs, accusing him of competing with his own advertisers. Dante's rapidly becomes the hangout for 99.9% of the adult-entertainment scene on Sunday nights, when Faillace launches SINferno Sundays, a sex-industry night showcasing and promoting talent from Exotic's advertisers.

7. In 2000, The Porn Wars intensify when one of Baron's graphic designers jumps ship and joins up with Exotic, shortly followed thereafter by Yours Truly. Baron swears lawsuits and doom upon the traitors and attempts a very costly lawsuit, but
he fails miserably once again. The new team of Exotic begins. Originally hired as distribution driver, John Voge (me)
eventually ends up as lead salesperson, and with the digital age
of photography upon us, a Nikon Coolpix is tossed into his hand, and he suddenly becomes a photographer. Frank's involvement in Dante's demands more of his time, and Bryan A. Bybee is appointed as business manager. A befuddled, ragtag team of amateur pornographers scratch their heads and mutter, "Shit, this is a business?" All decide they fear Bybee and the changes approaching. The next generation is born.
8. In past years, Exotic had previously hosted several super-contests, including the great Boob Job Contest co-sponsored by Cathie's and the Miss Exotica Annual Dancer of the Year Contest, while the soon-to-be-deceased T&A Times enjoyed a rather popular (and often questionably legit) run with their Miss Nude Oregon Pageant (an event later adopted and reborn by The Dolphin). In October of 2000, Voge (me) decides that selling ads isn't enough any longer; the customers want more. They want contests, they want fire, they want ten girls onstage at once, they want ads with gorillas driving monster trucks across fields of flaming skulls with apocalyptic tattooed strippers in the back! Basically, they want Ink-N-Pink. Technically, I wanted it. The first of many in the contest years began with this showcase of tattooed exotic dancers featuring live tattooing for the first time ever taking place in the clubs, as well as following Faillace's pyromaniac lead by bringing the fire dancers from Dante's into the likes of clubs such as Union Jacks, Jody's, and Cocktails and Dreams.

9. The start of the new millennium takes Exotic into its controversial bad-boy years. The magazine has now swelled to a whopping 88 pages, featuring even more full-color gloss. T&A Times has folded, and SFX still struggles in its pursuit to make good on its sworn vengeance, or as Frank put it in our eight-year anniversary edition in 2001, "There was the time I accidentally terminated the contract with our salesman Christopher Lloyd-Baron just because he was an arrogant, dickheaded jackass." Well, Christopher took things way too personally and has spent the last few years trying to "destroy" Exotic magazine. A new policy is adopted at Exotic: controversy=good. This may or may not have resulted when we brought the author of the controversially brilliant ANSWER Me! zines, Jim Goad, on board. He originally started as a quiet guy who sat in the corner designing escort ads, acting like a good boy until he was off parole. Eventually, a blowout occurred between Goad and then-editor Gary Aker, (who had been strumming the same tired note of monotonous beatnik porn ramblings in the pages of Exotic way past his prime, if he ever had one.) Aker quit, and Goad was appointed as Head Assassin-in-Charge. The controversy approach worked. People were loving it; better yet, THEY WERE READING IT!

10. Another shift in talent was upon Exotic. I had slowly, and then rapidly, started to deteriorate after too many years in the biz. I could spend this whole page bashing myself and the various addictions and self-destructive behavior I had adopted, but all you have to do is read some back issues for that. So it was time to bring in some fresh blood. A young kid named Adam was brought in, fresh off the car lot to assist me with sales, a superstar in the making was growing in the ranks by the name of Shon B. as lead graphic designer, and a new photographer, Carl Geers (present-day mastermind and visionary entrepreneur behind pdxblackbook.com), was the new shooter. And Karla Demaree (another SFX castaway) was in charge of the escort section.

11. After too much of a good thing, I finally snap. In one of Exotic's weekly meetings, I throw a tweaker tantrum and throw my linguine at Bybee and storm off in a rather Lloyd-Baronesque way. The intention was to go be a strip-club deejay and booking agent just like momma always hoped I'd be. That didn't work out exactly as planned. I accidentally started another piece of crap that took far too long to die called Xcitement in November of 2002 (which Demaree later took over, and eventually shanghaied into her own version called Uncovered). The porn war is now in full battle; up to four magazines are in the arena at one point. Exotic remains strong and unstoppable. Magazines are now all stepping up to full gloss, with Exotic eventually maxing at 96 pages. A new attack is launched by Oregon government on the adult industry. Holy shit! This time, they win! The feuding mags call a pseudo-truce and join together with a group called A.C.E. (Adult Club Executives) to continue the battle to retain our freedom of speech. (Two years later, we win.)

12. Meanwhile, Voge (me) has been detoxing and rehabbing in Seattle, and he comes up with a silly idea to realign with his former allies/adversaries in launching a Seattle version of Exotic (Underground, which launches in July of 2004). Back home in Portland, it eventually gets to the point where the three mags realize that Exotic is never going to go away. After six years of pursuing his obsessive vendetta, Baron finally throws in the towel to pursue a more "mainstream" publication called PDX. He passes SFX off to a pimp who manages to destroy the mag after only one issue under his leadership. Demaree also eventually fails
miserably, as Uncovered dies on the vine after only a few issues. Exotic enjoys over a year as the only adult magazine in Portland.

13. Which brings us to where we are now. Frank Faillace eventually stepped down from Exotic and moved on to maintain, expand, and continue to dominate the nightclub world in Portland and beyond. Publisher Bryan A. Bybee now continues to take Exotic into the future. Hell, they even dragged me back into these pages, didn't they, and I even got to bring Goad along. And oh, yeah, that vacuum-cleaner salesman is back for a little comic relief. Home is where the heart is. And if porn has a heart, this is where it is and will always be. We hope you've all enjoyed the past 13 years, and I'd like to speak for all of us in thanking you for being there for us and continuing to support our baby. She's grown up quite impressively over the years, but be forewarned, we're still just getting started.