So I'm relaxing here on the sandy beaches of South Beach, Miami getting a nice nude tan and on a cell phone with bad reception speaking to Raymond Watts of PIG. His use of alliterations about pigs and pork products are brilliant. He has a wonderfully sarcastic and twisted sense of humor that I admire. I caught Raymond, sweltering in the humid heat of North Carolina, as he was lying in his tour bus coffin,otherwise known as "tour bunks." They just kicked off The All Hamerican PIG Tour recently.
BX:
How is the tour going so far?
Raymond:
Bloody hot, so far. We started in Florida. So, how's the Northwest? It reminds me of European weather up there—but everything in America is like on steroids; big mountains, the weather, the people….That Mt. Rainier thing is huge. I thought it was 5 miles away…I was told no, it's 40 miles away. Bloody hell! So far, Charlotte [NC] has been hot—boiling hot—with sheets of lighting, nasty wind and rain. The crowds have been enthusiastic. It's quite surprising, since we are rather an obscure…you know…industrial band…compared to those who have major labels with huge promotion companies.
The kids even are singing along to the more rare songs that were bloody released on EPs in Japan. I was shocked. I wanted to change the lyrics on the spot but they corrected me: "That's not right!" Well, we keep the ball bouncing.
So far, it's been really, really nice to see the crowds show up at the shows. It's bloody expensive to buy those tickets and they still come out to support us.
We have a new lineup for tour. I've had Gunther out before on tour. We flew over to Cleveland this time instead of starting in London. Then we rehearsed with the new touring members.
BX:
I noticed you picked up Angel [formerly of the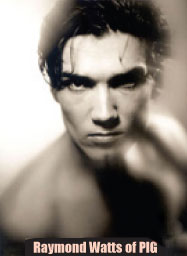 Genitorturers and the Rikets—which will be playing Studio Seven on August 8th]—he was my first drummer in Tampa. He was only 15 years old then. I love that boy—he's on my top list of favorite drummers…right up there with Dick Whiskey, Andy Selway, and Bill Rieflin.
Raymond:
Angel is an excellent drummer with showmanship, not just going on stage and playing well...but you know…the whole package. He likes to entertain the crowd. I love to work the crowd with the rock clichés…foot on the monitor and one foot up your ass just because. Gotta be able to laugh at yourself, too—not too serious about it. "Oh the angst, oh the angst, oh the angst!" [laughing] Take the piss out of myself. Wise up man, you fucking pig.
BX:
Any crazy antics or stories from
the road you'd like to share?
Raymond:
Not really antics…but Nick, singer from Digital Mindy, has a problem with his lower spine. Pretty dreadful…he seizes up and can't walk or move. He had surgery that shaved his disc. It happened the other night. We were pretty worried about him. But he continues to perform.
Then a spiky wood in our backup singer's hair almost…I almost lost an eardrum! It can be very dangerous onstage. You have water, humidity, and electricity mixed. I thought they might electrocute me. Then there was an incident on the tour bus with toilet paper in the toilet…backed it up. Had to go in with latex gloves. Everything is 20 times harder to do on a tour bus. No wet shaves, no privacy, 11 people stuffed into a 40x7 bus for weeks. It's a microcosmic world…oh my God, you wouldn't believe the size of my private bunk…it's like a little 6x4 coffin [taps on the walls].
BX:
Ok, I love the play on words, especially with pork products and references to gluttony and slaughter and political references as well. Can you tell me what started this lifelong obsession with pork? What inspires the project name?
Raymond:
I was in a little studio working with Einstürzende Neubauten on a project mucking about. I was working as studio/sound engineer with EN back then. So a label guy walked in and said, "What's this?" Oh, just a project I was mucking around on. "Do you want to put that out? Have you heard of Wax Trax?" So I went to this little bar in West Berlin. In Germany they eat lots of pork…sausage, pig. The name is short, simple, and sounds good. It became a trademark thing. Lots of puns can be played with it…Jesus is Lard, fascist pig, racist pig, pigs as cops. Pigs are more intelligent than dogs, and they get a raw deal.
BX:
To clarify for your new fans, this is your project? You started it and you rotate members for writing and tour?
Raymond:
Yes. Andy of KMFDM sent over some stuff and he recorded drums, then we digitally fucked with it. Gunter is on tour this time too from KMFDM and Jules also played some stuff on the new album, Pigmata.
BX:
Tell me about the NIN tour.
Raymond:
It was back in 1995 in Europe. Steve was in the lineup then. This was before Andy. We aren't like U2 with the same members with each same person. Floating lineup… Andy, Jules, and Steve. Add them to the pot.
BX:
What do you do when not on tour?
Raymond:
Been spending time in France…not London, not Berlin or Tokyo…but in quiet mountains in France. The bloody hunters are dangerous…tanked up on bottles of red wine with shotguns…hunting wild boar. The wild boar are fucking huge!
As we wrap up the conversation...come out for a rare treat…prime cut. Come give PIG a lick! Spit or swallow, but do come give it a good lick! PIG plays Studio Seven, Sunday, July 9th @ Studio Seven, Seattle's Premier Industrial-Metal Club.