What up, my peeps? It's the beginning of summer, so you know ya boy got to start it off right. I promise to always keep it real with my readers, because you probably wouldn't read my shit if I didn't! I got some new music for y'all to check out, and the scoop on the club scene. If you're looking to get a new tattoo during our warmest season, I got the hookup, baby! Plus, my honey of the month is hotter than jalapeño soup! Let's get it crackin'….
First Up...Laugh Now,
Cry Later & Who is
Mark Thumpton?
These two CD titles belong to two musical entities that will definitely be making some noise in the days to come. The first, Laugh Now, Cry Later, belongs to the Godfather of gangsta rap, Ice Cube.
This is Cube's 7th solo album, and it has a true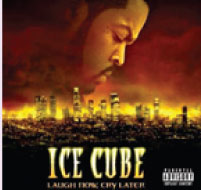 vintage flavor about it. This cat must have went back to South Central and hung out for a while with the homies. The reason I say this is because this new joint reminds me of his rawness back in the dayz. Track after track is hittin'! One of the cool things about this album is that Cube decided to release it under his own record label, Lynch Mob Records. Initially he was going to sign on with Dr. Dre, but 50 Cent was the main priority at that time. Ice Cube totally understood and continued to work on his project with other producers. He has tracks on his new album that were produced by Swizz Beatz, Scott Storch, and Lil' Jon. Snoop Dogg and WC also have guest appearances on Laugh Now, Cry Later. Make sure you ad
this one to your CD collection. Big ups, Cube!
The title of the second album,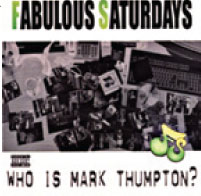 Who is Mark Thumpton?, belongs to the Portland-based group The Fabulous Saturdays.
The thing that I dig about these catz is the originality and the
creativity they put into this new album. It's so refreshing to hear
some real down-to-earth hip hop for a change. Five out of the group's six members are emcees, and you can tell by listening to their music that they all have skillz. My homegirl Tye-Tye was the first to put me up on these catz a couple months ago, and I have been impressed with them ever since. The members of the group are from both coasts, so the combination of talent is a rare-yet-unique blend. This is another joint worth swoopin' up for the summertime! Much love, y'all!

Need a Tat? Call Ken Keck!
As we all know, there are many people rockin' tattoos nowadays, especially in the adult-entertainment industry. I tend to find women's tats very sexy when well-designed and placed in the right spots. Recently I was referred to a dynamic tattoo artist in Vancouver, Washington. His name is Ken Keck, and he has been doing his thing for over ten years. This cat is very precise with his work, and the healing time is quite fast! You can tell he has a natural passion for what he does. After Ken did my new tat, I watched him hook up this sexy honey with a tattoo that she had designed herself. Once the placement of the sketch was laid out, he began to work his magic. The final result was a fly-ass tat just in time for the summer. Ken is giving love to people looking to get hooked-up with a new tattoo. If you contact him and let him know that you saw his work in my column, he will give you a 25% discount. He can be reached at (360) 696-9020. Keep up the good work, man, and I'll see you in a couple weeks for my follow-up appointment…

Honey of the Month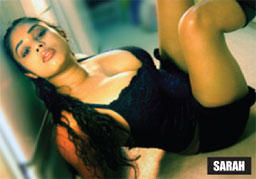 Much love to Sarah for being this summer's first Honey of the Month. Born and raised in Hong Kong, this sexy Honey is also
graduating this year with a BS in Physiology. She is even more beautiful in person. Congratulations, sweetheart!

Big ups to my sponsors!
503girls.com—just log on and see Portland's hottest adult site!…Club 720 (720 SE Hawthorne) is the home of "Ladies Night" every Thursday. Be sure to also check out whatzcrackin.com.
Until next month, enjoy your summer and "Keep it Crackin'"!
One Love,
J.Mack