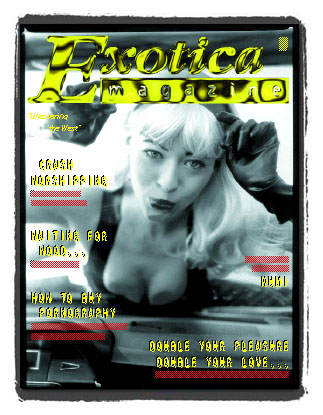 The covergirl this month is Kumi splattered all over a windshield in San Francisco. Kumi lives in SF where she danced at the Lusty Lady, the Roaring '20s and the world famous O'Farrell Theatre. She also is a regular at the Trocadero's Bondage-A-Go-Go, and is establishing a great reputation in the fetish modeling world, having been featured in SKIN 2 and MARQUIS. She makes frequent visits to Portland where she is close friends with such social giants as Gustav from 94.7 KNRK and (of course) me. She is also bald and crazy. You can read more about her in Rex's article "The Bald and the Beautiful." The cover picture was shot by famous fetish photographer Steve Diet Goedde, the stylist was Mark Katz, and the clothes were provided by So Hip It Hurts.
Back to Main Page : Send us your comments


---

Copyright &copy 1996 by X Publishing. All Rights Reserved.
Send email to the webmaster: mrjonz@hotmail.com.