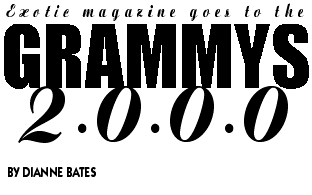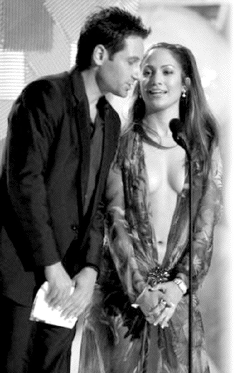 Sometimes I think I've seen everything. Rock stars, celebrities, natural disasters, unnatural disasters... I'm jaded, OK? So I was just as surprised as the next guy when I found myself in a heightened state of excitement as I inched my trusty 1989 SAAB turbo into the long line of limos waiting to get into the VIP parking lot at the Los Angeles Convention Center on February 23. For the first time in my rough and tumble music biz life, I was going to the Grammys. Not as a low-life, small town radio station prize winner, but as a credentialed journalist. Little did the Grammy folks know I was covering the event for Exotic Magazine--my credentials were for the LA Times and Music Connection. Not to mention LA Architect, the magazine that butters my bread.
The long black limo in front of me, with a license plate that read "Music53," came to a halt; as I swerved to get around the car (which was larger than my apartment), I saw legendary (his word) Arista chief Clive Davis being loaded out of the car and onto a golf cart. A golf cart! The stars were still making their entrances for the paparazzi when I reached the entrance. I stood and watched the preening and posing for the yelling photogs. "Brittany, over here! Ricky, show us that smile! Jennifer, bay-bee, let's see the front of that dress."
"What front?" another photog snided.
"What dress?" was another's retort.
Ellen DeGeneres and Anne Heche brushed by me, but I was still cool as I wandered over to the media tent next to the Convention Center. Fitting architectural choice for this circus, I thought. Most of the journalists had set up their laptops, planted for the duration of the ceremonies. After all, the winners and other celebrities were ushered in for their interview by their handlers. Why bother to sniff out a story?
Well, I'm not one to sit and wait for the story to come to me. So I immediately started testing the limits of my credentials. First I decided to see if I could get into the main performing hall. I took a deep breath and walked into the building past guards who looked at my laminate. Presto! They just smiled and waved me in. I found a seat about 10 rows from the stage. The Dixie Chicks were performing. The lead singer was wearing a tight black leather dress that a woman of her substantial weight in another town would have been tarred and feathered for wearing. But this is showbiz, kids, and the rules are very different.
Ricky Martin was next and the crowd showed its appreciation for his record sales by standing and cheering when he was finally finished. During the thunderous applause, I made my way back to the "one-one-one" room. This is the room where little cubicle sets are constructed for the talking heads from Access Hollywood, MTV, VHI and E! to conduct their interviews with celebrities and winners. There was a spate of actors making the rounds. I zoned in on the cop-with-a-heart, Dennis Franz.
"Dennis," I asked, "who's your favorite architect?"
Well, to be sure, no one at the Grammys had been asked THAT question yet!
"Hey," he exclaimed. "Great question! Actually, my answer is Frank Lloyd Wright, because I'm from his hometown in the midwest!" He seemed happy he got to display some intelligence. Hmm. Maybe this LA Architect approach is going to work.
My next target was X Files' David Duchovny. I threw the architect question at him.
"Uh....wait...I know the answer...help me out here...it's, it's the guy from Chicago. Frank something.... " he fumbled.
"Frank Lloyd Wright?" I offered.
"Yeah! That's him! Whew! Thanks for helping me out, there," he smiled.
About this time, Her Majesty Whitney Houston and her short, cheap husband, Bobby Brown, breezed into the room. Whitney was wearing a tight, chintzy looking pink gown with a trashy-looking feather boa. She strutted in like Mae West with her nose in the air. As I approached, Bobby shoved me out of the way. Somehow, I felt her answer would have been Frank Lloyd Wright.
Feeling bored, I started for the backstage area, just as Puff Daddy and Jennifer Lopez were making their way to the stage entrance. Needless to say, they were surrounded by the biggest, baddest bodyguards I'd ever seen. I examined her skimpy dress for some clue as to how it adhered to her body. It looked great on camera, but, in person, poor Jennifer's bony chest was overexposed for my tastes. I approached the couple, in spite of the imminent threat that their bodyguards would body slam anyone who got near them.
"Jennifer," I said, thrusting my little microcassette recorder in her face, "who's your favorite architect?"
"Huh?" she said, wrinkling her perfect nose. Then, a slight shake of her head and she was gone. I'll never know if the "huh?" meant she didn't know who was her favorite, or if it meant she didn't even know what an architect was. I hung out for a while in the area where escorts meet the stars they are escorting, then made my way to the backstage pit to watch Elton John perform. When he was done, I followed his entourage to the press area. I couldn't get near him, but managed to chat for a while with Billy Joel--who was was much cooler than I anticipated.

Meanwhile, in the press room, Sir Elton was trashing the Grammys.
"I mean, let's face it", he said, "the Grammys and the other awards shows... well, they're just a bunch of bullshit, aren't they? Oh, and by the way, I want you all to know that I've slept with several members of the Backstreet Boys."
The press corps roared with laughter (the next day, I noted that no one had mentioned Elton's remarks. Pussies. You have to read Exotic Magazine to get the real story!). After his wry comments, Elton and Billy Joel were whisked away to waiting limos.
By now, the Grammys were winding down. Once it was clear that Carlos Santana was going to win everything, there was no suspense. Again, I eluded the PR and security people (one of the press agents asked me, "Why do you keep asking everyone about architects?" "America wants to know," I replied), and fell into Carlos' entourage, where I chatted with Clive Davis about the future of music on the internet. He indicated that he wasn't interested in the internet and that it will never replace record companies as a way of distributing music. It was sad to think that a once powerful music industry executive was so out of the loop, but then I remembered how much money he has and the pity stopped.
On my way out, I stopped by the digital imaging photo services station to put in a request for photos for this article (well, actually, I didn't tell them it was for THIS article). Couldn't get photos. I found out the next day that the LA Times was denied photo passes because the Times is investigating the head of NARAS (National Academy of Recording Arts and Sciences) for misallocation of charity funds. Whoops.
I made my way out of the building and headed downtown to the NARAS party at the Bonaventure Hotel. It was surreal to see an empty downtown LA with nothing but stretch limos silently cruising up and down the dark streets. Looked like a movie set. I valeted my car and walked confidently up to the front of the entrance and flashed my press credentials.
"No press," I was told. What they meant was, no LA Times. Dejected and badly in need of a drink, I went around the building to another lobby where a bar had been set up. Bemoaning the fact that I had to actually pay for a drink, I struck up a conversation with a handsome conga player with a party pass. Turns out I had reviewed a band he was playing in once, so he went back into the party and got his friend's pass and came out and gave it to me. Voila! I was in.
Three floors were jammed with all the free food and booze a jaded journalist could want. Puente was playing on one floor, Dwight Yoakum on another, the Manhattan Transfer on another. I picked up my official Grammy goodie bag, which included hats, perfume, CD's, etc. It cracked me up to see the incredibly wealthy and beautifully gowned women grabbing up the bags as if a free sample of perfume was pure gold. I drank and ate until 3:00 am, and then accepted the invitation of a friend to stop at his condo on my way home for a nightcap.
While backing out of his parking garage, I crunched the right fender of my SAAB on a pole that somehow eluded my alcohol impaired vision. So that's why the stars use all those limos. I made the decision then and there that next year I'm taking a limo to the Grammys. And getting a better press pass.