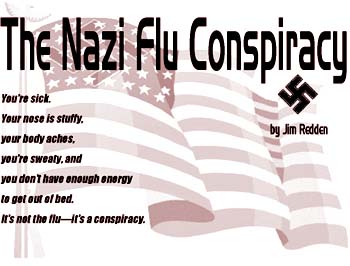 At least, that's what Dr. Len Horowitz says.
Over the past 10 years, Horowitz has become America's most controversial medical authority. A university-trained medical researcher, Horowitz, 48, charges that elements of the United States government are conspiring with major pharmaceutical companies to make large segments of the population sick. More than that, he charges that these same conspirators created the AIDS epidemic to kill Blacks, Hispanics and gays. And if that's not enough, Horowitz argues that Adolph Hitler created the New World Order to fulfill his twisted dream of world domination.
Horowitz has made these claims in a series of books, videos, public appearances and radio talk shows. Today, Horowitz is best known as one of the most vocal opponents of government-mandated vaccines. He believes that vaccine manufacturers have purposely contaminated their products with a wide range of exotic viruses, including funguses developed by the United States military. He believes contaminated vaccines were intentionally used to create the AIDS epidemic.
Despite his wild claims, Horowitz has a serious academic background. After he received a doctorate in dentistry from Tufts University, he was awarded a fellowship to do behavioral research at the University of Rochester. Horowitz later earned a Master of Public Health degree in behavioral science from Harvard University and a Masters degree in health education from Beacon College. He has also served on the faculties of Tufts University, Harvard University, and Leslie College's Institute for the Arts and Human Development. His published research reports have appeared in a diverse array of scientific, professional, and lay periodicals ranging from American Health and Wellness Management magazines to the Journal of Patient Education and Counseling, the Journal of AIDS Patient Care and the British Dental Journal.
At the same time, Horowitz has turned his back on the medical establishment and embraced alternative, holistic therapies. He currently serves as president of Tetrahedron, Incorporated, a non-profit organization founded in Massachusetts in 1987. According to the organization's literature, Tetrahedron's mission is "to provide people with opportunities to enhance their own abilities to experience health in body, mind, emotions, and spirit. To aid and help people educate others to create harmonious social relationships within safe and supportive environments and thereby help develop a world which functions more for the benefit of all humanity." Among other things, Tetrahedron offers seminars featuring Horowitz as a motivational speaker. The organization has also published Horowitz's numerous books, including Emerging Viruses: AIDS & Ebola - Nature, Accident, or Intentional? and his newest work, Healing Codes of the Biblical Apocalypse.

Horowitz has traveled the country for years, speaking at both his own seminars and at survivalist-oriented Preparedness Expos, where he has appeared before large, enthusiastic crowds. A dynamic public speaker, Horowitz has presented his conspiracy theories to hundreds of thousands of people over the past decade, personally selling his books and tapes before and after his presentations. He has also appeared on numerous talk radio shows, including the nationally-broadcast "Art Bell Show" and "Sightings" with Jeff Rense.
In January 2000, Horowitz began touring the country with a series of "Healing Celebrations" designed to introduce newly-discovered natural therapies for fighting illnesses, including cancer and other immune system-related ailments. A Jew who has converted to evangelical Christianity, Horowitz says these treatments are God's own healing methods. I caught up with Horowitz at the Airport Holiday Inn in Portland, Oregon on February 4. He was scheduled to speak at a "Healing Celebration" scheduled for that evening and the next day in the hotel's largest conference room. A handsome man with a firm handshake and smooth manner, Horowitz met me in the lobby of the hotel. Dressed in a tailored gray suit, white shirt and tie, he agreed to be interviewed in the hotel restaurant. We sat in a booth with a small formica table. He ordered a glass of water and a small plate of lemon slices, squeezing the slices into the glass and sipping the water throughout the interview. He answered questions for over 90 minutes. What follows is the whole enchilada—an Exotic Online xtra.