CLASSIFIEDS
* HELP WANTED *
Dancers wanted at Portland's HOTTEST clubs. Call for shifts at Club 205, Dillinger's, Pop-a-Top, Sassy's, Montego's, Double Dribble, Hideaway Pub, Dancers and Nicolai St. Club (503) 282-6429.
Come work with the best crew in town! CJ's is now accepting auditions from beautiful, professional and dependable dancers. Come check us out at 17544 SE Stark, 10am-4pm Mon-Thu. (503) 252-3529. Ask for Milt.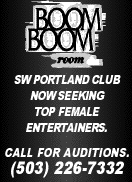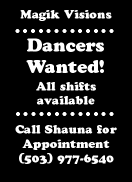 Doc's is looking for in-house dancers--great money--great shifts--great club! Call (503) 805-7944 for auditions daily.
No Fees, No Games, No Experience Necessary, Just Shifts. 92nd St. Club and 505 Club call (503) 257-6201.
Nicolai St. Clubhouse is now auditioning exotic Dancers. Call Big Dog (503)282-6430
The all-new Viewpoint has hot $$$ evening shifts available for entertainers and waitstaff. Call Rick at (503) 330-0784
Silver Dollar Club, Eugene's top dance club now under new management seeks Oregon's finest dancers for top $$$ shifts. The cleanest club in town. 18 & over. For auditions call (541) 485-2303
George's Dancin' Bare. Top class dancers apply in person 12-4pm Mon-Fri 8400 N. Interstate, Portland (503) 285-9073
Boom Boom Room... Classy exotic dance club on upscale Southwest Barbur Blvd. in Portland is seeking top quality dancers. Call (503) 226-7332.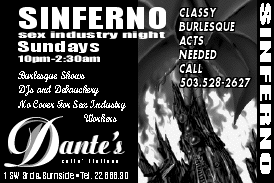 Wildcats in Beaverton is now accepting auditions for housedancers. Tuesdays 1pm-4pm. Call 503-643-7377
Now hiring classy lingerie models for new shop with a fantastic downtown location. Call (503) 222-9823.
Make big $$$ as a lingerie model! Call Ann @ (503) 768-9548.
VERY selectively hiring-- The Palace. Call (503) 252-3718 / (503) 771-8050
Now Hiring Adult Female Wrestlers. Keep your clothes on! Call (503) 252-3718
Private Male Dancers Wanted (503) 252-3718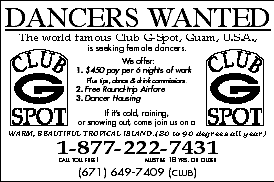 Leather & Lace Lingerie Modeling Shop is now hiring part and full time . Top pay. (503) 788-7694.
Dancers! Good pay, good hours, nice club. Call (503) 283-5912.
DANCERS WANTED: Club Cabos. Auditions @ Cabos M-F 11:30am-1:00pm or call 721-8598.
Fantasy Booth models wanted. Apply in person. 3232 NE 82nd. 3pm - 4pm Mondays.
Wild Orchid is now auditioning top quality dancers for Portland's newest upscale gentlemen's club. Call 503-284-6468.
Lingerie Models Needed for busy SE location. Excellent hours and pay. (503) 775-9608.
Models and fun girls needed for top $$ shifts at Portland's long established lingerie modeling salon. All-female staff, easy working conditions. (503) 235-0058.
Now hiring lingerie models. Big $$. (503) 768-
9235.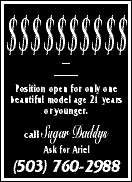 Rooster's is now auditioning dancers. call (503)289-1351
Yeah Baby! Shagnasty's is looking for dancers to open our new club. Interested dancers call 503-516-8664.
Female Dancers or showgirls for Frolics. No experience needed. Earn up to$80 per 5 minute show. Super clean and busy store. Contact Albert or Eileen at 408-9640 or page Albert at 870-3960.
Clubs to choose from. Tommy's is now accepting auditions by appointment at 503-736-1011.
Busy Dungeon Seeking Submissive Girls - T.V.'s -TS's (503)7888465
MAGIC VISIONS is Now Hiring Lingerie Models (No experience preferred). Full or Part time. Call for details (503)977-6540.
Looking for old-fashioned classy BURLESQUE acts for theatrical cabarets in downtown Portland venue. Call Greg at (503) 528-2627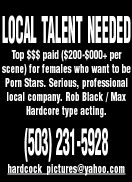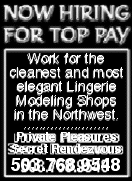 * MISCELLANEOUS *
MODELS needed for erotic photography. Special needs: punk, gothic & "barely legal". All cuties & beauties invited to apply, though. Must be 18 or older. Payment in $$$ +choice of pics. (503) 227-3660.
Attractive Female Models needed for Striptease Photography. Must be 18 or older. No experience needed. Pays $20/Hour. Especially needed: "Barely Legal" (18-19), Foreign (all races), "Punker" (Tattoos, Body Piercings, etc.), Pregnant and Amateur models. If interested call James (503)504-1831 or Email; Images@teleport.com
Bi-Curious? Meet Discreetly by phone. Record and listen to personal ads FREE! Call 24 Hours! Portland (503) 232-1500, Seattle (206) 682-1101 or (425) 825-8889.. Use code 6901.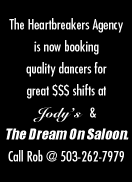 MEET SEXY SINGLES/COUPLES! Hook up with kinky locals for hot times. Record and listen to ads FREE! Portland (503) 232-1400, Seattle (206) 682-1150, or (425) 825-1177. use code 6902.
BI-CURIOUS? SWINGERS? Did you know that it's FREE to call Portland's Voice Personals? It's FREE to record and listen to messages! Try us today! Call (503) 232-1500 and use our FREE code 2200.
IT'S FREE to call Portland's Voice Personals! Meet local singles and couples right from your own phone! Record and listen to messages FREE. To try it out, call our FREE line at (503) 232-1400 + use FREE code 2010.
CASUAL SEX DATELINE. WANT SEX...Act on it. Call Casual SexDateline in Portland, OR (503)802-4848. In Vancouver, WA. (360)816-6262 Enter FREE Trial Code 9262. www.casualsexdateline.com
ADULT VIDEO SALE* Hundreds of rare, classic and hard-to-find titles from the Golden Age of Porn. $19.95 gay and bi titles too! Video Gold, 8665 SW Canyon Rd near Lexus dealership. (503) 292-5506 www.videogld.com
ADULT VIDEO - Buy - Sell - Trade. No swap meet junk. $5 apiece. Call Herm at (360) 256-7234 or (360) 901-2856
HEY GIRL-BAD DATE?
(503) 813-0996 * Portland Metro
Leave a message and we'll spread the word.