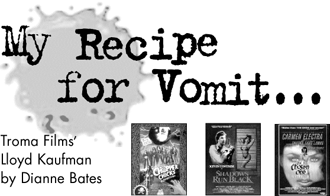 You know, when it comes to quality film entertainment, it just doesn't get any better than Killer Condom. You got your gore, you got your sex, you got your action. And very groovy costumes, I might add. Based on Ralf Konig's best selling comic book, with creative consulting by H.R. Giger (Alien), Killer Condom was an official selection in this year's Berlin Film Festival. And what film company dared to release a flick with such meaning and purpose? Why, Troma Entertainment, of course.

Troma, launched a quarter of a century ago by Lloyd Kaufman and Michael Herz, has carved an exotic niche for itself in the dog-eat-dog film industry. Troma is gonzo. Troma is unchecked. Troma is one of the last of the B movie companies. Rife with blood splattering, girls with big tits, and alien ooze, Troma movies bring side-splitting relief from the steady menu of pabulum served up by the major studios. Rather than being pegged as "action" or "comedy" or "horror" films, Troma films throw all of those genres into the low-budget stew. Mostly, though, we're talking funny here.
Lloyd Kaufman, in his hilarious, definitive how-to book, All I need to Know About Film making, I learned from the TOXIC AVENGER insists that Troma doesn't use conventional wisdom when it comes to little things like plot.
"How in the hell could I ever construct something like that when I'm more worried about the weather changing from one shot to the next? Or a priest throwing us off location when we've only finished shooting half the drug scene footage we need on the alter of his church? When making a Troma movie, we often film not what we want, but what we can get.
Not to mention the fact that I have an extremely short attention span. I have an easy time concentrating on the 'effect.' It's the 'cause' I have difficulty with. When watching a Troma movie, you must not only suspend your disbelief: You must lock it up in a small iron crate and torture it."
Troma's films deal with what the media calls sex and violence, but Kaufman simply refers to them as "a typical day in my brain." And what a brain it is. Who, besides Roger Corman, Russ Meyer, and John Waters have had the opportunity to put such twisted hilarity on screen? Howard Stern and the South Park guys owe a debt to these masters. Kaufman claims he could hardly sit through an industry screening of Stern's Private Parts. Heavyweights like Sherry Lansing, Tony Bennet and Henny Youngman were laughing their asses off at the steady stream of fart jokes, vulgar humor, huge breasts and women in bikini's. 'Hell,' thought Kaufman, 'all this stuff was in Troma's Squeeze Play twenty years ago.'
Many in the movie industry accord Kaufman a sort of mythic respect. Everyone I talked to at the recent American Film Market in Santa Monica, Ca. claimed to 'know Lloyd personally' for 25 years. "I love the guy," spouted one producer. "He can do anything he wants." For the record, Troma had the best presentation at the Market, staffed with hard-body strippers and plenty of kitchy posters, comic books and stickers. The "we don't give a shit" attitude was like a breath of fresh farts in a veritable morgue of stiffs like Miramax and Lion's Gate Films. When I walked into Troma's room, I knew these were 'My People.'
Video stores gave up categorizing Troma films long ago; most just have a "Troma" shelf. The titles alone are entertaining: Space Zombie Bingo, Star
Worms, Sgt. Kabukiman, Rockabilly Vampire, Rabid Grannies, Pterodactyl Woman From Beverly Hills--all films that make the National Lampoon movies seem like Sunday bible school. A closer examination of the video jackets reveals even greater treats. Although few will admit it, Troma was a starting point for many a superstar career. Oh yeah, that's Kevin Costner in Shadows Run Black, a 1984 flick that Kaufman proudly calls, "the mega-star's second worst film since The Bodyguard." In 1986, Costner went back for more, starring in Sizzle Beach USA--"filmed around water," says Kaufman. "If the makers of Waterworld had consulted Troma fans," he continues, "they would have been told that WW could be a successful Costner film if it had as many boobies as this blockbuster." You gotta love this guy. Other notable alumni superstars include Samuel L. Jackson in Def by Temptation, Paul Sorvino in Cry Uncle (directed by Karate Kid's John Avildsen), Robert DeNiro in The Wedding Party (directed by Brian DePalma), Beverly D'Angelo in Pterodactyl Woman from Beverly Hills and Billy Bob Thornton in Chopper Chicks in Zombietown.
The Troma Team also takes credit for the meteoric rise of Madonna. In 1983, she auditioned for The First Turn-On. "We turned her down and she went on to musical success," boasts Kaufman. Academy Award nominee Vincent D'Onofrio, on the other hand, did make the cut. I know I join the rest of the universe when I say with just a little chagrin that Madonna can't have everything.
Troma also has preyed on celebrities on their way down. Troy Donahue was probably thrilled to death to get a major role in 1971's The Love-Thrill Murders, a take on the Manson family murders. Add to the list John Carradine and Stella Stevens in Monster in the Closet, Yvonne DeCarlo in Play Dead, and Shelly Winters in Ellie.
Hey, work is work.
Kaufman isn't kidding when he talks about his love of "special effects." And aren't his special. Most Troma films are heavy on fluids. He unabashedly shares his recipe for film vomit:
Mix 1 Dixie cup full of water with 1/2 tablespoon of green food dye. The water should be dark green. If it's not, dump in more dye. This isn't an exact science.
Depending on the size of the effect you're after, place 1 to 3 tablespoons of Bromo Seltzer inside your mouth (CAUTION: Do not swallow--unless you have a hangover).
Drink the Dixie cup combination. Again, do not swallow. Just let it sit there in your mouth.
Let the Bromo Seltzer and liquid foam inside your mouth. Wait until it is a huge, healthy froth before you open your mouth and release it's emerald beauty into the post-orificial world.
Bask in the glory.
I tried this at home. It works. It also stains the rug. Head crushing is a favorite motif in the classic Troma films. Who can forget the child who is run over by a car in The Toxic Avenger? Ignoring the expensive special effect methodology, the Troma Team simply attached a cantaloupe loaded with cranberry sauce to a fake child's body. When the tire crossed over it, the splatter was terrific (I'm actually getting hungry writing about this). Creativity on a budget. Yum!
Tits, tits, tits. Troma can't get enough of them. Who can? Kaufman advises, "Next time you're walking on a beach and think you step on a jellyfish, look again; it might be a silicone implant from one of the Sizzle Beach beauties lost during shooting. Whoops!" Plenty of recognizable boobies show up in Troma flicks. Shannon Tweed and Penthouse Pet of the Year Sheila Kennedy flash their respective sets. So does ex-MTV jock Martha Quinn. Oh no, wait, I forgot. Martha Quinn doesn't have tits. My mistake.
Mostly, though, Troma films are just about being goddamned funny. Chances are pretty good that no Troma film ever gave anyone a hard-on (if they do, you're some kind of sick fuck, baby). Throwing every accepted technique for having a successful film company to the wind, Troma exists because, according to Kaufman, "the world needed to have one Troma, and we just happened to be there. We screw up because we do what we do with heart. Our films may be goat shit. But they're goat shit for which we have lots of affection."
Kaufman is a hero to me and to anyone who wants to regurgitate whatever sick and stupendously funny ideas that swim around in our heads. Most of us suppress thoughts of beheaded starlets and menacing rubber puppets. We feel guilty even thinking about this shit. Kaufman not only dreams it, he films it, and fills a niche that has little room for imitators. Like a demented fairy godfather, he magically turns a cantaloupe into Cinderella's head, then smashes it in front of Prince Charming, who then makes love to both the evil stepsisters.
You know, that's a damned good idea. I think I'll pitch it to Troma.