Two weeks of tattoos and flesh featuring more than twenty tempting and tittilating tattooed women coming to four clubs in October and wrapping up with an all-day long event with 10 of the finest tattoo artists in the Northwest, the Exotic Tattooed Review, Exotic Dancer Tattoo Contests, open to all tattoo competitions, special guest appearances, booze, rock-n- roll, and more of the seven deadly sins than you could ever hope to pack in on one Halloween. And if that's not enough to make your tattoos tingle, how about cash and tattoo prizes, you can even win a tattoo limo ride with the exotic dancer of your dreams.
Any club may sponsor two girls as entrants into the Exotic Tattooed Review. These girls will be pictured in the September and October editions of Exotic magazine as part of the Tattoo Hunt Contest. Starting on Friday the 13th of October, our Tattooed Review will be making four feature performances in four premier sponsor clubs. Space reservation will be limited. All locations will be announced in our September issue. Interested sponsors, clubs and tattoo parlors and artists should contact John at (503)936-2673.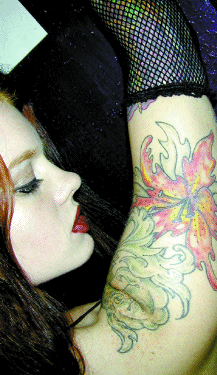 And ladies, if you think you have what it takes in both the flesh and the ink. Call John at (503)936-2673. We are looking for tattooed ladies with the right attitude, and with distinctive and striking tattoos. You must be an exotic entertainer actively working in a sponsor club to be a part of the Exotic Tatooed review. Non dancers, male and female, are welcome to enter the open compitition held on Halloween.