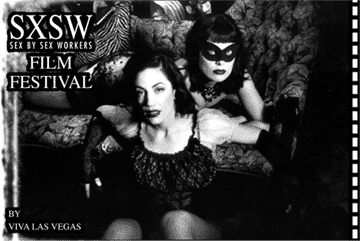 Pornland, pornland, ya done us proud again. How do you lure such brilliant vixens to your soggy small town shores? What is it about you that coaxes the hotties to pour out their souls for your fortunate sons? Most of us know by now just how cool our local sex workers are, that they are artistic, intelligent people with choices and that they choose to entertain us to pay their rent. But even by high local sex scene standards, the Sex by Sex Worker Film Festival is in a league of its own. It put Portland on the map way back in 1998, spawned a copycat in San Fran last year, and rears its gorgeous head again next month, on October 4th and 5th at Cinema 21.

This year's festival features 24 films, each funded by, inspired by, and/or directed by sex workers. The flicks run the gamut from a glossy 50-minute how-to lesson in hard core to a 10-minute radical short about sex and vegans. All, however, have the same quasi-radical sex-positive tone. The sex industry is still an underground movement (I keep forgetting...), and films about it are by nature provocative.
Like most human endeavors of breathtaking moment and beauty, the Sex by Sex Workers Film Festival was born in a bar in the wee wee hours. This was a few years back, when co-curator Gina Velour was pushing her indie film hit The Operation at festivals around the world. She was surprised by the number of people she met who used sex work to fund their filmmaking habit. Velour was discussing this with Teresa Dulce, the founder and editor of danzine and the person voted most likely to get a project off the bar and into history books, and they decided to make it happen. There's tons of material out there and there's an audience out there. All that was needed was to get the two together. This, however, is a huge and thankless task in any arts medium, but when your focus is SEX, you've got to be especially diplomatic. A liberal venue had to be found to host the festival, and sponsorship was needed as well.
Gina Velour put postings on film festival websites, and Teresa Dulce reached out to the sex worker community via danzine. Within three months, they had enough material to do a two-day festival. Finding a venue presented something of a challenge, however.
"In 1998 we approached virtually every theater in town, and no one would touch the festival if they had to put the words 'sex work' in the marquee. However, Cinema 21 was absolutely interested from the get-go. The owner there, Tom Rainieri, is very dedicated to not censoring works of art. The first year he told us there was nothing that we couldn't show. He was ready to have the festival again a year later. He's been completely behind us. Once you have that kind of freedom, the sky's the limit. We didn't have to be afraid of what was going to offend whom. All we had to do was find the work and get it out there."
The festival was a smashing success. Its co-curators were featured in every local publication. People donated time, talent, and money. Sex worker celebrities like Scarlet Harlot from San Francisco flew north for the big nights, and Portland's favorite working girls and boys were the talk of the town.
That was 1998. Now, two years later, I asked Teresa Dulce what was different about the festival and the films submitted.
"There's Now a Portland sex worker filmmaker scene, and we created it!"
-Marne Lucas

"We're seeing a lot more local films. There's now a Portland sex worker filmmaker SCENE, and we created it! Plus the word is out, and films are coming to us from all over the place. San Francisco now has their own festival, the first of which was last year. We're going to alternate every-other-year with them. But we were first!"
The festival kicks off with Scarlot Harlot's short film Outlaw Poverty, Not Pros on Wednesday, October 4th at 7pm. Scarlot Harlot is a leader of the sex workers' rights movement, nationally and internationally. She invented the term 'sex work' in the late seventies and has worked as a prostitute, activist, and artist in the San Francisco area for the last twenty years. Four of her films will be shown at the festival.
After Outlaw Poverty, Not Pros will be shown VICE, a true story about the prosecution of a topless dancer for indecent exposure. Writer/director John Woodward is an Academy Award winner who worked with the Coen brothers on Blood Simple. Woodward worked very closely with the actual dancer, Tammy Stones, who produced Vice. The flick also features indie star Maxine Bahns, who starred in The Brothers McMullen (and is perhaps the most terrible actress I've ever seen on celluloid, but she doesn't speak for the first forty minutes of Vice, and thereafter manages to do ok). The story is absolutely rousing in a first amendment sorta way, and that's the kinda rousing sex film I totally salivate over.
Wednesday night will feature local shorts from 10:30pm to midnight. This is the most exciting part of the festival. No-budget and low-budget utterly honest stuff by people in your neighborhood. Arty guys Jacob Pander, Ernest Truely and Dave Queen put out, stripper gals (and a whole lot more) Queen Ruth E. and Tonya Hurt throw down, and Gorilla Theater from Outside In show us their street smart message of being safe, staying sane, stopping AIDS, and speaking out.
Also playing Wednesday will be one of two documentary features by Sharon Mitchell, a short comedy by Gina Gold about lap dancing, and WADD, The Life and Times of John C. Holmes, a feature about the first porn superstar and the odyssey of his 13-inch penis, from the cornfields of Ohio to the killing fields of California. What a night!
Pitch a tent in Couch Park with the salt of the earth and get your coffee early, cuz the festival kicks off at NOON on Thursday with more supercool shorts and a how-to Porn 101 by Sharon Mitchell and Nina Hartley. At 7pm is the must-see Live! Nude! Girls! Unite! by Julia Query. This stripper-written and directed feature documents the fight by employees of San Francisco's Lusty Lady peep show for their constitutional rights. Another film to file under first amendment porn, the kind I like best.
At 10:30 pm on Thursday, porn actors who get behind the camera are featured. RimFest sounds especially intriguing.Teresa says, "Eight glorious butts get licked and worshiped and they're female!"
Of the films I previewed, my favorites were always the ultra-indie shorts, and of those the two stand-outs were Big Girls, by Sara McCool, and G-SPrOuT!, by Mirha-Soleil Ross and Mark Karbusicky (Canucks!). Both are pretty damn subversive and extremely well-done. Both also show before 3pm on Thursday, so I hope some of us late bloomers actually get to see them.
Big Girls blew my mind. First off, it's always refreshing to see people who will be sexy, stereotypes be damned. The short features some large 'n lovely ladies who work as prostitutes, models, and in phone sex. The women all have the strength and intelligence that comes from mindfully living on the edges of society, and they tell it like it is. They raise the question of whether being fond of fat is abnormal. Are the women blown up into caricatures and exhibited in Playboy normal? Do you have a thin fetish? The film also interviews fat devotees: the guys who love fat women or who just plain love fat. Evidently, it's a much larger market than I imagined, with many magazines catering to the various preferences, and conferences for fat aficionados and their fat companions. Call me naive, but I had no idea there was a whole form of fetishism around feeding fat people. Big Girls contributed two words to my vocabulary: feeder and feedee. Feeders feed their lovers for sexual gratification. Feedees feed for sexual gratification. The one gets so fat that he/she (but usually a she...including many lesbians) is totally reliant on his/her partner, needing to be wheeled about, fed, and rolled over to prevent bedsores. Who knew?! But anyway, I digress.
G-SPrOuT! is on rather the other end of the spectrum, but is an equally subversive, just-say-no-to-society kinda flick. Teresa says, "I don't know if this is gonna help us or hurt us." I say, I'm vegan again goddamnit! I hate evangelical condemnatory veg-heads as much as the next fellow, but I was pretty moved by this movie. It's basic theme is "Vegan's taste better." Who cares. But it's neat to see the radical link between sex workers and militant vegetarians, all on the fringe of society, many for sociopolitical reasons.
However, the vegans aren't gonna have a film festival sponsored by WW, Exotic, and The Mercury and playing at a theater near you anytime soon. Cuz they hate you, the common man (and the way you taste). And we sex workers, we pretend to love you, or maybe even love you (and maybe even let you taste). Better diplomacy. So, amazingly, we got a platform to spread our good word. And we have a lot to—ahem—spread. It's why I strip, and why lots of ho's and nasty girls and boys are in sex work, and why they're now making films! Really, it makes perfect sense. Yet still it's remarkable. And not to be missed.
Many of the filmmakers will be in attendance during the festival, and there will be a Sex Worker Symposium featuring them at Mu-Mu's from 2-4pm on Thursday, October 5th. The symposium will be $20, and seats are very limited. Sharon Mitchell and Scarlet Harlot will be there, as will John Woodward and Tammy Stones form VICE. San Francisco writer, filmmaker, former sex worker and activist Gina Gold will be there, as well as almost all the local filmmakers and the festival's fabulous co-curators Teresa Dulce and Gina Velour. The panel will discuss sex work and filmmaking, then answer questions from the audience. (Email mlucas@teleport.com if you're interested in reserving a space for the Symposium.)
The festival wraps up on Thursday evening with the party of the century at Dante's, featuring song and dance by Portland's most fabulous creatures. Even porn star extraordinaire Sharon Mitchell will grace the stage. If the bash is anything like 1998's sell-out extravaganza, it'll be the best $10 you've spent in years. Wear something drop-dead gorgeous, and you'll fit right in amongst the human parade straight out of Fellini's La Dolce Vita. See you there!