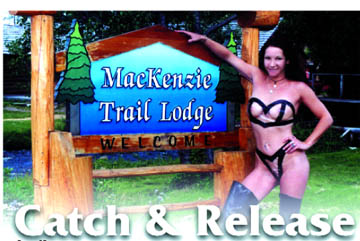 WORLD CLASS FLY-FISHING, GOURMET MEALS, NAKED WOMEN AND NO TELEPHONES! It was the perfect opportunity for this dancer to take the bump-n-grind out of the city and into the WILD! So, a group of fishing buddies headed north, rightly expecting some "T&A" with their R&R. As a lover of pulling in the big ones and "rough riding" in the great outdoors, I was chosen to be their thigh-high booted guide. And what an ideal setting. MacKenzie Trail Lodge is so remote that it's only accessible by plane. Over 30 lakes and rivers provide an abundance of native trout. In just five hours from Portland, we were landing on a 3400 foot airstrip owned by the lodge. I was reeling with anticipation (pun intended) at the thought of getting my hands on a fast-action rod and releasing some tension.
The lodge sits on the shores of Tsacha Lake, in the Caribou Chilcotin region of British Columbia, about 273 air miles from Vancouver, BC, and about 100 miles inland. MacKenzie Lodge is the sole occupant of the 12 mile. long lake, which means you can get as loud and naked as you want! We were greeted by Jean and Mike, the lodge co-hosts, who came up with the idea of naked women combined with kick-ass fishing while judging the Miss Nude Oregon Pageant last February.
Most of the guest cabins have a private bath. And all of them have wood stoves, propane lights and daily maid service. The rest of the camp sports a fly fishing shop, sauna, smokehouse and bathhouses, with flush toilets and hot showers. There are motor boats available, or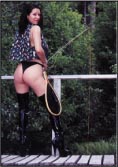 you can go on a fly-out with a guide, who will cook your catch on an open fire lakeside. All of the other meals are prepared fresh at the lodge, including baked goods and pastas.
Catches of up to 100 rainbows a day are common in this fishing paradise!
You may see eagles catching their dinner from the same menu as you, or even a black bear! There are many hiking trails for those that like to explore. The staff will make you feel right at home, eager to provide the, "Fishing Experience of a Lifetime."
The five days I spent at MacKenzie Trail Lodge was the highlight of my dancing career. I danced twice a day, after lunch and in the evening. The rest of the time was mine to enjoy fishing, exploring, or just relaxing with a cocktail.
I did some private shows and, a "special" thank-you show for our host and hostess. For my final performance, Jean and Mike dressed me from head to toe in fly-gear, complete with a tackle box full of "toys" and a "pole" that was just my size!
Where else can you get away from modern day stresses, such as cell phones and ex-wives, and still eat a gourmet meal, drink fine wine and get a naked lap dance every night, after fishing all day! Nowhere, except MacKenzie Trail Lodge! They take reservations of up to 15 people at a time and have a staff of eight. Sounds like two on one to me! That could make for a good time, aye?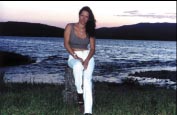 For information about MacKenzie Trail Lodge, call 1800-80-TROUT or visit their
website @ www.mackenzietraillodge.com