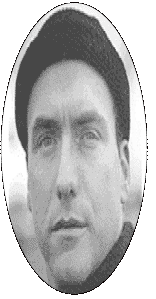 I
n Portland, there's nothing better than a soft kiss in the car with rain beating down on the windshield. Millions of those moments under Oregon's gray sky, with enough storms blowing off the Pacific for a permanent carnival of Dionysian splendor. Hot Rain, that's what I've always called those love-drenched nights in cars.
Like any straight guy living in Portland, Jim Goad will happily remember the warm, dreamy lips of a girl in heat floating across his front seat. But it wasn't Hot Rain for Goad while driving on a Portland street the early morning of May 29, 1998. His left hand was on the steering wheel while his right fist smashed into a woman's face. The payback: Two years and five months in the Oregon State Penitentiary. Goad completed his sentence in October. Anne Ryan's face was the lethal battleground for Jim Goad. He hit her repeatedly for about ten minutes, and, by his own admission, only stopped "when her face was so smashed-up I realized that if I kept hitting her I would end up killing her." Goad and Ryan spent about a year together in a love/hate relationship--love spiraling downward into frantic desire punctuated by fighting & fucking. "Sex was best between us after a few blows," Goad spilled over my cell phone shortly before he was released from prison.
Readers wishing a blow-by-blow account of what sparked the raging fire between Goad and Ryan can check out their respective web sites: jimgoad.com and shadyladysky@tripod.com. This excursion seeks to explore the darkness (which some call criminal) in Jim Goad's published work, not the criminal darkness in his heart that rainy night.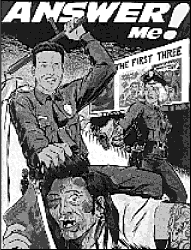 Exotic is opening its pages to paroled felons who can write as well (or better) as fight. Goad will be contributing to Exotic when he's not busy attending anger-management classes or pissing in a cup. Although he is now a free man, over the next three years he must satisfy the demands of his probation officer--a woman who might prefer sending Goad back to prison, rather that rehabilitate Exotic's foulest new contributor. But then, she wouldn't be the only one. A brief history of Goad reveals that 'notorious' is an understatement in describing his writing and publishing career.
About ten years ago Goad was one of many who jumped into the rich new territory on the cultural fringes: fanzines. Goad's zine, ANSWER Me!, catapulted him into the limelight. He busted out of the zine clutter into the Mainstream. I say this with caution, because over the last couple of decades the line between the alternative culture and the mainstream has become blurred to the point where it is almost meaningless. However, in one respect a distinction remains clear: Mainstream cultural productions are audience-friendly; those on the edges do their best to antagonize a mass audience.
Cult zines, though still around, had their "15 minutes" in the early nineties. At that time, close to ten thousand zines were in circulation, according to
Factsheet 5
, a defunct publication which reviewed zines and other outrageous cultural outcries. These hastily produced broadsides might be handwritten, or typed up and stapled together, or polished desktop wonders. In this murky world, news not fit to print was gleefully celebrated. Sold mainly by subscription or tucked away deep in the back racks of funky bookstores, these freewheeling publications got little publicity no matter how raunchy their content. In this subculture of pamphleteers,
ANSWER Me!
and a handful of others were the exceptions.
Seth Friedman, the editor of Factsheet 5, hailed ANSWER Me! as "the greatest fanzine on the planet." A critic at The San Francisco Bay-Guardian called it "the most eloquent document of equal opportunity hatred, outre journalism, and precision rage I've ever seen." The Village Voice thought it "desperately plumbs a predictable litany of topics and transgressions looking for new taboos to break, seeking fresh blood for the audidact." Details judged it "probably the hottest fanzine in America." What made it hot was Goad's scorched-earth pen, attacking all that is sacred and hooting in dark comic relief at all that is vile. ANSWER Me! debuted on Halloween of 1991, published by Goad along with his ex-wife, Debbie, who died last July after a long battle with cancer while he was imprisoned.
Issue #1 included interviews with author Iceberg Slim (Pimp: The Story of My Life), Public Enemy, and early porn film maker Russ Meyer, along with a send-up of losers attending 12-Step support programs. Zines are usually 4 to 16 pages, but Goad's came in at a thick 132. Few published their rough trade on a regular schedule, preferring to crank them out when the zinesters get around to it. Goad's had a schedule: once a year. Each print run was about 10,000 copies and they all sold out.
After the first
ANSWER Me!
, #2 was anxiously awaited and it did not disappoint. In addition to interviews with Geto Boys, Nazi punk David Duke and Satanist Anton LaVey, a good chunk was given over to mini-biographies of serial killers. "Greater love hath no man than to snuff out another's life," runs the intro to "Night of a Hundred Mass Murdering/Serial-Killing Stars." Along the same lurid lines, #3 devoted many of its pages to 100 famous suicides, including the
"combustive pageantry" of Vietnamese monks during the war, a man who threw himself under a steamroller and another dude who sent the twirling steel tip of a power drill into his brain. (The first three have been
compiled into a book which can be ordered off
his website.)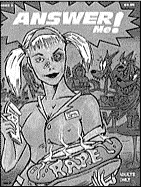 But many consider his last zine, published in 1994, the most notorious of all--the rape issue. The cover sums it up nicely: It's an illustration of a waitress with a black eye, a bandage on her nose and a name tag on her blouse which says, "Hi! I asked for it." Inside is a story by a child molester, a harrowing account by Stephen "Donny the Punk" Donaldson about the brutal rapes he suffered in prison, a report by Debbie Goad on her close call with rape when she was eight years old, a teen-style magazine interview with serial killer Richard Ramirez, and a fold-out board game with Predator and Prey cards.

The wild impulses, gruesome black-and-white photographs of mutilated bodies and spasms of gut-wrenching prose running through ANSWER Me! add up to a satirical take on hate literature, but it is satire driven over a cliff. In the airy abstract, no doubt one can find humor in rape, murder and suicide. But when it crashes down around you or one of your friends, it's not so funny.
And so it did for Goad.
Shortly after he started seeing Ryan, his wife Debbie was diagnosed with cancer. Watching her die while initially hiding the fact he was seeing another woman drove him into suicidal despair, he said. But isn't this like kicking somebody and feeling despair because you scuffed your boot? The fateful explosion of violence against Ryan can, in part, be traced back to another source. In the rape issue of his zine, Goad wrote a story about the beatings he experienced from his mother and father. I'm not trying to excuse his behavior toward Ryan because of the shit that rained down on him as a child, but isn't there a connection here?

What I find most intriguing in Goad's writings is an obsession with blood-on-the-carpet violence in the '91 to '94 zines transformed into a more sophisticated rendering of class violence in The Redneck Manifesto, published by Simon and Schuster in 1997. Instead of a drill bit plunged into the brain, we get a careful study of the redneck, the "only cardboard figure left standing in our ethnic shooting gallery." This book is both a serious study of white-trash culture and a hysterical send-up on homo-hatin', pig-fuckin', chip-tossin', daughter-gropin' slugs which includes, for those of us who grew up in the Rose City, a wonderful sketch of crank girls on Lombard Street in St. Johns, along with a scathing critique of Portland's upwardly-groovy lily-white sensibility exposed as ice-cream-parlor vomit.
But the violence penned-out in Goad's head couldn't stop the rage in his heart. Many male writers, including Goad, have said if they hadn't channeled their violent impulses into streams of words, they would have become serial killers. But usually this is said in Alpha Mailer (sic) jest; few have grown up with parents who abused them. Had Goad not started writing when he was young, he would have been a prime candidate for a long stretch in juvie followed by a career in crime. I believe his writings on rape, murder and suicide were quite natural given his background. Now that he's out of the slammer, let's hope some stripper treats him to some Hot Rain, not emotional pain. Because who knows what darkness lurks in the heart of a convicted writer?