Barely a month after I'd first laid eyes on them at North by Northwest and declared them the winner of the Wet Panty Award,
Scared of Chaka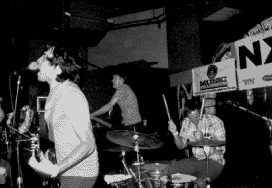 stopped by the Magic Garden and
sat at my rack!
There seems to be an unwritten rule in stripping that if any kind of unusual shit goes down, whether guns are pulled, glasses smashed, or the dreamiest boy in town walks in, you'll be butt naked. I was butt naked. And suddenly speechless and shy! It was all I could do to breathlessly stutter their name, wrap myself in my robe, and retreat to the basement. Obviously amused, Chaka's lead singer Cisco bought me a Manhattan. And told me it was the first time they'd been so serenaded upon entering a strip club! What is
wrong
with rock'n'roll these days?
One month later, a frenzied throng gathered at Satyricon for the best Christmas pageant ever. Chaka delivered an hour long set of exhilarating punk rock. A large chunk of Portland's rock aficionados seem to have migrated here from Albuquerque, and they turn out en masse to see these local heroes. Chaka's been perfecting its infectious punk pop formula for seven years and five albums. The recipe: start blistering and end on fire! For the ladies they threw in a handful of Devo covers and did a dreamy version of Blondie's "Dreaming." The following day the New York Times had this to say about the Chaka show:


"Scared of Chaka stirs up the riotous anima that exists in every man who is moved by music. And Portland, Oregon seems to have a lot of these men! Beer is spilt, spit, slipped in, and slurped. The intimacy that exists between the band and its
audience hasn't been seen since the Beatles, and before that since Aristophanes."
Tell me about it! Looking to get a bit more intimate, I invited Cisco, the Julio Iglesias of punk rock, out for drinks. With no stage between us, the intimacy really grew!

Barely a month after I'd first laid eyes on them at North by Northwest and declared them the winner of the Wet Panty Award, Scared of Chaka stopped by the Magic Garden and sat at my rack!
Viva:
Are you ready?

Chaka: I'm ready. I was born ready.
Viva: Now, why do you say that?
Chaka: I don't know, but those glasses are so fantastic.
Viva: (totally thrown off the subject of Big Trouble in Little China) You like 'em? How long have you had that drummer?
Chaka: Four years...five years...Tough guy, huh? Tough drummer.
Viva: And a whole lot more.
Chaka: What?
Viva: The girls are always swooning over that drummer. Who do you think gets more action? You or him?
Chaka: You know, usually our roadies get far more action, and I don't know why that
is. I'm a real jerk.
Viva: So, how did Scared of Chaka come about?
Chaka: Yeah, um, seven years ago I just wanted to start a band that played music I liked, like the Mummies and Supercharger.
Viva: The Mummies? Supercharger? Wow, that's exactly what I told my last band I wanted to do! They said, "Yeah, we're just like Supercharger, only we can play our instruments." Where all have you been on tour?
Chaka: We've done the States five times, Europe twice, and Japan; that was the best place. It was a magical journey.
Viva: Where are the best girls?
Chaka: You know, Japanese girls are sooo confusing. You have no idea where you stand whatsoever. They're very flirty and affectionate, but the moment you try to make physical contact, they just freak out and run out of the room. It happened all the time. One time I banged my head on the mic, and was bleeding a little bit. After the show these girls came up and handed me a napkin and motioned for me to wipe my head with it. Then they took it back all thrilled and ran off with it. So somewhere in Japan there's a factory making a lot of clones. A super super-race of Japanese Ciscos.
Viva: So, is anyone in the band scared of Chaka?
Chaka: Not anymore.
Viva: Well, while we're on the Land of the Lost/sci-fi theme, a customer of mine is writing a sci-fi book and has based a character in it on me. So he interviewed me the other day and asked me these five questions. Firstly, what's you're favorite planet or constellation? The starrrrrs?
Chaka: I'm pretty into Uranus.
Viva: Shut up, Beavis. What musician in history would you most like to be and why?
Chaka: Townshend. I'd sing and I'd kick out the dopey hippy. We'd just be a power trio, which was basically what the Who was anyway. I've always idolized Townshend.
Viva: The rest of the questions I forgot. What's the sexiest Pretenders song?
Chaka: "Message of Love."
Viva: Ooooo. Never heard that before. Not Lemmy Kilmister, not Duff McKagan, not the Cramps....
Chaka: What do they say?
Viva: Almost everybody says "Tattooed Love Boys."
Chaka: See, that's too predictable. That's a good one; it's fantastic, but it's obvious. "Message of Love" has the weird drumbeat to it.
Viva: What's the sexiest song of all time?
Chaka: "Can't Explain" by the Who is the best rock song of all time, but the sexiest? I'd have to go with either Billie Holiday or Big Mama Thornton. She was horny.
Viva: Sexiest drink?
Chaka: Pabst Blue Ribbon.
Viva: What's the sexiest Blondie song?
Chaka: "Dreaming."
Viva: Who's sexier, Deborah Harry or Chrissie Hynde?
Chaka: Deborah Harry. Chrissie Hynde is a little more rough and tumble, which is definitely sexy, but Deborah Harry is a lot more smoky, a lot more maternal. That attracts me. I'm kind of a mama's boy.
Viva: What's the sexiest experience you've ever had on stage?
Chaka: I once performed an entire song
while making out with a girl.
Viva: Nice! On guitar?
Chaka: Yeah, someone from the audience sang the song.
Viva: oohhh.
Chaka: That was in Nogales, Mexico.
Viva: Sexiest stripper wear?
Chaka: Well, I went to Catholic School, so I gotta say I'm a sucker for the old standards, the classics.
Viva: Do you like bare toes or stockinged toes?
Chaka: Stockings.
Viva: Like nylon? Or cotton?
The tape ran out. And for the first time ever I didn't even notice. What's to blame? Hung Far Low's bottomless Irish Coffees or those bottomless brown eyes? The New York Times weighs in thusly:
"Winter in Portland, Oregon throbs with a restless mania, characterized mainly by the peregrinations of its Seasonal-Affected-Disordered youths. An oddly livable balance is struck between the giddy enthusiasm of the D.I.Y. punk scene, the healthiest in America, and the widely available alcoholic beverages, of which Hung Far Low's certainly serves up the most potent in an environment darker than a mid-December afternoon. If it weren't for the surly barkeep and peculiarly nauseating soft rock, our leaders of tomorrow would languish indefinitely in the company of HFL's rare 'Fire Buddha.' But instead they migrate hither and thither, from syrupy cocktails to jagged aural traumas and back again. The economy couldn't be better. Move there now. Scared of Chaka did!"