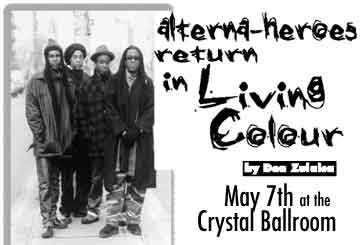 So there we were--smack in the middle of the hairy, spandex-laden 80s--and along comes Black Rock Coalition co-founder Vernon Reid with a few friends: a drummer with a Berklee College of Music degree, Will Calhoun; a bass player, Muzz Skillings, who joined after a BRC meeting; and this actor (Platoon, no less), Corey Glover, whom guitarist Reid caught singing "Happy Birthday" at a mutual friend's party.
Living Colour didn't set the world ablaze with 1988's Vivid, even though Mick Jagger produced a couple tracks. Radio and MTV didn't pay much heed. But after six months of extensive touring, a clip for "Cult Of Personality" surfaced on MTV and the ride began. "Cult" hit #13 on the Billboard Hot 100, Vivid went double platinum, they won readers' polls, a Best Hard Rock Performance Grammy, and opened for the Stones on their Steel Wheels stadium tour. Bassist Doug Wimbish joined the group in 1991, after Skillings departed the ranks and the group's sophomore effort, Time's Up, won a second Grammy for Best Hard Rock Performance. Doug's track record wasn't anything to sneeze at--his studio credits include George Clinton, Madonna and Jeff Beck, not to mention the Sugar Hill sessions--and his presence was integral to the group's critically acclaimed 1993 album, Stain.
But in January of 1995, everything ground to a halt as Reid announced the band's breakup, explaining, "I have not made this decision overnight. I've been struggling with it and searching my soul for well over a year...finally, it became obvious that I had to give up the band."
Fast forward to December of last year at CBGB's (where everything basically started for the group), when Vernon, Corey, Will and Doug shared the stage for the first time in seven years...and killed. More importantly, they all realized it's about time to write another Living Colour chapter, and that starts with the first show on their reunion tour, right here at Portland's Crystal Ballroom, May 7th. Exotic spoke with bassist Doug Wimbish about the reunion tour, what caused the breakup, and what's in their crystal ball.
Exotic: Tell me about the story of the comeback, the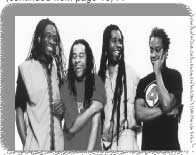 CBGB's gig...it wasn't billed as a Living Colour show.
Wimbish: No, and it kind of went out wrong... here's what the deal was: It was a Headfake gig. To give you a little history, myself, Will Calhoun and Vinx were in a group called Jungle Funk, and I had the concept for the band Headfake about six or seven years ago when I was in London [Wimbish moved there in 1984] writing some drum 'n' bass material. Jungle Funk did some of that material, but about two years ago we knocked Jungle Funk on the head, and me and Will decided to do gigs as "Headfake, featuring...." And the whole concept was to feature different people. About a year ago, Corey got dropped from LaFace's label, so we decided to feature him. We did a gig at CBGB's with Corey, and then we decided to do another one...We had already talked to Vernon, and we figured why don't we invite Vernon to do the Headfake gig?
The word got out. Everybody knew that Vernon was going to sit in with us, so we decided, fuck it, let's just go in and rehearse a few Living Colour songs. So we booked the gig as Headfake, and we went into a rehearsal studio for two days and rekindled about twelve (Living Colour) songs. When we did the gig we played three Headfake songs, and then ten or twelve Living Colour songs. Now the press has it written that Living Colour was under a fake name, as Headfake, and that's just not true. Headfake has been around for a while; it's just that nobody knew about it here in America.
Exotic: What was the first Living Colour song you played that night?
Wimbish: We just hit 'em hard; we did "Time''s Up" right from the gate, into "Go Away," into "Middle Man." We did "Open Letter," "Cult of Personality," "Bi"...The crowd went absolutely bananas. It's funny, the last gig Living Colour had done was at CBGB's, December 15th, 1993. And there we were again, seven years and seven days later...
Exotic: And after that, who was it that said, "Why don't we tour?"
Wimbish: It was myself and Will, actually. We pushed it; we'd been talking about doing it for a while. A lot of it is timing. Our lives are a lot more complicated, busier. We've all done solo things. I've been doing a lot of production over in Europe with different things. I did the Stones' last record and Depeche Mode. We're all quite active, and it's hard getting everybody together. Me and Will
had been talking about doing stuff for over a year, and now is the time. Everybody's really comfortable and happy that we have enough old material, and some new stuff to play--the band sounds fucking great. We sound better now than we did before.
"What Living Colour was a part of creating--that alternative scene--came back to bite itself."

Exotic: I was going to say, in terms of material, you've got a lot more than just the Living Colour songs. Corey released Hymns, Vernon did Mistaken Identity, and you and Will have your stuff. Are you going to mix it up on the road?
Wimbish: Yeah, and we'll be doing a couple of covers. But see, we're melting back into it--we're glaciering out, you know what I mean? We've really only been playing together for a few days. But the mental health of the band is fantastic, which is where everything begins and ends. You can front all you want to, but if there's issues and you don't deal with it, that doesn't go away. We've managed to get together, [admit] there were some things that went down, find a way to work out solutions to the problems, and find ways to support each other in what we''re doing. And we're a much healthier band now than we've ever been, quite honestly. We're one or two good songs away from getting some major attention, from aggravating people again. [laughs]
Exotic: You're hinting at all this new material, are there any official plans to head into the studio?
Wimbish: Yeah, but man, honestly, we did the CBGB's gig and some rehearsals, and a lot of Camp David meetings. And those meetings have cleared the webs so that things can flow freely. It's amazing what talking can do to give you clarity to play some notes.
Exotic: What went down after Stain that prompted the band to break up?
Wimbish: What really should have happened was the band should have taken a break. When I got into the band, so much had happened, it was spun like a top. They should have just chilled out, reshuffled the deck and then made a record. But because of the success of the first two records [there was pressure to produce]. And in the blink of an eye, the band was finished. It was burnout, and everybody just needed to do their own shit.
I think things could have possibly worked out better, but, it's hard, man...Until you know what it's like to have something and then not have it, is when you understand what you have.
Exotic: How did the burnout affect Stain?
Wimbish: I think it was just a matter of timing with a lot of things. The Stain sessions were during the "dressed in black" era. It was like, the colorful days were over. You had Nirvana, you had the grunge shit kicking in...So there was a different scene that was happening. I think in that transformational time, the band really needed the opportunity to evolve a little bit more. But, quite honestly, I think Stain was ahead of its time.
Exotic: Back then, I thought so, too. It was dark, and maybe had a little too much raw information for the pop world.
Wimbish: It was too much information. Sometimes you have to say, "Here's the slow ball, see this? Here it is, come get it." And you've got people hitting that jammy out of the box. [laughs] It's just, things changed. Marketing changed, music changed, the scene changed. Really, what Living Colour was a part of creating--that alternative scene--came back to bite itself.
As it turns out, everything has worked out for the better. The bottom line is, you want everybody to be happy with the group, with what they're doing. It's got to be that kind of vibe. Now we've got some shit to say. Heads are a little bit clearer; what we're dealing with now is just the time factor. There's a whole new fan base out there, and we don't want to come back out there on the nostalgia trip, you know? We always had something to say. We weren't no "let me stick my tongue in your
ear" kind of band. At the end of the day, people remembered it. Look at a lot of the new bands,
like, Rage Against The Machine, or, the sounds of Limp Bizkit...
Exotic: Definitely. I spoke with Scott Phillips, the drummer from Creed, and he went off on how huge Vivid was for him.
Wimbish: Creed, that's Ron St. Germain who produced their album, and he did Stain. That touches us, man. There are a lot of bands out there that know (the ground we laid)--like P.O.D.,
System Of A Down. Hopefully, when we get out on the road we'll see some love. We're ready to hit this shit, man.