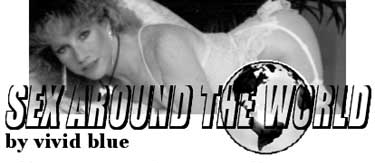 If You Like Legs, You'll Love Italy
I went to Italy several years ago and I couldn't help but goggle the women. If you have a leg fetish, Italy is the place for you! Legs on display everywhere! Long and slender. Beautiful legs. Legs that go all the way to eternity...to heaven. Bare legs; sleek and tan, shimmering with oil. Legs that do all the talking, if you know what I mean. Ah, Italian women--they're way ahead of our women in class and style. Tight, short skirts with no stockings but a lot of attitude.
A typical day spent walking the streets of any Italian city will bring you face to face with a hundred or more luscious, curvaceous ladies striding past in a swift, confident gait. In her wake, you'll smell her perfume and turn for another look at her legs. She knows you're looking.
I was actually embarrassed by my reaction to Italian women. Just like a man, my eyes would travel up and down her legs and I'd catch myself thinking, "Damn! Gorgeous legs!" I'd turn around and watch her walking away, sashaying, perched atop 6-inch platform shoes. I couldn't help but think, if her legs are having this kind of effect on me, what is she doing to the men? I think Italian men walk around in a constant state of arousal.
"The men don't like us to shave because shaving
is for men. It's scratchy and rough. That's why
we put oil on our legs..."
True, Italian men are very flirtatious, but I enjoyed the attention. And I got lots of it, even at 5'2", dressed in jeans, T-shirt and tennis shoes. Italian men idolize women (apparently all women), and Italian woman demand an adoring crowd. If you're a leg-worshiper you'd be well advised to jump the next flight to Rome.
I got friendly with a couple of ladies while we were all waiting for the train to Florence. I asked them if they got pinched more often when they were wearing short skirts. They were adamant and insisted that men don't pinch or grope. They'd get the shit slapped out of them if they did. But they love to look and Italian women love to show. (It was interesting to note that platform shoes were not in style here in the U.S. until about a year later. Now, they're all the rage.)
Italian women are faithful hotwaxers and wouldn't be caught dead with razor stubble. Stubble anywhere on a woman's body is taboo, they said.
"The men don't like us to shave because shaving is for men. It's scratchy and rough. That's why we put oil on our legs," she said as she bent from the waist and clasped her ankle. Running her hands slowly up past her knee and beyond, she continued, "so we'll be slick and smooth and soft." Wow. If I'd been a man, my anatomy would have betrayed me completely. From behind her, a man whispered "Bella!" (beautiful) and stood gazing at her with total admiration. No denying it, legs are a turn-on to most men and Italian women know how to use their legs effectively.
If you are thinking about where to go for your next vacation, give Italy some serious thought. No visa required and R/T is usually under $800. You can get there on several different airlines, usually with one stop. Rome is heavily Catholic, but strip joints, massage parlors and nightclubs do exist in town and within a mile or so of the Vatican. Watch out for gangs of little kids ages 4 to 10; they are very clever and exceptionally gifted pickpockets.