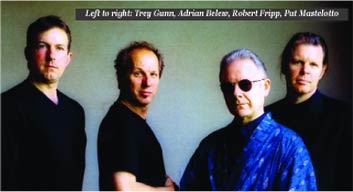 From the big-hair days of pop monsters, Mr. Mister, to the monstrously cerebral wizardry of art rockers King Crimson, drummer Pat Mastelotto has made quite a musical journey.
He started off in Chico, California, playing in bar bands in the '70s (which, it turns out, often brought him to Oregon), then, by the mid-'80s, made it to the bright lights of the top-40 world of Mr. Mister. The early '90s found him hanging around with Crimson's Robert Fripp
and singer David Sylvian on their ground breaking album, "Damage." And by 1994, he showed up in the last incarnation of Crimson: a "double-trio" comprised of two guitars, two basses and two drummers.

So when the most recent creation of Crimson appeared last year as a simple foursome, with Mastelotto on drums, former Oregonian Trey Gunn on bass and figureheads Adrian Belew and Fripp, it wasn't much of a surprise they kept Mastelotto. But Mastelotto's maiden voyage with Fripp and Sylvian was a happy accident of sorts. Back in 1993, he learned that the Fripp/Sylvian collaboration, "The First Day," to be released on Virgin, was looking for a drummer to complete the project. He convinced Fripp's manager to let him fly out to London for the audition, with only three days to get it all together.

"I pulled together a lot of frequent flyer miles," Mastelotto said. "I pulled some favors with friends at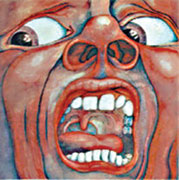 Virgin, got an advance copy and was able to study the music. I never thought I'd get the gig, and just looked at it as an opportunity to play with Fripp and Sylvian. And the fact auditions were being held at Peter Gabriel's Real World studios was worth the
price of the ticket. But I was very surprised when I got the gig."

More tidbits of interest emerge in Crimson's relationship to Oregon. Bassist Trey Gunn lives in Seattle and is a former University of Oregon student. After graduating, he ran off to the east coast and latched on to Robert Fripp's League of Crafty Guitarists seminars, eventually landing a permanent role as Fripp's collaborator. Longtime club-goers in the area may remember the name of a Eugene band called Punishment Farm from the early '80s, which contained Gunn.

These days, another surprise is the company King Crimson is keeping on the most recent leg of their tour.They are opening for industrial-heads Tool. Also surprising is who asked who to join. "When I heard they were putting out a new album, I called (drummer) Danny Carey," Mastelotto said. "I asked him if we could open on tour for them, and he said yes."

What? King Crimson, the elder statesmen of art rock—regarded by some as having single-handedly founded that genre as well as the genus of jazz/rock fusion and heavy metal—asked Tool?
"It's a philosophy like holding out candy for someone, and as they reach out for the sweet stuff in your hand, you punch them in the face".

Exotic: I've heard Tool's a major Crimson fan. Is that true?
Pat Mastelotto: Yeah, I think it's safe to say that. You'd probably want to ask them. But yes.
Exotic: And is that how this tour came about?
PM: Yeah, sort of. They could've chosen anyone they wanted to open for them, but they were nice enough to invite us.
Exotic: I understand you were an enormous fan of Crimson back in the early days, particularly drummer Mike Giles. What was it that grabbed you about Crimson and Giles back then?
PM: It was about 8th grade, and I went to the public library to listen to records because there wasn't much radio action then in '68, '69 or '70. And by chance, I put on the Crimson record with "Cat Food" on it, and it wigged me out. I was a fan right there. And as a drummer, Giles was so much more adventurous than anyone else was right then.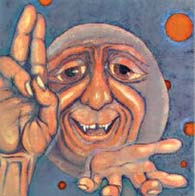 Exotic: I remember seeing a "Where Are They Now" segment on VH1 about Mr. Mister, and when they got to you they said: "And Pat Mastelotto got to live his dream and join his favorite band of all time—King Crimson." Was it really like that?
PM: Sure. But it was a typical "Be careful what you wish for or you just may get it." At first it was with Fripp and Sylvian. I toured for six months with them, Trey and Michael Brooke. We said our goodbyes, and then three months later Robert rang me up about this double trio. He said he had a vision or a dream about a double trio with me and Bill Bruford
(co-founder of Yes and early Crimson member) both on drums. I said, "What will Bill
think about all this?" Robert said, "I haven't called him yet. I called you first."
Exotic: How has being in Crimson changed your drumming?
PM: There's a whole different way of thinking in Crimson. I spent a lot of time playing mostly as a pop drummer. And traditionally, in pop, drummers generally set up a section, like "here comes the chorus..." and then you bring it in. Robert doesn't like that. It's as if you'll spoil the surprise. There's a lot of conventions in pop with drummers that aren't necessary in Crimson. It's a different vocabulary in Crimson, so you learn that language...

Back in the "Misters," we had a Number One hit called "Kyrie." On that song, it started off with vocals, and then the drums came unexpectedly bashing in. And that's a very trademark Crimson thing, although I wasn't really thinking of Crimson at the time. It comes from that period growing up and listening to Crimson. You don't come in where people expect it—and then you come in loud. It's a philosophy like holding out candy for someone, and as they reach out for the sweet stuff in your hand, you punch them in the face.
Exotic: That does sound like a very orchestral approach, like the old Crimson of the '70s. And I notice that about the newest album, The ConstruKCtion of Light. There are some very retro elements in there—moments or cells that hearken back to that older Crimson. Was that done on purpose?
PM: As far as music on ConstruKCtion of Light is concerned, Robert brought
in a new "Larks Tongues In Aspic" song. It has a lot of the same elements as Red or Fractured, from the 70s version of the band, but it wasn't the same song or exactly the same kind of song. If this band were to become a nostalgia band and play all the old songs, there wouldn't be much point to it. We wouldn't be moving ahead. So we're
dealing with the same vocabulary but writing a different story here. People will
recognize it and go, "Hey, that sounds like something they did 30 years ago."

I think the '80s version of Crimson was a big departure from the '70s version. But albums like Thrak and Light , with the '90s Crimson, are a little more like the '70s version.
Exotic: So, would you care to do the crystal ball thing and impart what may be in Crimson's future? Are there perhaps any new members on the horizon?

PM: I don't think so. But the plan, as I understand it, is to continue as a four-piece a little longer and to continue touring with Tool for a while. We're planning another record, and have half the material written, but we're searching for the rest. We had planned to record in September but have adjusted all that to play with Tool.

King Crimson opens for Tool at the Arlene Schnitzer Hall on August 8. Tickets were sold out within minutes. At press time, a show was added for the Eugene Hult Center on August 5th. Tickets for that show will also be gone by the time you read this. This exotic blending of the old and the new is likely to have rock aficionados wagging their tongues for years to come. Just make that "Larks Tongues In Aspic."