YOUR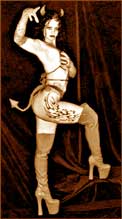 MISTRESS OF CEREMONIES SAGE
MISS INK-N-PINK 2001
Sage began dancing two years ago, auditioning on a dare from some girlfriends. They said she wouldn't do it. So, always up for a challenge, she went to Bad Attitude (a local sex shop), and bought her first pair of dance shoes, made of red satin with four-inch heels, along with a little black dress and, most importantly, a tiny black thong.
It took her three weeks to get up the nerve to go audition. She had chosen The Viewpoint club and then spent countless nights there watching the girls; one night, she decided it was time.
She took the stage in her new outfit; the crowd immediately loved her, and she loved them.
Sage worked at The Viewpoint for about a year, as well as performing every Sunday night at Dante's Sinferno Cabaret, where she belly-dances to drums with a live snake decorating her body. Last October, Exotic Magazine hosted the first Miss Ink-N-Pink contest, an event for tattooed alternative dancers. She walked away with the title, as well as awards for Best Performance and Best Tattoos.
Since then, she has moved on to The Acropolis and is now entering her second Miss Ink-N-Pink competition. Only this year, she is the reigning Championess and will be the Co-MC. She will also be gracing the stage at each of the events.
It's time for another venture into the dark side, boys and girls. I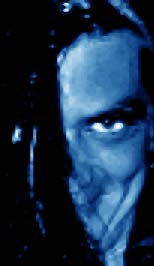 warned you last month to be afraid...be very afraid, when in fact it was I who was trembling over the fact that another Ink-N-Pink was upon us. Will Halloween ever be the same in Portland again? Not bloody likely.
There are still those of you that have yet to experience what awaits you when you step outside the conventional doorways and journey into the unexplored territories of what lies beyond. The cast of characters assembled on this page share a common bond of the flesh. Together, we will draw you into our world. Don't even think about trying to escape...because just when you thought it was safe, Ink-N-Pink 2001 cuts into your skin and makes its mark.
On our virgin adventure, there were those who had serious doubts whether an event of this nature would (or should) ever take place. But I had a dream, or maybe it was a nightmare.
The concept of Ink-N-Pink was originally born in California, where Erotic Art Productions sold the artwork of Olivia at tattoo conventions. These travels eventually took me to Portland, Oregon, where I discovered a whole new arena of possibilities within the decadent world of exotic entertainment. After letting the idea simmer on the back burner for a year or two, Ink-N-Pink was launched last October to record-breaking attendance and outstanding acceptance and appreciation.
Simply put, "You ain't seen nothing yet." This year's festival of fire and flesh is an absolute funhouse of insatiable entertainment that will grab hold of you like a predator and won't let go until November. Enjoy the ride, Portland.
--Spooky
HEADLINING FEATURE

RORSCHACH TEST

"It is said that a rising tide lifts all ships and the growing interest in the post-industrial sound of hard rock and heavy metal should bode well for Rorschach Test. But, let it be known that Rorschach Test have been plying trade in the hard rock/electronica genre since the early '90s--Rorschach Test are not newcomers to the scene, and it shows in the band's confidence and ease with the post-industrial style."
--C Kelter, RoughEdge.com
"With their independent spirit and tireless determination, Rorschach Test will certainly be among the last men standing in the insane game called the music biz."
--Frank Meyer, KNAC.com
"With roots that branch into the worlds of metal, industrial, rock and techno, and influences as dark and driven as Ministry, Treponem Pal and Skinny Puppy, Rorschach Test carries its heavy-handed mechanics to inspired heights."
--Paul Gargano, Metal Edge
LORD OF
ILLUSIONS REED McCLINTOCK

Reed McClintock is an award-winning magician who has performed at the world-famous Magic Castle in Hollywood. He is current president of the Portland Society of Magicians and is the resident magician at Dante's Café & Cocktail Lounge. His expertise in the art of Close-up Magic has led to the development of his special one-of-a-kind program. Reed takes you into his world for a few wonderful moments and shows you things that just can't be explained. For a memorable experience at your next gathering, whether it be a business luncheon, meeting, corporate trade show, or a private party, you can't go wrong with Reed's unique style of performing miracles right before your eyes.
Fat Luv began in September, 1996, at a jam session in the basement of guitarist Jason Neikes. Neikes and a long-time friend, drummer David Pannell, joined forces with singers Dylan Yeates and Jay Getsinger as well as guitarist Greg Flynn to create a style of funk-punk and rap-metal that formed the roots of Fat Luv. Soon after, bassist Dougie Doug was added, and the band was complete. After four months of intense practice, Fat Luv made their debut in December, 1996, at Satyricon. They have since played at the Roseland Theater, the Paris Theater, and the Lake Union Pub in Seattle. They won the 2001 Battle of the Bands sponsored by Guitar Center. Their upcoming CD release is titled "Pornacopia." For some fast-paced, high-energy, in-your-face entertainment, join us in some Fat Luv!
THE INK-N-PINK DANCERS
A TATTOOED REVIEW COMPETING FOR THE COVETED TITLE OF
MISS INK-N-PINK 2001
1. ARIEL (Jody's)
2. ATHENA (Union Jacks)
3. CARMEN (Cocktails & Dreams)
4. DAKOTA (Doc's)
5. ISABELLE (Dollhouse)
6. IVY (Mary's Club)
7. MISSA (Cocktails & Dreams)
8. ROXY (Sassy's)
9. VERONICA (Dollhouse)
10. VOLTAIRE (Union Jacks)
11. FLAME (Magic Gardens)
12. VICTORIA (Cocktails & Dreams)
13. LADY LUX (The Pallas)
14. SKITTLES (Union Jacks)
15. LOTUS (Union Jacks)
GODDESSES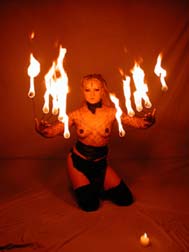 OF FIRE
CIRCE ROSE

Circe Rose was lucky enough to be trained by a friend in the art of the finger torches as part of a budding underground circus family of friends.
She brings a raw, sensual, elemental sense to the untamed passion of the fire. In her own words, "The light of the fire pulls me into a trancelike dream state, creating a certain sensual intimacy with the audience. Together, we join as one into this dream of meditation. It is important to me that I am able to share this experience with others. People need this, in a time like this, to inspire the spirituality within us all form all of our tribes."
SAFIRE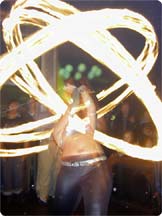 As a child, Safire was the sweet, innocent type. As this wild flower bloomed into a young woman, she befriended an exotic entertainer who educated her in the art of fire-spinning, which she often practiced at the Burning Man festival. As the legacy of fire was passed on, her mentor abandoned Safire and moved to Europe. Without the aid of her teacher, she pursued a self-taught development of her talents and became the Goddess of Fire that she is today. Fire is the fuel that drives her passion and feeds her hunger. You can see her as a regular performer at Dante's Sinferno.
Also Featuring:
THE DISTURBING PERFORMANCE ART OF LOLA
AND THE RAW SENSUALITY OF PORTLAND'S VERY OWN DECADENT DUO--THE PORCELAIN TWINZ
Ink-N-Pink Would Like to Thank Our Sponsors for Their Support:
PORTLANDEXOTICDANCERS.COM / TEMPLE TATTOO / ADORNED BODY ART / MILLER GENUINE DRAFT
KNRK / IMMORTAL IMAGES TATTOOING
The Ink-N-Pink 2001 Road Demons of Destruction:
JOHN VOGE (aka Spooky)--PRODUCTION & PROMOTIONAL DIRECTOR
SAGE--MISTRESS OF CEREMONIES--DANCER WRANGLER--AND ONE SEXY BITCH
BIG STEVE--CHIEF KNEEBREAKER & BALLBUSTER
STEVIE--STAGE MANAGER--JUNIOR ROCK STAR--LIGHTS & SOUND
COREY--WIZARD OF SOUND & SATAN'S SYMPHONY
PAUL G.--SAGE'S SLAVE--STAGE ASSISTANT--OFFICIAL FIRE EXTINGUISHER
KARLA (WITH A "K")--DOOR HOSTESS AND MOMMA TO THE MINIONS