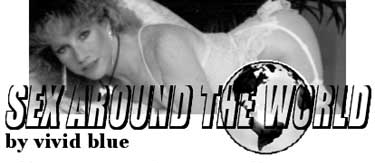 La Boca, Argentina
Boca means mouth. La Boca, located at the mouth of the Rio de la Plata on the outskirts of Buenos Aires, is surely one of the most unusual places I've ever been. When I was there six years ago, I didn't get the same impression of La Boca that my friend Eric did recently. I went there simply to see and photograph one of the world's most colorful and picturesque districts; but Eric, being the hot-blooded horndog that he is, went there to troll for women.
Art is big in La Boca, and because it's such a bizarre-looking place, artists congregate along Caminito Street to paint the town--literally! According to Eric, this is the best pick-up place in the whole country; but you have to at least pretend to be interested in art if you plan on hooking up with an artist. (Go ahead, buy some of their paintings; they're ridiculously cheap, some are quite small and art is a great way to lure women into your bedroom!)
Argentina is synonymous with romance. The Tango is dirty dancing at
its best. Argentine women are totally hot, and according to Eric, they're very liberal in the sack. La Boca is a mixture of hippies and poor folks--both need to earn money any way they can. Eric chatted up a local artist as she was packing up her wares at the end of the day and she invited him inside her La Boca apartment 'to look around.' He admits to being horny as hell but equally curious about what the interior of her apartment would look like. Since most
people only see La Boca from the outside, this was a great opportunity, right? He was cordial when he asked her if she ever took in over-nighters for extra income. She was a hot-looking babe so he offered her a good price (40 pesos) and ended up spending the night with her. He said it was the best fuck he'd had in a long time. He's sure all her neighbors heard everything; the walls are made of corrugated metal.
If you're not turned off by La Boca's shantytown conditions, you're bound to get lucky. The woman told Eric that a lot of the La Boca chicks fuck for money. It's no big deal. Smile. Brandish cash. You'll get laid.
"She blew him three times in a night with no
prompting whatsoever. And she was waxed completely bare down below."
Eric's big break came when she asked him where he preferred to sleep and offered him the choice of her small, lumpy (but very tempting) bed or a blanket on the floor.
"Fucking her was easy," he said. Apparently she was aching to blow him--she blew him three times in a night with no prompting whatsoever. And she was waxed completely bare down below. He was surprised that a woman living in poverty-like conditions would have such a smooth landing strip. The woman knew how to work it...Eric craves raunch and she didn't disappoint him and she didn't ask him to condomize. She was very philosophical about it all and explained that living in La Boca is expensive and a girl has to do whatever it takes. It seems to be the prevailing attitude there.
Those artists. So free and easy. Trust me on this one--La Boca is a great place for sex!
If you fly directly into Buenos Aires, you'll land at Ezeiza International Airport, which is about 35 miles outside of town. To get to La Boca from just about anywhere, take a taxi or micro bus (called a 'collectivo') and tell the driver. "Caminito, por favor."
Airfares are cheap now at about $750 R/T on United. The peso and the US dollar are about even. No visa required, just a passport. Adios, baby.