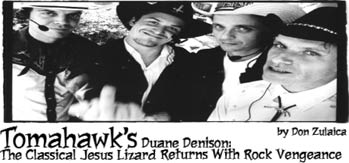 Left to Right: Stanier, Patton (flipping the bird), Denison, Rutmanis
So, you've kind of carved a niche for yourself. You've busted your ass playing guitar for one of the more celebrated punk bands of the last decade or so—The Jesus Lizard. You've won all the indie hearts with CD titles like Head, Goat, Bang and Blue. So Nirvana made a ton of dough in the '90s; who cares. You put out a 7" with them anyway.

Your name is Duane Denison. And the indie-minded, swooning, guitar whack-off magazines don't know what to do with you. Why? You've also got a degree in classical guitar from Eastern Michigan University, and you studied with legends like Manuel Barrueco and Christopher Parkening. That's like C.C. Deville taking theory lessons with Itzhak Perlman. (Wait, that may have actually happened.) Okay, it's like Johnny "Jackass" Knoxville taking acting lessons from DeNiro.You're a learned man in a blissfully retarded music world. What is there left to do?

If you're Denison, you might recruit some like-minded psycho talent—like drummer John Stanier (Helmet), bassist Kevin Rutmanis (Melvins, Cows) and vocalist Mike Patton (Mr. Bungle, Faith No More), and unleash Tomahawk on the unsuspecting public. While not as extreme as Patton's John Zorn/solo escapades, the album smacks of sinuously cinematic, indescribable kitchen-sink rock. It's what happens when guys with small-label freedom, punk attitudes and big cajones get the opportunity to kick some ass together. (Ed's note: Tomahawk was released on Mike Patton's label, Ipecac, on Halloween.)

Exotic caught up with Denison relaxing at his Nashville home, just before kicking off an hellatious Tomahawk club tour that includes a next-to-the-last-stop, December 2nd, at the intimate Berbati's Pan—the only small club on the tour.
"On the one hand I am into the music, and the music is the main thing. But on the other hand, I do enjoy my earthly pleasures."


Exotic: This seems to be a little more of a commercial effort,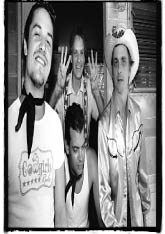 musically.

Denison: Well, we're not necessarily trying to make it commercial. I just wanted this to be a rock band, first and foremost, right from the start. I made that clear to everyone. The stuff Mike's been doing lately, Fantomas, Bungle and other side projects, some of which are fairly extreme; this is a lot more accessible than that stuff. It's not particularly radio-friendly or easy listening, by any means. It's not like we consciously said, "Hey, let's make a commercial record." There's quite a few songs on it that I guarantee you...well, I don't think the album will ever get on commercial radio or MTV. But as far as college radio or independent, or club play, I think it's just fine.

Exotic: What's the story with meeting Patton? You saw a Mr. Bungle show in Nashville a couple years back?

Denison: Yeah, exactly. I was playing with Hank Williams III at the time, and the bass player from the band was friends with Mike (Patton) and some of the other band members, because he was from California. So he said, "Come on, let's go see this band, Mr. Bungle." I had never listened to them, to be honest. So I went to the show and thought it was great...it blew me away. They were wearing the beach shirts; it was after they released California. I got to meet Mike afterwards and that's kind of how this whole thing got started.

Exotic: How does this musically differ from the stuff you did with the Jesus Lizard?

Denison: Well, I wrote the basic structures to pretty much all the songs on this, and I wrote a lot of the Jesus Lizard stuff. So you can hear my guitar style in there, I guess—at least in some of the riffs and chord structures. There's a lot of atmospherics with Tomahawk, and cinematic stuff. It's not just a wall-to-wall hard rock or noise album. There's quite a bit of textural things, and a bit of electronics and sampling done as well.

Exotic: Was this the music you had in the can?

Denison: I had almost all of the album together by the time we started working on stuff. I was sending tapes back and forth to people. And Mike would add a vocal or electronic stuff and send it back, and then we'd talk about it. Eventually, one by one, everyone came through Nashville and just got together for a few days at a time to work with me—Kevin on bass, John on drums, Mike singing and doing keyboard stuff.

So then, by the time we all got together to rehearse for the album, all the songs were pretty much in place. It was just a question of tweaking the final arrangements and then making decisions about mixing.

Exotic: What was it like collaborating with John Stanier and Kevin Rutmanis?

Denison: Kevin and I have a lot in common as far as musical taste; John has very good opinions, especially in arrangements—trying to get the most out of a song, how to get the momentum out of it and really make the most out of the ideas.

Exotic: Did the music get tweaked a lot in the studio because of their musical personalities?

Denison: Oh sure, little individual parts. I'm not a dictator about things. I try to leave a certain amount of room for people to add their own touch, and everyone did. Some things were a little bit more linear, and that didn't require any additional stuff. But I try to leave a certain amount of leeway. I think it's my job just to kind of put the ideas in play and then let people run with it, rather than control every bit of it.

Exotic: Now, you're seen as having all this punk and heavy influence, but you got a degree in classical guitar from Eastern Michigan University?

Denison: Yeah I did. At that time they were one of the few state universities in the area where you could have guitar as your major instrument. So I got a scholarship for a year, and took a couple years off...But yeah, I did actually finish up and get the degree.

Exotic: And you studied with Christopher Parkening? I took two quarters of classical guitar in college and he wrote the fucking textbook.

Denison: I had master classes with him in Montana in the late '70s. I was good back then. [laughs] And you know, a master class, you pay money to go up in front of an auditorium full of people and play; you're not allowed to warm-up, it's a performance. You get up there and play in front of the "master." And the audience critiques you. And then you go back the next day and work on it and do the same thing again. The first year, I didn't do so well. I was scolded and humiliated, in front of an auditorium full of people, for days at a time. I made it my goal in life to come back and avenge myself, so, I literally practiced for five hours a day for two years and came back and did better. And then I quit playing classical guitar and [laughs] got into punk rock.

Exotic: What intrigued you about punk?

Denison: At first, it was just the novelty of it. It was energy and aggression, which I had sort of pent up at the time. But as time went on, it seemed like there was actually some weird, almost experimental elements to some of those early groups back then: Public Image, Magazine was very seminal, The Fall had some oddities, The Stranglers and Killing Joke had some different things going on.

There was some stuff that seemed to overlap: King Crimson, the album Red I thought was very seminal; Roxy Music, the album For Your Pleasure was very seminal; the Eno solo albums and the Robert Fripp stuff. All of that kind of showed to me that you could play rock—it was still definitely rock, it wasn't jazz, it wasn't fusion, it wasn't chamber music—but use some artistic or intellectual elements as well. That kind of stuff really turned me around.

Exotic: You're hitting Portland on December 2nd; any weird memories of going through here with Jesus Lizard?

Denison: Well, we used to play that place, the Satyricon, and that was in a part of town that was sort of seedy and run down. And Portland being a port city, it seems like port cities always have lots of junkies. I remember taking a stroll and...there's even little old ladies asking for heroin walking down the street.

I remember playing a show there...I don't remember who the opening group was...maybe Dead Moon or some other local band. And the audience just went unhinged during our set; it was the craziest show. Some girl got onstage and was dancing, girls in the audience were taking their tops off. It was like Fellini, Satyricon.

Exotic: I remember talking with Stewart Copeland, who said, "Growing up, you don't get laid a lot playing jazz."

Denison: Well, there's a certain element of truth in that. Any type of music sort of has a social function, some more than others. Like classical guitar I found to be just a thankless job. You practice four or five hours a day for a year, and at the end of the year you might have 45 minutes worth of material you can perform. You've done all this practicing, by yourself mostly, and then you play these quiet little shows. If you're lucky, maybe you can go play somewhere at a goddamn Italian restaurant or something.

Meanwhile, people playing rock or improv or jazz, it's the exact opposite. You practice for 40 minutes and you've got five hours of music. And there's a built-in social life. So, on the one hand I am into the music, and the music is the main thing. But on the other hand, I do
enjoy my earthly pleasures.