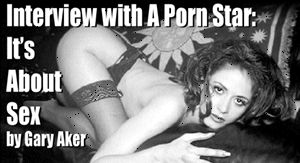 Chloe Nicholle is on the set of Kelly Holland's Figg's Fantasy and Love 'em Or Leave 'em, smoking and talking fast as my tape recorder can keep up with her. Her distinctively raspy voice is misinterpreted by digital technology and transmitted to me via her cell phone with a metallic ring to it. Chloe comes off slightly demure at first, but transforms into an assertive, smart-as-a-whip crackerjack five minutes into our interview. I get it. Like many women who already possess the power of acute sexual beauty, she doesn't want to double wham you at first with her brain power to boot. I'm grateful and adjusting to her quick, decisive, honest answers.
Chloe entered adult films in '96 as a drug addict looking for another way to support her habit. "When I first got into this industry, I didn't get hired much because I was 89 pounds with track marks all over my arms," she confided, like she was talking about someone else. "With this industry (porn films), I was able to learn to like myself enough to get the sobriety."
It's a seeming contradiction of stereotypes, as she claims acting in porn films helped turned her life right side up, not upside down. But then she cuts to the chase.
"I wanted to look good in front of the camera." So, vanity won out over the drugs. But, she goes on to add, "It doesn't matter what you do, occupational wise, if you want to get sober you can." And the rest, as they say, is history.
Chloe walked up to the podium so many times to collect AVN awards last January, they could have renamed it "The Chloe AVN Awards." She collected the adult industry's equivalent of Oscar for the following: Best Actress, for the movie Chloe; Best Solo Sex Scene for Chloe: What Makes You Come; The Safe Sex Award; Best Female Sex Scene for Seymore Butt's Tampa Tushi Fest and the Best Anal Scene for Breaking Up.
"When I set my mind to something, I'm usually able to achieve it," she said. That's an understatement. Speaking of her Best Actress award, I mentioned to Chloe that we had her infamous egg scene from Chloe as a video clip in our online magazine.
"I have to eat my eggs over hard now," she laughed, then went on to explain how she got the part in Kramski's over-the-edge film.
"I went in there and told him, because originally I did not have the lead in that film, I said, 'dude, you have no idea, this is my life. I can totally act the character of the drug addict. Shit, I was a drug addict for fuckin' years; I've got three years sober.' I said, 'C'mon, you give me this role and I will give you 200% and you will win best actress for this movie."

Chloe recently made the crossover into mainstream films, via satellite and cable, when she nabbed the lead with a cold call for Showtime's Lady Chatterly's Lover. For the 28 year old Scorpio, who stumbled onto her first porno set in a drug haze just four years ago, it's a good place to be; I thought she would be more enthused.
"It's a nice crossover point (cable/straight to video) if you're a porn actress, but I wouldn't want to make a living at it. It pays shit . . . You get $400 a day. It's not like you're a real actress. They hire you out just like in porno, except it's 14 hour days, simulated sex and lot's of dialogue. With porn, I can make $2000 a day. I do it because I love acting and it's a nice change from the daily grind of having sex on camera."
Chloe has no great aspirations to completely crossover into mainstream and land a big role. She has no fantasies about holding an Oscar, instead of an AVN Award, some day. Right now, she's happy with the occasional part outside of porn and her repertoire of adult film projects. She just finished up directing the gonzo film (where the director narrates and participates in the shoot), Chloe's Catalina Come Shots.
"And yes I did shoot in Catalina," she laughs." Although you wouldn't be able to tell by the footage because we shot everything inside." Chloe's gonzo director career started out with Chloe's I Came Did You, with Elegant Angel, and branched out into her VCA gonzo line, Chloe: What Makes You Come. She has six gonzo films, including Catalina Come Shots, lined up with Patrick Collin's Elegant Angel, plus studios who want her to direct a feature, and her acting roles in and out of porno. Not-to-mention, when Chloe directs a gonzo film, she handles everything from the actors to the zeros on the overall budget--usually around $25,000. Here, her organizational and orgasmic skills (a rare combination) can shine.
"I'm a natural dictator," she wisecracks. "I run my sets with a fascist edge." As well as a great dick-taker.
I asked her if she planned on trying to stimulate the largest sex organ, the brain, with her gonzo films or her soon-to-be foray into adult features.
"Mediocrity is the place where they want most directors to stay," she said. "They don't want anyone to be too good or too bad. I got marked down a couple of stars in AVN for being too high-concept for gonzo. I don't have any desire to try anything extremely new or different. I think it's about sex. The guy who's wanking his dick at home doesn't care if there's MTV style editing or if there's music by Korn."
Again, her statement seems contradictory to her best actress award for Kramski's cerebral, dialogue driven Chloe. But, she has an answer for that, too.
"I appreciate a product that stands out from the rest; I'm just wondering if the fans care... at all. The actual consumer, the one's who are going into the video stores and renting the product, they're the ones who decide what succeeds." So, it's all your fault--the video renting/buying public--that adult films are awash in mandated mediocrity.
I asked her where she sees herself ten years from now. Chloe's mother in Thousand Oaks, Ca, has a business forms business that Chloe helped run when she was growing up--hence her organizational skills. She knows her mother wants to retire in about ten years, and Chloe is happy to step in and take over.
"I've used my body in good and bad ways for the beginning of my life, so, because this industry isn't as mentally challenging as I would like it to be, I will probably do something where I use more brain power than body power."
She sees herself living a more mundane or ordinary life, married, with a couple of kids. And if she needs "to get that artistic itch out of my system, probably direct a short feature for Sundance on my own money."
As the interview was winding down, I felt like I was talking with someone who was open and candid and yet impossible to know. Her frank answers seemed like the perfect camouflage for a complex individual who might give completely different responses to the same questions and sound just as compelling the next day. Chloe doesn't believe much in plans or directions, even though she has plenty--another contradiction. "I'm a firm believer in it will happen if it happens; if it's meant to be, it will happen."
Right now, there's no one who is more happening in adult films than Chloe Nicholle. But she could change her mind about everything tomorrow. And if she's fixed on it, she will probably achieve it. So you might want to think of Chloe the next time you hear the stereotype saying a woman comes into the adult industries and heads into a downward spiral, losing her self and her self esteem along the way. Write that feminist myth in reverse and you have the story of Chloe Nicholle, who found herself fucking in front of the camera.