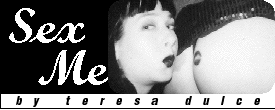 AND THE HUMAN FLY AWARD GOES TO.....

Dear Teresa,
So what is it with women who refer to men that appreciate a sexy body as flies and then complain that men won't give them a chance? 'Specially the ones who shake booty for cash...
I first saw you at Cinema 21 when you and Marne welcomed everyone to the Sex By Sex Workers film festival. I was sitting a ways back and didn't get a good look at you, but I was disappointed. I got the impression that you weren't very attractive. I thought you looked a little overweight and dykey. The next time I saw you was at Dante's grand opening. There I thought you were very attractive and I loved it when you let your top down on the dance floor. I didn't know it was you. I didn't figure that out until I saw you again at Berbati's for the PAPA benefit. You claimed my attention again with those pretty titties sitting on top of that half-cup bustier kind of thing.
I followed your column in Exotic Magazine and admired your efforts to support sex workers. After talking to you briefly at the PAPA benefit I finally got a copy of Danzine and was eager to learn more about you and your work. One of the articles was by a woman who wrote that she hoped men realized that once they became a meal ticket to a sex worker they could never become much more. That attitude and your line about flies in strip joints galls me.
I've spent my share of time in strip joints. I had to make a new start in my social life, and since I was getting some dulling of the sharp edge of my sexual hunger anyway, I decided to continue going for the possibility of making friends with some of the dancers. Eventually I wrote letters to four of them (passed to two inside cards and to the other two through a connection), since I don't feel comfortable trying to have a personal conversation with a dancer in a strip bar for various reasons. All four rejected my offers of potential friendship.
At the PAPA benefit I saw three of the four and another I hadn't yet written to, and none of them even acknowledged my existence as we crossed paths. That kind of experience makes me wary of trying to become friends with a sex worker, but you were polite and friendly when I talked to you...and you are sexy-looking, so what the hell. At least this gives me the opportunity to unload some of my frustration. Maybe it will also influence you and other sex workers to become a little more open to getting to know someone like me. If you think there is any chance I might measure up to your high standards and want to give romance with me a shot (or just friendship) please let me know. My phone number is [X]. My e-mail address is [X].
Is there any privacy in sending a fax to you there? Couldn't anyone working at [X] read it and pass on the information to whomever they chose?
I didn't want to try to say all this in a phone call and I didn't want to wait on regular mail, but I don't really feel comfortable sending it to you through a fax that might be read by anyone. Do you have personal email? Is there any way I could write to you and be sure it wouldn't get read by others?
I hope to at least get your reaction to my thoughts.
Sincerely,
"Mr. Smith"
"Mr. Smith," to answer you question, NO, THERE IS NO WAY YOU CAN WRITE ME AND BE SURE IT WON'T BE READ BY OTHERS. BECAUSE GUESS WHAT? WE'RE NOT FRIENDS!
Sincerely, teresa