Vidi, Verdi, Viva: she came, she saw, she vivacided the city of Portland. As Teresa Dulce yelled out from the Dante's stage on a recent Monday night Karaoke From Hell, Viva Las Vegas pulled into town on a Greyhound bus with nothing but a guitar and a knapsack. In no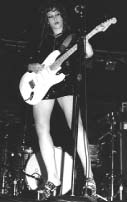 time, this preacher's daughter from the Midwest was taking her clothes off in public for cash. And then she came to Exotic magazine. Lord knows we needed help. What we got from Viva was far more than that: a woman who knew the strip club scenery and the music scene from the inside out, plus she was a damn good writer. We had hit the trifecta. Our first issue with Viva was back in May, 1998; that's when her column "The Gospel According to Viva Las Vegas" debuted, and she penned her first feature--a scintillating interview with the traveling rock circus, Nashville Pussy. It was just the kind of interview that only a stripper rock girl, with an exclusive, Boston women's college education, could extract. Some might say she pulled off words, metaphors and phrases better than she could take off her bra and t-back.
Viva belted out what could turn out to be her last song in Portland, on that Monday night Karaoke From Hell. Okay, so she was a little drunk. But you can't fault her selection: "Honky Tonk Angels." Tres Shannon and the Karaoke From Hell band delivered a snazzy Gin Mill rendition, while Viva stomped all over the lyrics in her platform boots. It may have been style over substance, but the soul of that soon-to-be-departed honky tonk angel, Viva Las Vegas, soared over the crowd, transforming the laid-back Karaoke Kitsch into a moment of pure performance. And that may have been the point of Viva Las Vegas. Regardless of whether she and her various bands carried off the music, Viva always pulled off the performance, got down to the nitty-gritty, and reached the crowd, taking them wherever the hell she wanted to go. Not to say the girl's without ability, but there are those who have talent and those who are performers.
"It may have been style over substance, but the soul of that soon-to-be-departed honky tonk angel, Viva Las Vegas, soared over the crowd, transforming the laid-back Karaoke Kitsch into a moment of pure performance."
It didn't take long for Portland to become too small for Viva Las Vegas. And so on Wednesday, March 22nd, she got on an Amtrak train at 4:30 PM, and headed East, over 3000 miles, to pull into Penn Station in New York City. Now there's going to be naysayers galore. "The Big Apple will eat her rather than the other way around. She won't be the big fish in the little pond anymore. More like a minnow fighting the uptown traffic, and then she'll come crawling back." But I'm not one of them. Whether she chooses to write for the Village Voice--and they're interested, especially in what she has to say about the Portland music scene--or takes a job in one of the exclusive Gentlemen's clubs, still permitted to operate by Giuliani, hooks up with a band, or steps in front of a movie camera, one way or another, I'm sure Viva will succeed. And Portland is diminished by her absence. Over the last year and half, as her projects with music and filmmaking grew, her voice in Exotic has, necessarily, retreated. We've been poorer for that. It's not just her articles we'll miss--her zany, sexy spin on all things that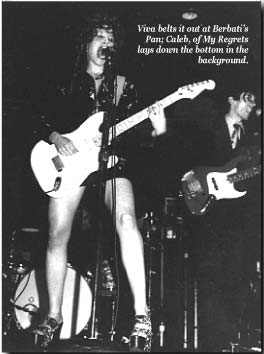 rock. And it's more than her insights on taking your clothes off for cash, or strapping on a Gibson to play in public. Still more than her liberated observations on being an intelligent college graduate who chooses to be a stripper as a noble profession. Even more than her sometimes blazing beauty and singing loud colors, pink and purple, prancing through our dreary office. Our loss at Exotic magazine, as Viva pulls out of the station, is almost spiritual. It's like
the compass can no longer be relied upon to point North when you're left with
a bunch of guys pumping out the magazine in an almost frat-like atmosphere
of empty pizza boxes, overflowing trash receptacles and high-school locker-
room humor.
There can be only one...Viva Las Vegas. Whether her success in New York lives up to her own expectations, you have to admire the girl for trying. Hell, you'd have to salute her for what she's accomplished so far. Hopefully, she'll still find the time to send us a column or an article from New York. She says she will. But the neon lights are so much brighter on Broadway. I wouldn't fault her for a New York minute if she had bigger fish to fry. Certainly wouldn't mind if all her dreams came true in New York City...just like she pictured it...skyscrapers and everything. And if she could make it there, she could make it anywhere. She's a gambler and you've got to like that. She's willing to put it all on the line, not pull any of her chips back, for her next roll of the dice. Louise Nevelson, the Architect of Shadow--a sculptor who fought against every gender prejudice in the art world to succeed in the early part of the last century--once said, "What is your life worth if you're not willing to risk it?" For those of you who don't know, go ask Viva.