"Crackwhore island "
Reality shows are polluting the airwaves with their so-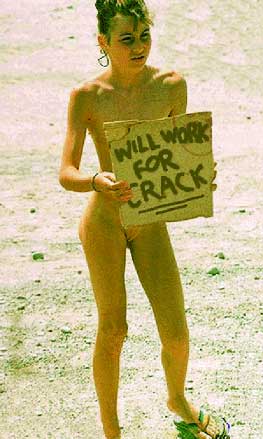 called-ordinary-folks tested by the elements and each other in remote regions (re: Hollywood locations) around the world. Hell, I'll tell ya what's real: bicycling to the auto parts store on a sunny Saturday afternoon, pedaling through lower southeast industrial, and as I cross Ankeny a slim black tart on the crackstroll hails me from the corner. Locks eyes with me, like, what? I'm gonna pull over and get a quick bicycle blowjob? Half block down the road, a guy in a beat-up old red pick-up has done just that. As I peddle by, I look down through the driver-side window and see her leaning across the seat to polish the knob. It's broad daylight, Saturday afternoon, two blocks away from Schuck's auto parts and this guy couldn't wait to get a blowjob. The true test of endurance would be to place six ordinary middle-aged white guys out on some desert island with six of the most persistent crackwhores scoured from Chicago, LA, New York, San Francisco, Philadelphia and, of course, Portland. And let them go to work on the contestants. A bunch of pick-up trucks, some fast food outlet, an auto parts place and a convenience store could comprise the mock set on some island off the coast of Peru. Coca provided by the Shining Path, cooked up into crack by some brothers from 'Crooklyn.' You get the picture. Each day, the salesmen, 'cause they'd all be, like, software supporters who work for microchip companies, would be
given the task of surviving an entire day without getting a blowjob. And the crackwhores would have to successfully sell their 'smile' to the salesmen in order to get their crack.
Out on the island, the poor slobs wake up, buy snacks from the convenience store, sloppy burgers from the Jack-off In The Box and some obscure hose or relay switch from the auto parts store, maneuvering around the hungry crackwhores like starved alligators to accomplish these simple tasks...just like in real life.
Now say hello to Ginger; she's all sweet caramel and spice, the kinda crackwhore you'd take home to mom 'cause she's so nice. Ginger comes all the way from the Chicago Loop where she had hoped to be a dog groomer one day till she discovered the joys of sucking State Street dick for crack. Inside that Windy City windbreaker are some ribs that are finger lickin' good. And under that hood is a mouth that purrs and gets hungry every five minutes if there's no dick in it. But what about Bob? They say he was married once--like back in Computer School somewhere. But now he just jerks off to Japanese Manga, stuffs himself with ice cream and has always wished he had the guts to go out and 'date' a crackwhore on Saturday night. Bob will be the first one to tell you he hasn't had any fun since, well, his mother spanked him for getting in her panty drawer and he got wood over her nylonic knee. Even his therapist falls asleep when he's talking.
Then there's Kat, the TV crackwhore from West Hollywood, whose claim to fame is that Eddie Murphy once stopped to give her (him) a ride...only. With the sidewalk crouched at her long, lean legs, an ass as hard as a basketball and lips that could suck the Titanic up from the bottom of the ocean, it was obvious the poor 'girl' just needed a ride. And say hello to Tim, permanent resident of planet geek. He's a salesman for Tektonics who likes to rent DVDs and eat light butter microwave popcorn and--whoops!--"How'd that crackwhore get in my Ranger XLT on the way to 7-Eleven?"
And here's Tina, the crackwhore from the Tenderloin in San Francisco, who once thought about being a dental hygienist; and Tom, the forty-something white male who's never been outside of Marin County, who once had sex after a basketball game back in high school when the girl was so drunk she didn't realize she was fucking Geekboy till it was way too late--like, after he'd cum inside her two whole seconds after he entered her.
But what about Billie? She was once a bona fide manicurist back in Portland. How about those perfect gold nails digging into your tight nutsack as you're getting ready to make her day, or, at least her next pipe dream come true. And that's no wig. Those are real hair extensions that come all the way down to an ass that gets smaller and tighter with every hit she takes. That's right Billie: Every twenty you take, every orgasm you fake, we'll be watchin' you. Back in Portland, the cruisers in their pickups on the lower east side call her the mouth that keeps on giving. And when she takes out her teeth, well, you'd better be ready for crackwhore heaven. And who should we find overseeing this test of wills? Why, none other than Kathy Lee Gifford, scolding each and every guy who strays off the path and into the crackwhore drink.
Who will survive? Who will cave in and get a blowjob first? Who will get voted off for having the raunchiest junk food farts? Who will punch Kathy in her little chatty mouth? Which crackwhore will conquer the most small, pathetic white pricks? Because the crackwhore that sucks the most dick gets to give a blowjob a week for life to Hugh Grant. And should any one of these white turds endure the whole three weeks without getting blown away, he will receive his very own, life-sized Kathy Lee Gifford blow-up doll that says, "Fuck you, Regis! I'm going to Crackwhore Island." And double cheeseburgers for life at Jack-Off In the Box.
Tune in tomorrow for episode one where the white bread arrives on the island in little rubber rafts and gets greeted by the hungry horde of crackwhores wearing nothing but leopard-print bikinis and see-through vinyl raincoats.
Because reality TV this good is hard to swallow. Or, as Sartre would say: "Sex is
a hole."