I met this stripper called Fetish at a downtown nightclub. We both seemed to like each other right off. It wasn't long and we were sitting around after the show, cooling our heels and laughing our fool heads off swapping stories. Being "older," I'm skeptical when a twenty-seven-year-old knockout--five-foot-seven, 125 pounds (says her) with jet black hair and legs that go on forever--is taking a shine to me. I gave her my number and my email address; she left with a friend...I didn't expect to hear from her. Next day I got an email titled "LOL COCKSUCKER." I eagerly opened the attachment and saw her Egyptian-like face down on her knees swallowing a large quantity of anonymous dick. Whoa. Needless to say, I emailed her back immediately, wondering what could be next. She emailed the following day, asked me what my erotic preferences might be, and explained to me that she was a compulsive exhibitionist...She loved the idea of men looking at her pictures and stroking themselves silly.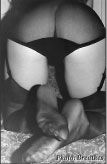 Fine with me. I told her I was into legs and asses and kinky, ultra high-heeled shoes, that was my erotic bent...sent that email back to her. I was hooked. Next day, she dropped a half-dozen pictures on me--all legs, ass and sexy stilettos and platforms. But she didn't show everything; that would be too easy for a tease like her. She signed the email covering the pictures, "Cockteaze." She had me on a short leash, drooling over the pictures of her legs, long and strong. Years of dancing, no doubt, had defined the stunning shape of her thighs and calves. And her ass, never exposed, but always covered in the sheerest black nylon full-bottom panties, was high and hard and round as a ball. Dancer's ass.
The next day, no pictures. In her message she asked if I was getting off on her offerings. I told her the truth: I was popping 50 mg. Viagra, sprouting a glass cutter, and coming to her pictures at least three times per day. I begged her to tell me where she danced, so I could see those legs, that ass, up close, in person...Send. Then I had to tough it out that day like an addict coming off a drug. I hoped like hell my dealer would supply what I needed tomorrow. But alas, day two, no pictures. Just a text email in response to my question--where did she dance?--that said,
"...not so fast... The fun has only begun." Then she wrote, "I want you to dream about my beautiful painted mouth, soft cheeks, deep green eyes, my lips wrapped around your cock...how much I love to suck cock...how excited I get, working it, taking that veiny pole all the way down into the top of my throat...And if you're lucky, maybe I'll send you some more pictures tomorrow.
The next day...Waiting For Godot...And Godot did come that day...In fact, I hit the jackpot. At last, she sent me a picture of her completely naked, except for a pair of seven-inch platform shoes with thin black straps that snaked around her calves. And there was her pussy...perfectly smooth like white marble. I thought about worshiping with lips and tongue at her altar of pussy. White flawless skin, super-flat hard tummy, little B-cup breasts that jutted out with nipples like hard rubber pencil erasers...erased my mind. Her breasts begged to be sucked. And I came... staring at my seventeen-inch screen.
Next day, I got home around seven, checked my email...nothing from her. But I didn't care. Somewhere in the middle of the baseball game, the phone rang. I was going to screen it, but something told me to pick up.
"Remember me?" she said. I nearly dropped the receiver.
"How could I possibly forget?" I answered, trying to sound cool when my heart was going a mile a minute.
"So, I know you got the last one I sent you," she said, "but I just wanted to hear from you in person how much you really liked it." Her voice was like smooth caramel candy in my ear.
"I can't even believe it myself, but, it was almost like actually having sex with you," I managed, sounding like an idiot.
"Mmmmm," was all she said.
The silence was only awkward because I worried that she might hang up. But I felt completely comfortable with her, as if we were lovers.
"Is your computer on?" she asked.
"I want you to turn it on for me..."
"All right. It'll take just a minute..."
"Do you like the way I've been teasing you?" she asked.
"Really?" she purred with delight.
"Hell, I need it. It's like I'm a junkie and you're my fix."
"Well, it's only going to get better. We've only just begun...I want you to go to your inbox. I've got a little surprise for you."
In a moment I was there, opening her latest offering titled, "WORSHIP ME NOW."
The introductory email said, "Everything wide-open so you can see." I quickly downloaded the attachment. Opened it up. Oh my God, there she was in all her glory, lying on a bed with black sheets, wearing nothing but those nasty seven-inch platforms again. Her gorgeous legs spread from here to hell, a come-on sneer glazed her face lifted up and off the pillow, staring straight into the camera...her pussy there in all its splendor for me to see.
"Do you need the Viagra, or is that gonna be enough for you?" she asked, half joking.
I rubbed myself through my pants. In a moment, I was fully extended, begging to be free of confinement.
"No, this will be more than enough," I managed through the drug-like haze of my lust.
"Well then take him out for me," she cooed, " and start stroking him for me."
"He's out...in my hand," I grunted.
"Oh fuck, I'm so hard...I'm so fucking hard for you, Fetish."
"I want you to oil him up for me since my long smooth fingers can't be there tonight."
So I did, as she continued to torment me with her thick, succulent words.
"I want you to look at that perfect pussy, mister. I want you to tell me how bad you need that pussy."
"I need it so fucking bad," I answered. "I need it to live," stroking myself silly.
"Yeah, I like it when you beat off for me...I want you to just keep pulling on it for me...think about how good it will be when you finally get your face next to my smooth little pussy...finally get to taste her, suck my wetness, my sweetness."
"I live for that day," slowing down. Didn't want to come yet.
"And you'll do anything for that pussy, won't you?"
"That's good, 'cause that's what it's going to take, mister."
Drool was practically hanging out of my mouth as I stroked myself into oblivion. An earthquake could strike and I would have stayed glued to that screen, the phone, her voice, with cock in hand.
"I want you to think about how tight and wet my pussy is," she continued her tease. "And how it's going to feel the first time you guide your cock into me. All access."
"Oh sweet Jesus, the come's starting to boil in my balls."
"Oh, that's good, baby. Now hear this...I'm just a cocktease. Access denied. Your cock has been declined..."
I erupted, moaning her name, "Fetish please let me have it."
And I was finished, having come all over my thighs, the bottom of my desk, my pants down around my ankles. After a quiet moment she said,
"My God, I could feel that one. Thank you."
"You really made me horny," she said. "Hornier than I've been in awhile."
"Really. I'm so wet now, I think my panties are soaked. That's how much I like being a cocktease."
"You know I love it, too...what you do for me."
But she was already gone...and I was left talking into the still hum of the electronic void--phone in one hand, cock in the other. Click. Click...If you'd like to make a call, please hang up and try again. If you need help...
Welcome to the 21st century.