---

Pornocide; Sin City; Dir., Frank Thring; Stars: Sylvia Saint, Daniella Rush, Anita Black, Evan Stone, Mr. Marcus...
Sylvia Saint, the green eyed pale skinned Czech, sucks Mr. Marcus' massive member in the hot tub. She's possibly the most beautiful woman in porn today, and director Thring plays to her strengths, displaying her in fine lingerie and soft, diffused lighting. Then, for some inane reason, the actors discuss fine wine between scenes, promoting various varietals and vintages drunk during loveplay. This metaphor never gets uncorked for me. But it does give Pornocide an Adult Pay-Per-View snob appeal. Thring keeps up the fine lingerie and weak fetish attire coupled with elegant Euro set design--white pianos, mock stone frescoes, exotic aquariums... close-ups of the fish... four poster canopied beds. This elegant coffee table magazine of fine wine and even finer interiors has exactly what to do with the catchy title, Pornocide? Pretty movie. Pretty boring. The box cover says, "It's like you've died and gone to hell." Well, I wouldn't say it's that bad. But it does seem more like producer Michael Raven is selling snooker tables and stone facade fireplaces on the side. As such, Pornocide is like watching sex scenes pasted on the pages of Better Homes and Gardens or Sunset magazine. A must see for interior decorators, wine connoisseurs and the petty bourgeoisie who want their sex wrapped up in a Saks Fifth Avenue box.

Dare; Sin City; Dir., Nic Cramer; Stars: Ava Vincent, Shaena Steele, Paiges St. Claire, Nikita, Evan Stone... .
Ava Saint looks like a model who couldn't quite make it, so she works as a retail slut selling designer jeans on Rodeo Drive to the always entertaining Fabio look-alike Evan Stone. (In case you haven't noticed yet, this month's column is a mini Evan Stone porno film festival.) In arty wide screen format, the mannequins come to life and have sex in the store. Probably just a drug reaction for Ava Saint after switching anti-depressants. So, Ava starts hearing voices, played by Evan Stone. Naturally, with a voice in her head like Evan, Ava's girlfriend encourages her to follow whatever the voices say. Obviously, the girlfriend is jealous and should probably change her prescription so she can join the party. "Maybe the voices have a point," Ava's girlfriend admonishes. "I hereby dare you to go with the voices in your head." With friends like that, who needs medication? Actually, it's director/writer Nic Cramer who should rethink his serotonin re-uptake remedy. Then again, if it's getting him work...
Ava has the gum chewing, dumb blonde, I'm-a-model-so-you-can-fuck-my-brains-out-'cause-I-don't-have-any look down. The second scene throws off some heat, thanks to the vigorous cocksucking of Shaena Steele. This brunette takes it to the balls, while Ava sucks dick like she's paging through Elle. She does present a pretty face to jack-off on. And that's important for all perspiring models. Evan Stone, who now comfortably resides in Ava's bipolar brain, urges her to have sex with some serious guy in a gray suit (CIA, FBI, NSA, Majestic?) who's old enough to be her father. Speaking of which, there's a website (www.literotica.org) that has a section devoted to stories about adults who choose to have sex with their siblings, mothers and fathers. Call it over 18 consensual incest. Which this is not. Just trying to make something out of the nothingness of this pay-per-view video release. Pornocide and Dare both raise the question: Can any good come out of this transition from renting porn in adult stores to paying to view off satellite and cable? No.
The advent of broadband means someday soon you can order from thousands of adult, regular feature, documentary, educational or even vintage TV, all online. That wider selection means that specialty, bizarre, arty, adventurous adult offerings will be available via pay-per-view. In the meantime, vids like Pornocide and Dare are designed for everyman, lounging around in his slippers, who doesn't mind shelling out seven to ten dollars a whack even if it goes mostly unwatched. Catering to the home-alone nouveau riche means these features are like fast-food. Call them fancy porno McNuggets (tm). And keep going to the porn store.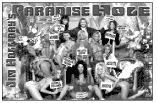 Paradise Hole; VCA; Dir., Jim Holliday; Stars: Sydnee Steele, Evan Stone, Jessica Drake, Allysin Chaynes, April, Tiffany Mynx...
Sydnee Steele stars as a televangelist who urges her followers to send cash and avoid sex--while prancing about in a see-through white robe. But the minute she's off camera, the sweet reverend gets rear-ended; one of her bunghole licking faithful prepares her for the massive offering to follow that narrow highway to hell. So far, a white trash, campy, all-anal fuckfest marred only by the words FOR SCREENING ONLY, ever present at the base of my trusty 13 incher. TV, that is. Tits the size of Montana, tight asses, leatherette couches. Wow. Sydnee Steele's tits never move as she reverse cowgirls Van Damage and takes his deadly weapon up the Old Testament. Her nipples are rigid soldiers rising up to heaven. The Rev's bubble headed, biblically breasted blonde follower sucks dick the way the Rev sucks cash outta her viewers. Evan Stone comes on strong as Sydnee's sidekick. As the 800 number flashes onscreen at the end of his whacked-out testimony, one wonders if it could be the toll free number for VCA? So I called it. "We're sorry. The number you have dialed cannot be reached from your calling area." No shit! Must have been the toll free line for heaven.
Meanwhile, a girl named Amy wants to convert, but she's afraid that her "special" needs won't be accepted. No problem. Down home toe sucking, pussy licking and dildo action up the ass follows. And it vibrates. Definitely New Testament. Some Christians online (www.olcc.com) contest the idea that Satan created sex. After watching Paradise Hole, they might argue that the angels tossed out of heaven for being comic cut-ups created sex.
Turns out that Evan Stone is a reporter working deep undercover. Except he's learning to like his televangelist role. So, big daddy Holliday sends his succulent secretary, Jessica Drake, to bring his minion-writer-turned-evangelist back with the scoop. Back at the ranch, the undercover writer cum reverend tells the Lolita-like April, "All sex is bad and evil," then sticks his cock down her throat. And for that, she gets a job shaking tambourine onstage for $500 a month.... about what we make around here following our reverend publisher. Back on the Twilight Tabernacle Television, the Belladonna sisters spin the Sin Wheel, landing on "Day Drinkers." Yuck. The delicious Drake shows up to fuck the reverend writer back to his senses. I wish Drake would have shown up in Paradise sooner, as she has a body that would make preachers, pornographers and poets pause. So, the televangelists convert Drake to their way in a Hallelujah threesome, making the Twilight Tabernacle TV safe from any journalistic expose. Just like the Scientologists, only much kinder coercion. If you're looking for good anal woven into a goofy, off-the-wall satire, Paradise Hole is your salvation. Evan Stone is outta control doing his in-serious-need-of-medication preaching from the pulpit.
Because it must have been some clown that created the comedy of sex. I'd almost take a good laugh over a good orgasm; when you stop chortling it's done, and you don't have three kids and a minivan, or three years and a therapist to get over it.