---
Porno; Sin City; Dir.,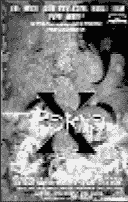 Kris Kramski; Stars: Allison Killgore, Regan Senter, Jim South, Max Hardcore, Ron Sullivan, Robert Spallone, Ron Jeremy
Kris Kramski is the enfant terrible of the porno industry who, unfortunately, owes his soul to the company store--Sin City Video. In Porno, Kramski has crafted a harsh mockumentary of the hand that feeds this French former fashion photographer. As a pseudo documentary--complete with a wide-screen, gritty, 16mm B&W format--Porno is not a porno film. It's a feature film about shooting porn in LA.
Porno follows the story of a shy female cub reporter--just graduated from journalism school--who wants to expose the underbelly of the Beast. She first knocks on the door of a sleazy agency, Beautiful Models. The agent immediately turns the tables on her and tries to get her to audition. Regan Senter's turn as the slimeball agent reminds one of Garry Shandling in the exceptional film, Hurly Burly. Five minutes into the film, you're convinced you've stumbled into peeping behind the scenes of a porno film-casting agency. Watching the agent work out of his cramped apartment, Cindy the journalist continues the interview in his bedroom while he "auditions" a new girl.
"So, what do you think about all this, journalist?" he says sarcastically, while fucking the new girl doggy-style.
"I feel sorry for the girls who would come through your agency."
"Do you think you will go to hell, or, you deserve to go to hell?" Our cute cub reporter goes after Toxic.
And Johnny says, "The only people who deserve to got to hell are rapists, murderers and Max Hardcore." Johnny calls pornography the first step towards legalized prostitution and agrees with Cindy that women who fuck for cash on film are prostitutes. He's also concerned about the hammer coming down with a conservative Republican in the White House.
"We're into it for the cash money deal," Toxic says. "There's people out there who want it; we're feeding it." Nonetheless, Toxic insists "This is art," as he pulls out his dick and starts fucking a stack of porno movies in the stock room.
Cindy the journalist goes skipping up to Max Hardcore's mansion.
"What we do is strip our videos of any shred of decency or any moral justification whatsoever," Max explains his "art."
"Are you rich from this?" Cindy hones in on the truth.
Then Max fucks another one of his bony, flat-chested, anklet-socks-and-platforms-wearin' bimbos on his pool table. In the ass. Cindy observes for the sake of science. Post coital interview:
Cindy: "Do you believe in hell?"
Max: "I believe we're living in hell, for the girls who come over here...working with Max Hardcore is hell."
Cindy: "Do you believe you deserve to go to hell?"
Max: "I believe I was put here on earth for the express purpose of keeping these silicunts in line...All girls are whores, whether they realize it or not. The problem is when a girl is a whore who doesn't think she's a whore; that's when they get fucked up in the head. I'm here to straighten them out, set them on the right path."
Cindy: "Do you also think this degrades them?"
Max: "Oh yeah. That's the point."
Over at Robert Spallone's place, we get to see a woman the size of a Sumo wrestler crushing the poor penis underneath. And then the dog wanders onto the set. Cindy presses on with her interview while Dick Nasty slaps against a backside the size of a Kansas barn. After the money shot, the dog wanders out of the room--a moment of quiet cinematic brilliance.
Next up, the hearing-and-speech-impaired pre-op transsexual shows off her penis. A tweaker lady who's pushin' fifty talks about her experiences with dogs and shit scenes. Henri Pachard directs Drew getting it on with Grandma and the transvestite...the future of porn. Pachard says, "The difference between a professional pornographer and an amateur is that I don't defend the First Amendment, I exploit it. I use the First Amendment to make a living. You defend it; you're a journalist."
Grandma pulls on the strap-on while Pachard, who's been shooting porn since 1964, provides metaphysical motivation for the grand finale. Cut.
Finally, in a bizarre twist, Cindy reveals her true character to a journalist for the German Peep TV. Cindy's really not a journalist but a porno actress pretending to be interviewing for a documentary. It's retribution time. Ron Jeremy and Cindy bring it all to a head--her inquisitive mouth on Jeremy's famous dick. Kramski, in his thick French accent, is heard off-camera while Cindy is getting fucked by Jeremy.
"Now Cindy, tell me about your last scene in the business; do you have anything to say?"
"No...It's interesting that it's with Ron Jeremy," while she's fucking him.
Post-coitus, Ron says, "I think we should all hold hands and sing, 'We are the world.'"
The film closes with Cindy interviewing Kramski on-camera, interspliced with a glamour lesbian scene, directed by Kramski, as the copious credits roll.
"The more addicted a person is to pornography,
the more frightened he is of death; it's a subliminal thing..." Kramski tells Cindy. Then adds, "To suppress freedom is anti-religious... God would not bring upon this earth an illness (AIDS) that would suppress the fundamental procreation which allows life to carry on..."
So, man made AIDS and man made porno. And Kramski's film, Porno, is the toughest take you'll ever see on "where the rubber meets the road." Probably more truth than you can handle. So, if you can find Kramski's Porno anywhere, don't rent it. Please. Just keep jacking off so they can all make money.
In the spirit of the true-to-life porno documentary, Rex wants to share with you the time-honored formula for determining your porno actor name. Here's how it works: You take the name of some pet you had as a child for your first name. Add that to the name of a street where you grew up. The result is your new porno actor name. Using the above formula, I take Corky, for the name of my dog, and Longwood Drive, the street where I grew up in Pittsburgh, and the result is, Ta Da!, Corky Longwood... my porno actor name. I shit you not. Try it yourself, with friends, at parties. You'll be amazed with what you come up with.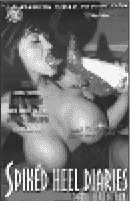 Spiked Heel Diaries 17; Bizarre Video; Dir., Skye Blue; Stars: Summer Cummings, Lauren Monroe, Maxine Monroe, Alec Metro...
Now for something completely different. I jerked this off the 99 cent rack at the new Taboo Video down on Union Ave. Check out their spankin' new buddy booths. It's like this: You walk into the room, close the door, stick your money in, and the giant 27 incher starts playing whatever movie you want or four movies at once on split screen. Yeah, just try jacking off to four porno movies at the same time. Next to you is a large window. You hit the fog/defog button, and presto, suddenly you can see the person on the other side--that is, if they have also defogged. So, you take her there on a movie date. And it's like this: You're watching "Big Butt Brazilian Cigar Smokin' Shemales 6," or something, while she fellates you. Defog. Suddenly, you are the movie, as the guys crowd into the next room on the other side of the glass, watching her suck you off. While they jerk off. Baby, you're a star! That's how Corky Longwood got his start.
Anyhow, about this movie, Spiked Heel Diaries....if you are a foot fetishist, these big breasted high arched females and their foot fucking fags will make you turgid for toes. Of course, foot fetishism is a form of infantilism. Think about it. Little baby boy is crawling around on the carpet and what does he bump into. Bingo. Mama's feet. And away we go. There's, like, even a Goth scene in this film where she tells him, "Take that cape off, now!" With his long blue fingernails, lipsticked lips and long, thin black hair, it's like we've stumbled into Marilyn Manson having foot sex with Rose McGowan. Whoa.
Thank you, Taboo and Rachelle.