---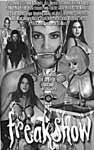 Freak Show; Sin City; Dir., Alex Ladd; Stars: Taylor St. Claire, Allysin Chaynes, Michele Raven, Regan Starr, Herschel Savage (under a mask), Mickey G.
We open with Micky G. getting a blow job from a blonde who looks like she wants to be doing anything but. Pearl necklace follows. He's her boss and she's been going down on him for over a year, trying to get a raise. So her co-worker, Taylor St. Claire, takes her to a bar where they serve breast milk in clear plastic cups. Allysin Chaynes applies for work down on her knees; she's easily outdone by a girl in orange hair who deep-throats a Rasta-Man-Vibration. Allysin plays this Alice in Wonderlust who has stumbled behind the mirror of inept film making. Taylor St. Claire is her hapless guide. At times, Allysin looks like she's ready to crack up. Nonetheless, Taylor forges ahead into her femdom role--which allows her subs to receive instant gratification. It's a kinder, gentler femdom; lucky slaves get fellated quicker than you can say, "Yes, Mistress."
As they wander deeper into Freak Show, Taylor tells Allysin, "Look within yourself so you can step inside yourself." That and a couple of used condoms buys you a script at Sin City. And then the midget jockey gets fellated by fillies all trussed up in gold show-horse costumes, complete with white platform hooves. Neigh, I say. Call me prejudiced, but midgets belong in the circus, not having sex on camera. (Ed.'s note: There's a standing offer in the Exotic office for anyone brave enough to fly down to the Moonlite Bunny Ranch and have sex with Bridget the Midget, all expenses paid. No takers yet.) These cute fillies, though, look like they can't get enough of that midget dick. The thing about having sex with a girl midget is this: She doesn't have to get down on her knees to suck your dick. Maybe that's the appeal. But guy midgets?! Some sort of circus fetish, I guess.
More of that shiny silver moon blanket material in scene three, that Sin City production designers are known for, augmented by a giant exhaust fan. My patience exhausted, I hit the FF button and tough it out for you, dear porno fan. Taylor's DP on the silver moon blanket makes me long for "Space, The Last Cuntier." Allysin returns from her Journey in Wonderlust to Top her boss, thus earning her a raise and the right to fuck his hairy ass with a huge strap-on. In the end I realize: The only real freak show is my fucking life.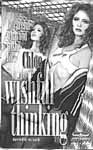 Wishful Thinking; Sin City; Dir., Roy Karch; Stars: Chloe, Shelby Myne, Lola, Regan Starr, Micky G., Steve Hatcher
The camera caresses Chloe, the hottest star in porno today, masturbating on a floral bedspread while watching a porno. I've noticed these fuck films favor floral print bedding, couches, chairs, etc., Maybe it's because the pattern hides the cum stains better so they can reuse the fine furnishings. Anyhow, what's really fascinating is executing a freeze frame on the porno playing within this porno video. Kinda metaphysical. Next thing you know, I'm inside the video that Chloe's watching--a blond blowing a bro' on the leftover set from Freak Show. The Leap of Faith here is that super porn star Chloe and I are now watching this video together. Except, I'm writing, she's masturbating--same diff'. Eventually, they get around to fucking on the shiny silver moon blanket--another material that hides cum well. Meanwhile, back on the floral bedspread, Chloe starts bouncing up and down on a variety of dildoes--some the size of a Jedi sword. You see, for Chloe's character, having a real man, rather than a rubber penis, is just wishful thinking. Chloe's deepest wish is to have, "a good man, a kind man...very sexy...a freaky guy...huge cock...and he also has to have a nasty imagination." Sounds like I need to give Chloe a call and reinterview her. Tell her five outta six isn't bad.
Chloe gets dragged out by her friends to Club Freak so she can meat (sic) a man. Meantime, she puts her wish list under her pillow each night. And then comes the new girl, Lola; she's an itty-bitty-titty, brunette, cock-gobbling cutie. Rex sees her going places. In fact, except for the braided and jaded Shelby Myne, Wishful is an itty-bitty bonanza. In the end, Chloe meets her dreamboat, which turns out to be Micky G. You're shittin' me. While Wishful Thinking is not a thinking-man's porno, overall,
I think I lost fewer brain cells watching this video than your average fuck flick. And that's not just
wishful thinking.
Taken; VCA; Dir., Veronica Hart; Stars: Ginger Lynn,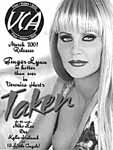 Rebecca Lord, Alexandra Silk, Herschel Savage, Evan Stone, Tyler Wood
Ginger gets it on with her reluctant hubbie, Herschel Savage, who's trying to get some fucking sleep. I'm happy that these geriatrix (sic) can still get it on. Gives a guy hope. But he leaves her high and dry, running late for work. So Ginger gets out a girl's best friend--her vibrator--to finish the job. Next thing you know, Ginger gets abducted, blindfolded, bound and gagged and served up to Evan Stone; must be the "taken" part. Ginger's abductor serves her champagne in a bubble bath while the French Maid lays out the towels. Lynn and Stone show off their acting skills in repartee about the psychology between the taken and the taker.
"So, are you the good prince?" Ginger asks Evan. "And does the good prince always abduct his princess?" setting up a parallel to the Woman's Batterer Syndrome...as the couple next door start screaming again at 3:00 A.M. Thank God it's Friday. Stone's Fabio-like flavor lends itself well to his warrior-scholar-abductor character. Yeah. That's what all those batterers and abusers come on as: warriors and scholars of psychological terror.
Meantime, Ginger falls asleep in chains and dreams about people in goofy masks having sex. The masks come off and Ginger's not just dreaming anymore--
"The thing about having sex with a girl midget is this: She doesn't have to get down on her knees to suck your dick."
she's getting speared by Randy spear. For director Hart, the best moments are the non-sex scenes between Lynn and Stone. Once Ginger's been "taken," the dramatic scenes are set free, thanks to the surprising chemistry between Lynn and Stone. Meanwhile, back at the abductor's mansion, Lynn pleads, "Let me go and we can date." She's got it bad.
Hart's script reminds of the occasional tenderness within the raging storms of abusive, captor/captive relationships. There's a flowering cactus that bears the sweetest fruit--pure sugar nectar. Any animal would injure its own face, time and again, to get a taste of that succulent, life-giving liquid. In the loveless, lonely desert of human existence, some of us can't help but return to that cactus. No matter fucking what. Likewise, Lynn and Stone have their caveat emptor lovemaking scene. Next day, freed from her physical bondage, she can't even call a friend, let alone 911. She voluntarily submits. Especially since a girl's second best friend is the diamonds Evan hooks around her neck, down by the private lake. Eventually, Ginger has sex with the French Maid, Rebecca Lord--a Lara Flynn Boyle lookalike who should have taken her clothes off hours ago. Evan watches Ginger go down on the maid (who actually speaks French). Yes. The sweetest fruit is the flower sucked from the anorexic cactus.
Ginger reluctantly returns to her hubby. As she sages her fowl in the kitchen and cries in her tub, she can't stop ruminating about her abductor. Taken and stirred.