It was a beautiful, sunny 84-degree day in downtown Portland... with the stingingly delicious smell of tear gas and pepper spray in the air... the nice thing about pepper spray is that it burns for a long, long time... even after showering it leaves a big, angry red mark on your skin...
We were hanging out near a bunch of other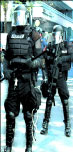 journalists during the President Bush protest of August 22... silently offering support for some of the causes, and curious as to the response of the Portland Police Department. I was also on hand during the unfortunate "riot" back in 2000 when the police response was generally judged as too harsh and provocative. I'm here to report that Mayor Vera Katz and Police Chief Mark Kroeker still have a long way to go in educating their police force as to appropriate relations with protesters, and the community in general.
The protest was peaceful... Some harsh words thrown for wannabe-Governor Kevin Mannix as him and his Republican cohorts pushed through the crowd to get to their million-dollar fundraising dinner for Senator Gordon Smith with the President of the United States. Mannix walked right by me... he's very short, no more than 5'7"... and he had his TV make-up on ready for the cameras and the photo-ops... "You'll never be Governor of THIS state, jackass." I said to him as he walked by. I really don't like that guy. The drums were pounding and people were chanting "Bush sucks! Bush sucks!" but it was generally calm. People were smiling. They yelled at the dinner attendees as they walked through, but it was never menacing. They were being made fun of...because they WERE funny. Then the riot cops showed up, replacing the 20 or so bike cops standing guard next to the barriers. In full, black stormtrooper attire. It was very impressive. They ran down in single file, then the leader stopped, turned around and did a double-arm-outstretch maneuver signalling them to spread out. They all did... About 12 of them... Standing legs apart, looking very menacing. The crowd started chanting the Russian-funeral-dirge-like music from Star Wars, "DUHH DUHH DUHH DUHH-DA-DA, DA-DA-DA-DUMMMM..." 12 more "stormtroopers" did the same routine. It started to feel a little tense. The chanting got louder. "PEACE-FUL PRO-TEST! PEACE-FUL PRO-TEST!" Then the stormtroopers decided to make it a not-so-peaceful day and announced a "STATE OF EMERGENCY!" from a megaphone, and told everyone to move back. We were about 10 feet from the front of the blockade, but we barely heard what they were saying over the chanting. Before anyone could do anything, the pepper spray started spraying and the billy clubs started pounding. They sprayed EVERYONE... cameramen, journalists, elderly people, kids, us... and immediately started walking through the crowd hitting people. We moved quickly down the block to Fifth and Taylor to get out of the melee. Police cars started coming up the block the opposite way, sirens blaring... people couldn't get out of the way fast enough... we moved down Fifth Avenue and heard two loud pops... we looked back and saw tear gas fuming up around the intersection... people were running trying to find water to rinse out their eyes... everyone was really PISSED off now... any idea of keeping this peaceful was beyond hope...
All I can say is: Fuck them... Fuck the cops. Fuck George Bush. Fuck Senator Gordon Smith. Fuck Mayor Vera Katz. Fuck Police Chief Mark Kroeker. Fuck Kevin Mannix. Anyone who treats peaceful, law abiding protesters and media in this manner doesn't deserve to be in a position of power in this country. And if you disagree, you just weren't there. I was.

More
Carnal
Knowledge
Aug.02
Jul.02
Jun.02
May.02
Apr.02
Mar.02
Feb.02
Jan.02
Dec.01
Nov.01
Oct.01
Aug.01
July.01
Jun.01
May.01
Apr.01
Mar.01
Feb.01
Jan.01
Dec.00
Nov.00
Oct.00
Sep.00
Jun.00
May.00
Apr.00
Mar.00
Feb.00
Jan.00
Dec. 99
Nov. 99
Oct. 99