The Gospel According To JC

I was brought up on the coast listening to "A Boy Named Sue." When I was four years old it was my favorite song. Last February, thirtysome years later, I was driving along Sunset Boulevard in Hollywood when I first heard Johnny Cash's rendition of "Hurt" on the radio. They say it never rains in Southern California, but it was pouring down that day. I had to pull the car over to the side of the street to listen to the song. I knew the voice, I knew the song, but it brought chills. It was old. It was raw. And it was real.
Some friends and I are sitting at the bar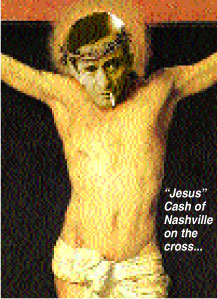 in our favorite downtown strip club. It's smoky and hot and loud. I've been layin' off that whiskey... But I'm sipping on my usual Bacardi and Coke that's way more Bacardi than Coke. Almost as good as the bartender's slice of New York pizza. Occasionally I look over to admire the intriguingly graceful stripper onstage.
Dr. Paul makes an analytically elitist comment about one of our less fortunate fellow patrons. Todd adds an obnoxiously accurate color commentary. JT tosses in a conservatively compassionate yet pragmatic view. Joe pipes in something about Mexico... They overtook him down in Jaurez, Mexico, maybe? I agree with all of them, wander over to toss a few stray bucks on the rack, and stumble back.
The stripper is dancing to "Wanted Man" by Johnny Cash. "Wanted man in Kansas City / Wanted man in Oh-hi-oh..." Johnny Cash is a good choice for strippin' music.
Besides the obligatory buck-a-song, customers should tip more when the music is good. Not that everyone has good taste in music. But they do at this bar. Love & Rockets an extra dollar...
Lou Reed or the Velvet Underground a couple more bucks... Tom Waits, Leonard Cohen or the Man In Black himself should get at least three more...
Parameters are needed, some boundaries, some rules...to be creative, a basic structure. Can't "think outside the box" when there's no box. Tres says good things come in pink boxes. But that voodoo stuff don't do nothin' for me. At least that's what Robbie Robertson says that she said.
So I tell myself I'm tipping for the music. Although the view is, at certain angles and glances, nearly as awe-inspiring as the songs. But it could be my own self-manipulating form of inner, passive-aggressive irrational exuberance. Whatever that means. I had to use exuberance, says Jimmy-G. Although that could be some draconian subterfuge. Like going down and the flames going higher...
Now it's that time again. No more wake-up-baking-naked-in-the-sun mornings. Don't really get a lot of those around here anyway. No more see-through summer dresses in the afternoons. No more too-hot-to-fuck evenings. No more sticky-hot-sweaty summer nights.
There are always things to look forward to-- Like the death throes of the rotting, corrupt recording industry... The imminent downfall of the current Republican administration... The sex scandals karmically awaiting Attorney General John Ashcroft... Al Franken's Lying Liars and Big Fat Idiots finally getting their due... And "Jesus" Cash of Nashville's quote, "I'm going to heaven. I've spent my time in hell."
But for now, it's time to walk the line. And start dying a little more once again.
More Carnal
Knowledge...

2003
Jul.03
Apr.03
Mar.03
Feb.03
Jan.03

2001
Dec.02
Nov.02
Oct.02
Sept.02
Aug.02
August.02
Jun.02
May.02
Apr.02
Mar.02
Feb.02
Jan.02

2001
Dec.01
Nov.01
Oct.01
Aug.01
Jul.01
Jun.01
May.01
Apr.01
Mar.01
Feb.01
Jan.01

2000
Dec.00
Nov.00
Oct.00
Sep.00
Jun.00
May.00
Apr.00
Mar.00
Feb.00
Jan.00

1999
Dec. 99
Nov. 99
Oct. 99