Things are a little off again...
The new traffic lights being installed all over the city are doing strange things. The light on the far right at almost every intersection is a fraction of a second slower than the others. It's a little disconcerting. Is it just me? Is it some LED electrical synchronicity problem? Or is it something more ominous? Something more sinister? Is it a sign that the nine-dimensional, quantum string super-symmetry is out of whack? Is it a small glitch in the Matrix?
Is this just the beginning..?
Saturday, October 11, 1:30am... At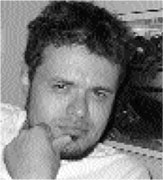 Dante's I got word that a friend from the county medical examiner's office was trying to get a hold of me regarding a possible death of an employee. The only person who hadn't shown up for a couple days was Morgan. I immediately called his roommates and they confirmed the worst. Morgan had been found dead in his bedroom. Another heroin overdose.
Tuesday, October 21, 2:10am... "Frank, I'm gonna go to jail..." A message on my voicemail from Isaac, our friend in the wheelchair who guards "our" corner of Third and Burnside. He was audibly upset, and he said he was sorry and he'd see us in about three weeks. Something about his cell phone and how they don't want him in the "drug free" zone. He told me to let everyone know he loves them.
Tuesday October 21, 5:45am... Inside Plaid Pantry an old, slow-moving, gray-bearded guy walked in and started knocking the pastry displays over. Then he shuffled over and started knocking another display over. Then he just stood there while the clerks yelled at him and called 911. The customers, including myself, stood and watched. There was no sense of danger from the man. It was almost funny. Kind of sad. He just stood still in the middle of the floor with a blank look on his face. I finished buying my hot chocolate and newspaper with a picture of California Governor-Elect Arnold Schwarzenegger on the front page. As I left, stepping over and around the various donuts and maple bars scattered over the floor, I noticed the old guy had an open fanny pack with at least three empty prescription medicine bottles plainly sticking out of the top.
Tuesday, October 21, 3:37pm... It's 81 degrees. The humidity is 93%. That's all fine except it's almost fucking November. The jet stream is doing some strange things as well...
Tuesday, October 21, 11:30pm... Sitting at the bar at Magic Gardens, supporting "The Arts" by watching Viva Las Vegas perform onstage, I got a phone call from a friend in LA... Elliott Smith, one of Portland's most amazing gifts to the world of music, was found dead. To the people who knew him, the fact that he finally succeeded in killing himself came as no surprise. Elliott was known for his depression, his drug problems and his alcoholism, as well as his unequaled mixture of ingeniously simple and heartfelt writing and superbly sweet melancholy music. But what was surprising was the way he ended it. When we first found out, we all assumed it
was yet another heroin overdose. But Elliott had been clean and sober for several months. He killed himself by stabbing a knife through his heart.
MORGAN'S LAST JOURNAL ENTRY:
( From his website www.swallowmy.com)
"Thursday, July 24... What an insane fucking night. It was totally fucking surreal. What, are we in fucking LA now or something? So Quiet Riot played tonight and I worked the merchandise booth for them. Fucking ridiculous hair-band from the 80s still acting like their rock 'n' roll gods? Fucking ridiculous. All the butt-rockers came out of the woodworks tonight. What's funny is right about 1 a.m. as they're playing "Cum On Feel the Noize" guess who walks right through the front door? Vince Vaughn and Vincent D'Onofrio..."
"Vince is snubbing (Frank's friend) Alex and he's not being nice about it. Alex ends up sitting on the other side of me and starts talking loud trash. He wants to give Vince a facial, shoot his load all over his face. Vince hears this shit, stands up and marches right out... I don't know whether to slap Alex or laugh my ass off. That was kind of some funny shit. Another crazy night at Dante's. My life is a complete circus. I wind up helping Quiet Riot do load-out... Whatever gets these old farts the fuck out of here faster. That trashed out blue-haired (Suicide Girl) whore is hanging out in the parking lot. She's talking shit about me to Stevie. I'm an asshole? You're a fucking late night trolley slag. Go hit the trainyards and suck a bum's cock for a slug of sterno cunt. What a completely insane night. Just can't wait for it to end..."
"Earlier tonight I head down into the office and catch Etta and Alana changing shirts. At first Alana starts to freak, covering up her tits but Etta says something about it just being Morgan, no big deal. What the fuck is that shit? She gets Alana to show me her tits and sweet Jesus man, they're beautiful! I'd love to slide my dick in between them until I shot my load all over her sweet brown freckled face. Could you imagine the gleaming white string of pearls wrapping around that chocolate coffee colored neck of hers... I've seen Etta's tits before and granted, it's a nice rack but Alana? Fucking hell! If she wasn't married I'd be all over her... Etta does have a great set of chode-sucking lips though. I'd powerblast her in a second... The way she gets all sauced around the office, I might have to whip it out on of these nights and gag her with my cock. Especially when she's dropping this "It's only Morgan" shit. She think I'm a fucking poof? I'll show her poof when I root that hole out raw. I would have paid them $5 to hug right then and there, see those big white and big brown titties smashed up against one another, nipple to nipple. I need to go yank myself off now. Goodnight."
At least his journal had a happy ending.
More Carnal
Knowledge...

2003
Jul.03
Apr.03
Mar.03
Feb.03
Jan.03

2001
Dec.02
Nov.02
Oct.02
Sept.02
Aug.02
Aug.02
Jun.02
May.02
Apr.02
Mar.02
Feb.02
Jan.02

2001
Dec.01
Nov.01
Oct.01
Aug.01
Jul.01
Jun.01
May.01
Apr.01
Mar.01
Feb.01
Jan.01

2000
Dec.00
Nov.00
Oct.00
Sep.00
Jun.00
May.00
Apr.00
Mar.00
Feb.00
Jan.00

1999
Dec. 99
Nov. 99
Oct. 99