PLAUSIBLE DENIABILITY
Ahhh... Back in LA for some sunny 75 degree weather.
Friends and associates in Portland are starting to ask what I'm doing down here all the time. They are coming to some strange conclusions and making up some weird scenarios.
So okay, I guess it's time to come clean. It's time to put everyone's curiousity to rest.
You see, I've thought about this for years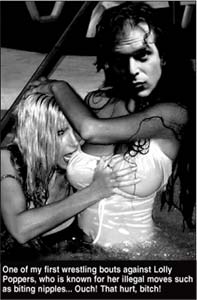 and years, and it finally felt like the right time to pursue my goal. Ever since I was a young whippersnapper riding my bright red Peugot 10-speed along the mountain roads of Coos Bay, Oregon, I've had one singular vision. One secret dream. Nothing all that bizarre. I just have been hesitant to talk about it because, well, I'm a private kind of person.
The fact is, I've always wanted to be a female mudwrestler.
So when "Big" Archie Donnelly, President of the Multinational United Dominion of Female Erotic Mudwrestling or MUDFEM, called and offered me the chance late last year, I jumped at it.
It involved a lot of planning and forethought. The plastic surgery. The California residency requirements. The annoying hair extensions. The hormone shots...
But here I am. And I'm having the time of my life!
Sure, I could be back in Portland, taking shots like the ones that crazy Patricia Barrera, co-founder of Portland's Lola Greene Baldwin Foundation, recently leveled at me.
In a story last month in the Portland Tribune she stated:"If Frank is such a talented man, why does he still want to buy and sell women?"
My response: I haven't bought or sold a woman since the 4th grade, dammit!
And then she continued on: "Pimps are the most charming men you'll ever meet. These people are good at
what they do."
My response: Thanks? Although she's never met me.
And then on... "Exotica (sic) Magazine is another story. Pimps and johns depend on that rag."
My response: Then they depend on Willamette Week, The Portland Mercury and The Qwest DEX Yellow Pages as well.
And finally... "I'd rather have my daughter shot in the head in Iraq."
My response: 'Nuff said, lady. Make Mine Marvel.
So, as you can see, I prefer to be down here in LA, apparently exploiting myself and getting more in touch with my feminine side.
Who knows, maybe after awhile I will understand a little more about what Ms. Barrera is talking about from a more female perspective.
But until then, she can just shut it.
And now, like Michael Jackson says, "Just leave me alone." I gotta go buy me some sunglasses. 'Cause like Pat McDonald says, "The future's so bright, I gotta wear shades."